Introduction to Track Racing - What's a Wheelrace? - Introduction to Six Day racing - UCI codes
An interview with Marty Nothstein and Ed Beamon
Navigating their way to the top
By Mark Zalewski
Nothstein got the big one at the NYCC
Photo: © Mark Zalewski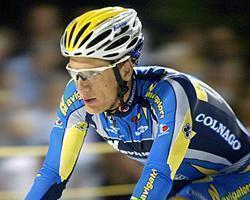 On a Thursday evening in suburban Chicago, more than 300 people packed themselves into the Northbrook Park District Ed Rudolph Velodrome in an effort to save their beloved track that is in dire need of resurfacing. The local park district doesn't have all the funds, but promised to kick-in half the needed money. So, Trialtir USA and Colnago came together with the local clubs to put on an event to raise the other half.
Trialtir was able to bring in a few pro riders along for the charity event, including multiple World and Olympic track sprint champion Marty Nothstein of the Navigators cycling team. Mark Zalewski managed to catch up with the current New York City cycling champ and his affable team manager, Ed Beamon, to grab an insight into how they're navigating their way to the top in 2003.
Cyclingnews: First off, congratulations on New York. How does it feel now that you have had some time to let it sink in?
Marty Nothstein: Thank you. Yeah, New York was a great win, not only for myself but also for the team. I've being wanting to get across the line first in a big one for a while, and I'm just fortunate enough to be put in that situation. I was riding well the last few weeks, but I really haven't been able to think about it too much, preparing for this weekend.
CN: As for your transition from the track to the road - people bring it up all the time with you. Now that you have a win of this size under your belt, does that take some pressure off of you?
MN: I'd say yes, without a doubt, it's been two full years that I've been on the road; I've been winning some races, but not one of the big ones. To win a big one just shows that the transition has been successful. So yeah, there is a bit of pressure off of me. I was questioning myself if it was ever going to come. You can only knock on the door so much but I never really got down on myself. I just kept plugging away and reworking my training, listening to all of the great guys on the team around me - gathering all of the information I can and really acting like a sponge, taking it all in. Over the last two years, there's been a lot of learning and more learning.
CN: What has been the biggest difference between the track and road for you to overcome?
"Marty, you good boy"
Photo ©: Mark Zalewski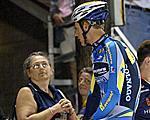 MN: Teamwork. On the track you are an individual racer - it's you against only a handful of guys. Then you are put into a criterium race or road race and you are racing with a great team on your side, but you are also racing against fifteen other teams that are racing against you. It gets frustrating at times… (laughs) at least for myself it gets frustrating.
CN: So is turning right a tough thing to learn after riding on the track for so long?
MN: Honestly, I think track riders get kind of a bum rap as far as road training goes. We spend a lot of time on the road - at least I did - and a lot of top track riders put a lot of base miles in road training. So no, turning has never been a problem.
CN: So has Downers Grove been a season-long goal for you?
MN: New York City and Downers were very high on the list, yes.
CN: But now that you have won New York City, you are going to be a marked man out there. How does that change your tactics or your team's tactics?
MN: I think it's going to help our team tactics. Every time we line up at a race there are 8-10 guys who can win a race, so that is a great situation for us. It might make me a marked man, but I'll just listen to our tactic come race day and stick to it - that's all there is to it.
CN: How important was having Ed Beamon in your ear during the NYC race?
Uh-oh, the Posties are in town...
Photo ©: Mark Zalewski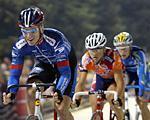 MN: Oh, I think it was really important. There were times when I was going back to that "sprinter" mentality and didn't have much patience. Ed was there, calming me down, so it was a good thing.
CN: What was he telling you?
MN: Relax, relax. Worst-case scenario we get brought back and we have two of the fastest guys in the peloton. And when he told me that I said: "You know what, he is right. And we are fresh enough up here to lead out and win this race." And that was the objective.
CN: What did that win do to your long-term goals?
MN: I just want to keep winning races like that, and helping my teammates win races like that. It is such a good feeling to go to a competition as a team and win as a team - it's awesome. That is a feeling I never felt as a track. To go on the line and know that you have a handful of guys wearing Navigators jerseys who are ready to go to battle for you, and you are ready to go to battle for them, it's pretty comforting. It gives you a lot of confidence. We have that on this team and I think that is why we win so many races.
CN: So Ed Beamon, what were you really saying to Marty over the radio in New York?
Ed Beamon: (Laughing) "YOU BETTER WIN THIS RACE, NOTHSTEIN!!" No, I think Marty touched on something about the frustration from the track to the road. And I think it is something Marty has felt a certain amount of, and I, and the team, have felt a certain amount of. Knowing how hard Marty has worked and knowing what his form and fitness is, the frustration comes from the time it takes to really learn the subtleties of the team dynamic. Like he said, he has been soaking up more knowledge and he has been learning from his mistakes and the mistakes of others.
The big thing about New York was just trying to help keep him focused about what his role in a six-man team was. Obviously we had some good communication and the response couldn't have been any better and it wound up being a pretty good day.
CN: What is the one thing you need to keep reminding Marty of as a coach?
Marty-mania hits Chicago
Photo ©: Mark Zalewski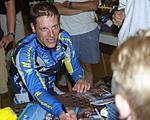 EB: That I'm the boss. (Turns to Northstein) I'M THE BOSS, MARTY!!! (laughs). It's not about reminding one thing over and over, but the thing that has been difficult about making the transitions is just being patient. The irony is, he has developed so much strength and so much ability in the shorter distance road events, that his strength and endurance is almost a hindrance to his sprinting, because he just really wants to go out there and "throw down." So, if there is one thing Marty has learned over the last two years, it is creating more opportunity for patience. But his biggest weapon is always going to be his sprint.
CN: What is your plan for Downers Grove? Are you going to send someone like Marty up the road or rely on your sprinters?
EB: Downers is an interesting race as criteriums go. It's a long event and a hard event, and it plays out more like a circuit race than a criterium. We've got a pretty fast team and a strong team, and we'll be prepared for a sprint - but the reality is the aggressiveness of Downers Grove usually creates a selection. And whether it is a small selection or a large selection, our goal is to be to have good numbers and good speed. And this team that is going to Downers, pretty much any one of these guys can handle a sprint. Sure we'll be protecting some riders and sending some riders in a more aggressive capacity, but we'll tell you more about that on Monday (laughs).
CN: Do you ever think about going back to the track?
MN: Oh yeah, I've got the Olympic fever now. It's a year away, and I have every intention of performing well and keeping the streak of medals going. I'm itching - it's starting to build up.
EB: And you know Marty still gets out on the track quite a bit over the year - a few events at Trexlertown and the 6-days over the winter. So he's not all that removed from the track, and I think that's one of the fun things about coming out here to Northbrook. Marty's roots are in the track and for Colnago and Trialtir to put something like this together to benefit this track and to give something back to cycling is tremendous.
CN: Anything else?
MN: I think a lot of our success comes with teamwork. A bunch of great guys willing to work their butts off for each other and sacrifice for each other. It's not a selfish team, that's for sure. We go into every race with one objective, and that is for one of us to get across that line first.
Marty Nothstein and friends help save Northbrook
Mingling with Marty
Photo ©: Mark Zalewski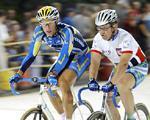 Along with Marty was his teammate and former fellow track-rider Oleg Grichkine, Kenny Labbé of the U.S. Postal Service, Dave Wenger from the West Virginia Pro Team and many other elite local riders. A full night of racing got underway with many categories competing. Before the highlight 30 lap scratch race, some of the Pro/1/2 racers competed in a snowball points race, won convincingly by Postal's Kenny Labbé.
Finally, after much anticipation, Nothstein entered the track for the warm-up before the scratch race. The crowd snapped their pictures and the other riders took notice. On the first lap of the race, Nothstein took the front spot and drove the pace hard. Swinging off, other riders took to the front in turn. A few eager riders tried to take a flyer off the front, but the pace was too high, as most were either trying to prevent Nothstein from getting away or were just trying to get rid of the butterflies that comes with riding with one of the fastest track riders in the world.
Dave Wenger and Kenny Labbé gave it a shot together and managed to stay off for more than a lap of this 343 meter track, but were eventually brought back by the strung-out pack, and the group finally sat-up for the first time after fifteen laps. But it didn't last long as a rider took this momentary pause to attack on the outside. This man from New York quickly built a two-turn lead. With no immediate reaction from the field, the solo-rider increased his lead to half a lap. That is when the competitor in Nothstein came out, as he and a few others organized a chase.
"Say Marty, we could sell this stuff on eBay…"
Photo ©: Mark Zalewski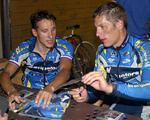 Eventually the lone flyer was within sight as a few raindrops began to fall. With a painted asphalt surface, the officials were very cautious as to when the race would need to be stopped. Luckily, it seemed that this was only a light sprinkle as the drops abated for a time.
The pack was ready to feast on a solo-rider dinner, with other riders moving to the high side to make counterattacks. It was certainly going to be a good race to the finish. However, the weather didn't agree and the rain began to fall again, this time in earnest, with the officials neutralizing the race for the safety of the competitors.
With that, Marty and Oleg called it a night and took to the stands to sign autographs for donations to the "Save the Track" cause. All in all, the fans got to see some very fast racing and a lot of money was raised for a very good cause.
See news story about how the night fared, including how a 10 year-old entrepreneur raised over $200 with a lemonade stand.
Photos
Images by Mark Zalewski//www.showchoir.net