Introduction to Track Racing - What's a Wheelrace? - Introduction to Six Day racing - UCI codes
An interview with Hayden Roulston
To rule the Roulst
By Marion Clignet
Final podium: Roulston (r) with Tom Steels (l) and Tour of Belgium winner (and trackie), Michael Rogers
Photo: © Elmar Krings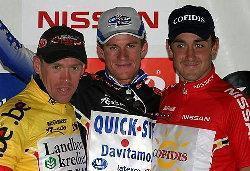 Yet another track cyclist has successfully converted his speed, strength, power and cunning onto the pavements of Europe. Marion Clignet talks to New Zealand rider Hayden Roulston, currently with French team Cofidis and winner of the sprints classification in the Tour of Belgium earlier this month.
Marion Clignet: How did you get into cycling?
Hayden Roulston: Well, cycling has been part of my family for years. My father and his brothers rode in the '80s, but when I was younger I played all sports, mainly rugby and soccer. I did do BMX for a few years and thoroughly enjoyed it, but my friend started up cycling and was making some money on the track ($3 for 1st!), and I was getting fed up with trophies, so I thought I would give it a go.
MC: Did you start on the track?
HR: No, not really, although I did do a lot of it. I rode for the Tinwald Cycling Club who had track meetings once a week, and they raced on the road two times a week, so I did both. But all the road racing was done on a fixed wheel. Why, I don't know, it just was!
MC: Why do you think it is that all these good trackies from NZ and Australia convert to road? Do you think starting on the track makes them better roadies eventually?
Solid grounding
Photo: © Tom Balks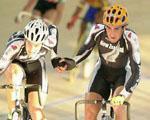 HR: I think track racing teaches you a lot when it comes to riding a bike. A lot of basic skills and also you gain speed, strength, power. To be good on the road these days you must have all of those qualities to succeed, and maybe that's why there are a lot of riders with track backgrounds doing so well.
MC: Why can't we get good roadies, guys like Zabel for example, to come out and ride the track?
HR: That's a good question. I think that you can turn a good track rider into a road rider, but not a good roadie into a trackie. It is a totally different ball game, and that is why you very rarely see it.
MC: Do you think the track is a good training tool for the road?
HR: I think that the training that you do for track is a good tool for the road. You increase your power, lactate tolerance and also strength and speed. Add some endurance in there and voila... form! But in saying that, what works for one person, may not work for another as everyone is very different.
MC: What inspires you the most as a road racer? Do you have any particular dream-winning a classic, riding the tour, learning as you go , etc?
HR: Well to tell you the truth, I don't know what I want to be as a professional; I am yet to find out. The first two years will tell me what I am best at. The first season especially will be more learning, progressing and having a dab in all sorts of races. After that I can decide what I want to do. But at this stage, the classics appeal to me hugely. I really like the French cup also, so who knows what the future will bring.
MC: How have you found the racing so far?
From track to road to podium
Photo: © Elmar Krings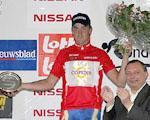 HR: At the start of the season I didn't know what to expect. I was so nervous at my first race as it was the first UCI race that I had ever ridden, and I was straight in with the big boys. The racing has been hard, and fast.
It is a totally different level from amateur racing, but I expected that. I am starting to settle now and finding some good form too so I am happy. For me this year is all about progression and learning, and I am hoping that results will follow.
MC: How long have you been in Europe racing?
HR: This is my third season in Europe. I rode here for two years as an amateur with a team called Bressuire. In the first year I was here five months and a little bit less in the second year. This season though is going to be my first full season in Europe so it will be tough as the season is very long.
MC: Do you plan on racing a long time, or do you have an after race career planned?
HR: Well at school let's just say that I didn't really excel! All I wanted to do at school was go to Europe, and turn professional. Now I am here and living my dream so I am going to make the most out of it. I am hoping for a long - not too long - very successful career.
MC: How's your French coming along?
Madison special
Photo: © Tom Balks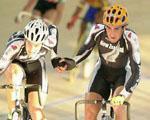 HR: My French is getting better and better all the time. At the start I found it really hard, but now I am fine, and can talk about most things. The hardest thing for me is talking in a group of people, one on one I am fine but in a group...
MC: What kind of training do you do during the off season?
HR: During the off season I do a lot of miles, and a lot of strength work. All my strength is done on the erg, which I find fantastic. I go to the gym a bit also. In New Zealand I am lucky, as it is summer when I return home from Europe and the weather is great, so there is no winter training needed.