Introduction to Track Racing - What's a Wheelrace? - Introduction to Six Day racing - UCI codes
An interview with Chris Witty
Get Witty
T-Mobile trackies: Tanya Lindenmuth (L) and Chris Witty.
Photo: © Kristy Scrymgeour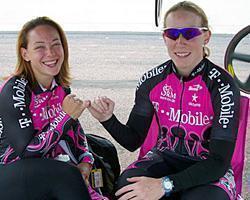 After years of full-time speed skating and part-time cycling, Chris Witty now looks to the bike for new challenges after a lifetime of success on ice. Kristy Scrymgeour caught up with Witty in Colorado Springs, where she was competing just a few weeks after signing a contract with the T-Mobile women's professional cycling team.
In 2002, Witty overcame a bout of mononucleosis - diagnosed only three weeks before the start of the Salt Lake City Winter Olympics - to win a gold medal in 1500 metre speed skating. Not only did she win the event, but she broke the World record and proved many wrong who had doubted she could recover in time to perform.
As one of a handful of athletes in the world to have competed at both the Summer and Winter Games, Witty is back to the track, having last touched her track bike at the Sydney Olympics where she placed fourth in the 500m time trial.
"Getting a contract with T-Mobile is great for me; it gives me the freedom to take the year off from speed skating and concentrate on the track. It's great because it's hard as a track rider and especially as a female to get sponsors," says Witty.
Despite the fact she considers herself a speed skater first and a cyclist second, Witty believes she has a good chance of making the Olympics despite the minimal time she has spent on the track (and after watching her race on the weekend, I agree).
"I think I have a good chance. It's my goal, so of course you have to believe you can do it. I just think selection will be hard because you have to qualify your own spot. To do the 500m, I have to get top two in the time trial or a top 10 in the match sprint at the World's next year. I've always had the speed for match sprint, but I've never been a good tactical rider because I don't match sprint enough."
It won't be a lack of time on the track that worries Witty - she spent a total of five weeks' training for Sydney - it will more likely be whether she can master the match sprint to qualify.
Hey Mom, I won!
Photo: © Kristy Scrymgeour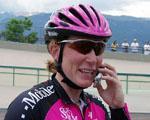 "This weekend of racing (in Colorado Springs) has been good for me. I have been training and racing a lot with Tanya Lindenmuth (also a newly signed T-Mobile rider) and each time I race I learn something new."
"Witty and I got along really well in Sydney when we raced together and it's great that she is back," says Lindenmuth. "I'd really like to see her train with us more often as I know we will be really good for each other."
Witty started speed skating when she was 10. "I entered a local competition for fun and I won every event so they said 'Why don't you join our club?'. I was 15 when I started cycling. Speed skaters do a lot of cycling anyway for training, because we don't have ice all year round, so it's natural that over the years you get good on the bike."
Living in Wisconsin, her coach suggested she start racing the track races down at the Kenosha velodrome and one thing led to another. "I got selected for my first Junior worlds team not long after that and now I have been cycling on and off for about 12 years - a long time now."
It is when you talk to Witty that you understand the competitive side to her: "It's amazing how quickly people forget about you and turn their backs on you," says Witty about her skating experiences leading up to Salt Lake City. "I knew how I felt and how I was skating, yet every time I talked to the media or other people, they were more concerned about the other skaters who were dominating that season."
But with everybody expecting her to fail at the Olympics, she even was more determined to succeed. "I didn't feel like the pressure was taken off at all when I got sick. You can't let other people convince you that you can't do it. I felt pressure, but in many ways it was good, because it motivated me more to prove them wrong."
Witty describes her winning skate as her most memorable moment as an athlete: "It was just one of those races that was effortless. You know, when you don't even feel it and everything just seems so smooth. I don't know, it's hard to explain - it just totally came together for me."
After the Olympics, Witty got to experience a life of stardom in the US, appearing on talk shows, meeting the president and visiting NASA, who developed the polish to sharpen her skates.
"In the US, everybody was behind me and everybody knew who I was, so I could have said anything at an appearance and people would cheer," says Witty rather dryly. "I would get paid to go places and tell my story and I'd get a standing ovation. NASA was the best place I went to though, just because it was so interesting. They were in awe of me, but I was also in awe of them.
"It was fun for a while, but after a few weeks I was happy to go back to a normal life. You know, I'm not that sort of person that needs to sign autographs, I can go without it. I like it when people respect you for what you've done, but that's about it."
Time trialing
Photo: © Kristy Scrymgeour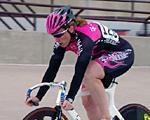 When asked to describe herself, Witty's face went red, but then came up with this: "I'm laid back, pretty quiet, but at the right moments I can be loud! And of course I'm heck of a dancer," she laughs.
On a more serious note, Witty tells me that she's pretty competitive, but doesn't really like to show that side of herself. "I guess that the good thing about being competitive and also laid back is that they complement each other; if you are laid back you can control that competitive side and not get too worked up about things," says Witty.
It is fairly evident, however, that she is primarily competitive with herself: "In speed skating, it doesn't make sense for me to focus on other people because it's a time trial sport and I think that's where some athletes make mistakes. In cycling, I am racing people head to head, but I like to focus on myself first and see where I can make myself faster first."
Witty is also very focused and self disciplined. "I probably wasn't when I was younger, and I got labeled as being lazy. But I think it was more of a case that when I do things, I kind of make it look easy, you know what I mean."
When you see Witty sprint on the track or on the ice, you know what she means. It is like watching the stroke of a technically perfect swimmer: she is relaxed and takes long, smooth strides or pedal strokes. "So I have had that [being lazy] for a reputation, but that's not true."
When she's not training she is usually drinking coffee with friends at the local Bad Ass Coffee Shop in her home of Park City, Utah, or more recently, you might find her studying in front of the computer: "At the moment I am in school with the University of Phoenix, doing a business degree on-line. It's kind of a hobby. It's fun but as I haven't been to school in five years so it's a challenge."
As for the future, who knows. Witty believes she will keep racing for another three years and then see what happens. "I'm not a young athlete anymore, I'm 27 and a lot of people retire when they're 30."
Asked whether she is happy with her achievements to date, Witty says, "I have achieved enough already that if my career ended now I would be satisfied. I've accomplished everything I wanted to. I don't want to sound arrogant by saying that, but I have been world champion, World Cup champion, Olympic champion and broken world records.
"But with cycling it's like a new goal for me, so if I can accomplish new things here it'd be great, or if I can repeat it in speed skating, that would also be great. It's kind of like from here on out, it's icing on the cake."
Now set for life as a cyclist, Witty remembers her favourite race on the bike - with a bit of nudging: "Sydney of course!" she laughs. "No seriously, I really liked Sydney and would love to go back. Next year the World Track Champs are in Melbourne; Melbin - is that how you guys say it? (more laughs) - so I'm looking forward to that. I'd like to see what the difference is between Sydney and Melbourne. I've heard great things about it.
If she likes the rain, she'll love it.