Recently on Cyclingnews.com
Tech feature: Two for the road, February 8, 2007
Ivan Basso and Levi Leipheimer join Discovery Channel
Scott Daubert has a major challenge ahead of him as Trek's designated Team Liaison to the Discovery Channel team, as two of the ProTour's top riders, Ivan Basso and Levi Leipheimer, begin their tenure on the Trek sponsored squad for the 2007 season. As with many professional riders, Basso and Leipheimer won't just jump on any rig and are meticulous about their materials, components and riding positions. Cyclingnews European Editor Tim Maloney tags along with Daubert as Trek works to accommodate its two newest superstars.
Discovery Channel's newest stars head out on a wet training ride
Photo ©: Paul Rogers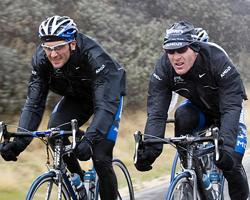 Fresh back from the Discovery Channel's training camp in sunny Solvang, CA, Trek Team Liaison Scott Daubert told Cyclingnews from his office at Trek headquarters in cold, snowy Wisconsin, "With two big riders like Levi and Ivan coming to Discovery, we had some interesting extra work to get their bike needs [taken care of], including and especially the position on the time trial bike. It is a good challenge and we always learn from this process."
Leipheimer rode a low-profile Walser TT bike with Specialized decals while with Gerolsteiner but will now pilot a Trek TTX, and Daubert was fortunate enough to get a head start on getting him set up: "I'd already worked with Levi during a preliminary visit to the San Diego wind tunnel last October. Levi and I have been in touch several times since then, talking about his new TT position, his Madone [SSL] 6.9 and also about mountain bike riding. Levi shared some great information with us about what he had experienced while riding for Gerolsteiner and from that info, we started shaping the position he was riding on in Solvang."
"He's a little like Lance in that he is considerate; he just asks for what he needs and we know he's thought about it a lot before asking us to do the work."
- Daubert on the similarities between Basso and Armstrong
Daubert explained further to Cyclingnews that "Levi is a numbers guy, so he can pretty much rattle off exactly how his bike needs to be set up, right off the top of his head. Because of Levi's compact size, he wants his hands to be as low as possible on the brake perches of the TT bar. He feels like he loses power when his hands are too high. Our new Bontrager wing bar gave him some drop and he also said it was comfy. Perhaps only the heat of competition will tell us if his hands are low enough." Indeed, Leipheimer will get a chance to test his new TT position in Stage 5 of the upcoming Tour of California in Solvang, where he will serve as the team leader.
After completing the San Diego wind tunnel sessions in late October, Daubert told Cyclingnews he started hearing that Leipheimer would be joined by another major new rider on the Discovery Channel team. "I got some bike specs from Julien [Devries, Discovery's head mechanic] and we sent out a bike to Belgium and the next thing I knew, there were pictures of Ivan Basso riding a Madone SSL 6.9 on the Internet."
Since Daubert was unable to attend the team camp in Austin, TX last December, the Solvang camp was actually his first opportunity to work with the Italian star. "Solvang was the first time I'd seen him up close and what stood out to me at first was how tall he is. Basso could ride a 60cm Trek Madone frame, but is comfortable on a 58. The second thing that made an impression on me about Ivan Basso is his easy going nature. He tolerated me as well as several other superfans taking nonsense photos before the team rides."
Ivan Basso fine tunes the position on his new Trek TTX
Photo ©: Paul Rogers

Obviously, though, Daubert was not just in Solvang to snap photos as there was much work to be done. "After the masses had cleared away, I had a good meeting to talk to Basso about his road bike and TT position. He brought his bike from 2006, his Cervélo from CSC, to the Solvang camp so we could duplicate the position onto his TTX time trial bike. We then put the Trek TTX and Cervélo side by side and Basso bounced back and forth between the two to dial in his position further. With the help of Julien Devries and Chris Van Roesbroek, the Discovery Channel mechanics, we were able to make some subtle adjustments that put Ivan just where he wanted to be."
As is often the case, Trek's wheel consultant, Steve Hed, was also on-hand for a day during the Solvang camp and had a chance to review Basso's TT position. According to Daubert, "Both he and I think we can make Ivan more comfortable on his TTX than he was on the Cervélo and we hope to do so without compromising his aerodynamics. Time will tell."
Once the TT bike was dialed further, Daubert and Basso talked road bikes. "Without me prompting", explained Daubert, "Ivan and I had a private talk about his Trek Madone SSL 6.9. He told me he is happy to be off a sloping top tube bike and also likes the stability of the Madone geometry. Furthermore, we specifically talked about chainstay length and how bikes handle, and also about what he can expect from the Bontrager wheels. Again, in that context, Basso's passion for cycling was obvious."
Trek Teams Liaison Scott Daubert
Photo ©: Trek Bicycle Corporation

Looking forward, Daubert mentioned that "There's talk of a wind tunnel test in San Diego after the Tour of California. Ivan says he prefers to ride his bike on a track or on the road after making adjustments to his position, so we should be all set to satisfy him; this is the same protocol we put in place when we did wind tunnel testing in San Diego with Tom [Danielson] and Levi last fall. One thing for sure is that Ivan looks good on a bike. He is well proportioned and has a fluid pedal stroke. I'm looking forward to learning what we can do to compliment his physique when we get to the wind tunnel next month."
Daubert emphasized that his relationship with the Discovery Channel team is a process of constant learning. "During the TT bike adjustment process, I learned two things: one, Ivan has spent a lot of time on his TT bike and two, that he has a genuine passion for cycling. Ivan's meticulous attention to details helps makes every ride a joy for him and because he is able to describe what he wants to me and the mechanics, we're willing to jump at his command. He's a little like Lance in that he is considerate; he just asks for what he needs and we know he's thought about it a lot before asking us to do the work."
Always modest and low-key, Daubert almost forgot to tell Cyclingnews that "some Trek concept stores have been asking me to come and give presentations about the team and the product we give the team." In response, Daubert will be present at the Trek concept store in Cincinnati, OH on Friday, February 9th for an interactive discussion with a behind-the-scenes look at the Tour de France, recent developments of the Discovery Channel team, and tales from the ProTour circuit. In addition, Daubert will also discuss product development at Trek, and how the latest technologies are being used to hopefully propel the Discovery team to victory in 2007. Please note that space will be very limited, and a RSVP is required in order to attend.
When: Friday, February 9, 8:00 pm
Where: The Trek Bicycle Store of Cincinnati
7594 Voice of America Drive
West Chester, OH 45069
(513) 755-3773
More info: www.trekstorecincinnati.com