Interbike show
Las Vegas, Nevada, USA, September 22-26, 2008
Main Page Previous Part Next Part
Part 4 - September 24: Felt unveils a new arsenal for 2009
By James Huang in Boulder City, Nevada
The carbon hardtail lives
Felt will add a 26" carbon hardtail to its 2009 lineup
Photo ©: James Huang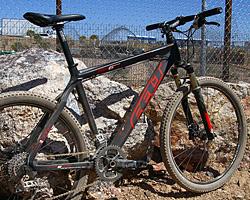 For whatever reason, carbon hardtails seem to be making a comeback and Felt throw its hat into the ring with the new Six Team. Based on the Nine Carbon introduced at last year's show, this new 26" version shares many of its features but delves even further into the full-on race bike category.
The frame uses Felt's Ultra High Modulus carbon fiber blend and one-piece seat stay and chain stay assemblies along with beefy head tube and bottom bracket areas for precise handling and drivetrain rigidity. Claimed frame weight for complete bikes is just 1200g while the higher-end frame-only configuration is said to knock off another 150g. Complete top-end bikes reportedly weigh less than 9.5kg (21lb).
The frame tube profiles scream 'fast and rigid' to us and the parts spec similarly makes no illusions as to the bike's intentions. The RockShox SID fork is set to just 80mm of travel, the carbon handlebar is both flat and narrow, and the Sun Ringle Black Flag wheelset certainly strikes us as better suited to flying uphill than bombing rock-strewn scree fields.
The new Six Team might not be a versatile trail bike but if racing is your gig, this might be a good tool for the job.
Substantial changes to Virtue and Compulsion platforms
Lower-end Virtues now receive an aluminum rear end
Photo ©: James Huang

Speaking of trail bikes, the 130mm-travel Virtue and 150mm-travel Compulsion platforms both get major updates for '09. Stiffer front triangles improve handling precision, especially in rougher conditions, while a more compact Equilink suspension layout with beefier linkages offers similar benefits out back. Slacker head tube angles all around make for a more stable feel, too.
Both also get semi-interrupted seat tubes similar to that used on the burlier Redemption which allows the use of a more conventional high-clamp front derailleur (last year's bikes used E-type mounts).
Last but certainly not least, suspension pivot hardware has been completely redesigned meaning you can stop carrying that bottle of Loctite in your hydration pack. The new pivots now use through-bolts at all points and tweaks to the alloy dust caps have supposedly eliminated loosening under hard use.
All of these changes should make the Virtue and Redemption more capable but interestingly, it also moves the former away from the pseudo-race category and further into trail bike territory, thus leaving a notable gap in the line. Never fear though, as Felt reportedly has a short-travel Equilink bike in the works that will be specifically aimed at racing. Select teams and riders will apparently have access to it for '09 but production versions won't be offered until 2010. Sit tight.
Take it to the road
Felt's DA time trial/triathlon frame
Photo ©: James Huang

Felt's wind-cheating DA gets a boost in strength and stiffness with carbon nanotube-enhanced resins and modified fiber blends but it's the updated Bayonet 2 front end that will likely draw the most attention to potential buyers. A new top clamp assembly drops the front end by a whopping 22mm (the original Bayonet was arguably too tall for many users) and can also deliver nearly as big a jump in reach if desired. Shorter stems will retain the same minimum reach, though, and about two degrees of lateral adjustment will now permit perfect stem-wheel alignment.
The second-generation fork also sports a deeper leading edge as well. According to Felt, the improved aerodynamics gained with the extra depth saves about 1.4 seconds per mile as compared to the old shape. Over a 40k time trial, that roughly equates to about 35 seconds.
The DA will also showcase Felt's new Devox line of components which includes a well thought-out carbon aero bar. The base bar integrates a low-profile pinch-type clamp for the extensions and the clamp bolts are shared with the pad mounts for reduced weight. The extensions themselves can also offer straight, ski and chicane-type bends all in one; they're rather long out of the box and are easily cut to suit length and shape requirements.
Internal brake cable routing
Photo ©: James Huang

Internal brake cable routing on the base bar is also fully guided for easy installation and the bar can also be flipped for additional height adjustment. The outer pods can obviously be taped as desired but a clever optional rubber grip not only provides a secure purchase but also adds an extra bump to hook your thumbs if so desired.
F-series road frames will also get the nano-enhanced resins used on the DA. Coupled with slight changes in fiber content, Felt claims a 10 percent jump in head tube stiffness without adding any extra weight; rear end stiffness remains the same.
Finally, Felt will add a less expensive TK3 to its range of track bikes. The TK2's complex tube shapes and smooth welds have been traded in for slightly more conventional pipes and raw weld beads. In addition, the sleek monostay is nixed in favor of a more standard twin-stay design.
Take it to the barriers
Felt's 'cross bike range will include four models for '09 starting at the top-end F15X with its Superlite aluminum frame, Easton EC70X carbon fork and Ultegra SL bits down to a new single-speed model called the Breed.
Though clearly not as racy as the F15X, the Breed actually strikes us as more noteworthy for its enhanced urban appeal and all-around 'cool' factor. The Superlite aluminum frame matches to a Felt-branded carbon fork and a mix of FSA, Tektro, Mavic and Felt house-brand gear provides a capable package. Asking price is just US$900.
Photography
For a thumbnail gallery of these images, click here
Images by James Huang/Cyclingnews.com