Interbike show
Las Vegas, Nevada, USA, September 22-26, 2008
Main Page Previous Part Next Part
Part 3 - September 24: Ride reports from the Outdoor Demo
By John Stevenson, BikeRadar
The opening days of Interbike are all about Dirt Demo: two days of playing in the dust and rocks of Bootleg Canyon at Boulder City, 20 miles out of Las Vegas. Among the bikes we rode at Demo day were Pivot Cycles' new Firebird, the lightly revamped Kona Dawg Supreme and Rocky Mountain's intriguing Altitude carbon fibre cross-country bike. But first, we got to throw a leg over Dave Turner's new Five spot, mid-travel bike. It's good. Very, very good.
Turner Five-spot: Best dw-link yet
The Turner Five Spot's impeccable trail manners
Photo ©: John Stevenson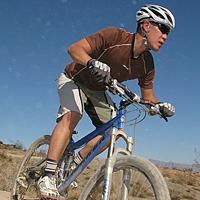 In fact it might well be the best dw-link yet. That's certainly the opinion of Steve "world's most experienced bike tester" Worland from What Mountain Bike and Mountain Biking UK magazines who came back from riding a Five Spot gushing about its unflappable suspension. He had been almost unable to get it to bob, even with the Fox shock's Propedal turned off. Only deliberate flailing had disturbed the bike's balance, and even then not by very much.
Our riding revealed the same things. That superb dw-link rear end keeps the rear wheel firmly planted and pedals with nary a hint of wasted energy. It's a suspension action that you genuinely don't notice till you realize the rockpile you just flew over didn't rattle your teeth.
Of course, there's a lot more to a bike than just the rear suspension. The Five Spot has perfectly sorted trail bike handling: straight-line stable, yet nimble enough to whip around tight switchbacks thanks to its sharp cornering. It might be a shade too sharp for some, but on one of the bikes we rode a wider bar helped tame it.
The bushing-equipped pivots are smoother than one would expect and, if you believe the engineering claims, should last longer with their higher load ratings and built-in grease fittings. Our test bikes weren't particularly light but excellent pedaling performance largely makes up for it (and the 1250g wheels didn't hurt, either). And damn, it does look good.
The buzz builds
The business end:
Photo ©: John Stevenson

Turner's announcement just before last month's Eurobike show that he was switching to the dw-link suspension design was a big surprise. But Turner fans – who tend to be deeply loyal – suspended skepticism about Turner's third major suspension design and decided to wait to see how the bikes actually rode. They haven't been disappointed.
Turner's booth was one of the most popular at the Outdoor Demo and even we pampered and spoiled member of the meejyah could only get a bike by booking one hours in advance.
There was already a riders' buzz around the new Turners. One importer, who handles another manufacturer's dw-link bike, was raving when I bumped into him Monday afternoon about the Turner's firm but active and unflappable ride.
Three of us – technical editor James Huang, Steve Worland and myself – took off into the trails of Bootleg Canyon on Turner Five Spots. Steve's perspective was especially interesting as he literally gave back one dw-link bike and hopped aboard the Turner, immediately finding that the Turner suffered far less from pedal-induced movement.
As ever, Turner frames abound with nice touches
Photo ©: John Stevenson

Bike with dw-link suspension seem to be very sensitive to the exact positioning of the link end points, and Turner has nailed it here, on first impressions at least.
On one trail full of gee-outs, the Turner's resistance to bottoming came to the fore. Some bikes blam right through their travel on these steep in-and-out trails, but the Turner always felt like it had something in reserve. It wasn't fazed at all by the transition from steep down to steep up.
There are lots of nice touches to the Five Spot, like the cable mounts that allow for fully-enclosed cables to help maintain sifting efficiency in the face of outrageous weather (or dust).
Kona Dawg: playful puppy
For 2009 Kona's popular Dawg gets more travel
Photo ©: John Stevenson

For more conventional fun was to be had from Kona's Dawg Supreme suspension bike which Kona has boosted to 140mm of suspension travel for 2009, up from the previous bike's 120mm.
It's conventional in that it suffers from the classic problem of simple, long-travel designs: it bobs when you pedal. A lot.
It's fun because it still responds well to being tackled manfully up climbs – this is a not a bike to be handled gently, it likes to be grabbed by the scruff of its neck and hauled into place – and then whoops down like a two-wheeled armchair , soaking up everything in its path.
I should hate the Dawg. Its suspension design is to be blunt, ten years out of date, and only Fox' well-controlled RP23 shock rescues it when the trail goes up. But it skips so blithely over trail obstacles and leaves you with such a big grin on your face as belt down rocky singletrack without a care in the world, that it's impossible not to warm to its puppy-like eagerness to please.
If it were a dog, it'd be a half-grown Rhodesian ridgeback puppy – all legs and feet and fun, with a turn of speed just waiting to be unleashed at the right moment.
Kona has 'done a Specialized' with the Dawg and ordered its own line of bars, stem and seatpost, finished in a satin-look champagne silver. They really raise the look of the bike, in a nice counterpoint to the green main paint job.
Firebird rises
Pivot Cycles founder Chris Cocalis stands proud
Photo ©: James Huang

Bikeradar got to jump aboard Pivot Cycles' 166mm travel Firebird all-mountain machine on the first demo day of Interbike Show and it turns out to be more fun than a barrel of monkeys.
Our first impressions are of a quick and agile long-travel bike that'll suit skilled riders, but that has sufficiently refined suspension manners to get the less coordinated (like your humble scribe) out of the trouble it cheerfully carried them into. I found myself caning it round Bootleg Canyon's Mother Trail and when I chickened out the limitations were surely mine not the bike's.
I cursed myself a couple of times for bailing on something I was sure the bike could handle and when I went for it anyway, Firebird let me rise like its namesake mythical bird from the disaster I'd have suffered on many other bikes.
While it's no svelte cross-country bike at 31lb, the Firebird climbs acceptably, and doesn't suffer the sag, bob and wallow that afflicts many long-travel bikes when you point then uphill.
However, it does feel shorter that the billed 23in top tube of the size M bike we rode, and it measured at a little over 22.25in. Its very upright feel puts it more in the play bike than the all-day category and riders looking for a companion for epic days out would be better considering Pivot's Mach 5 or bikes like the Trek Fuel EX, Specialized FSR Pro or Fisher Roscoe, depending on just where in the epic/play range you want to be.
This bike was a good example of what manufacturers go through to get bikes ready for Dirt Demo, which has become a vital showcase for next year's bikes as meejyah and shoprats alike grab the chance to actually ride bikes that might not be properly available for weeks or months. The demo day samples of the Firebird, specially built for Interbike, included a linkage and bottom bracket piece CNC-machined from a 14lb block of aluminium. As Pivot's Chris Cocalis put it, "we get pennies on the dollar selling the swarf for scrap. It goes into the pizza fund." Production bikes will have forged pieces which is "still not cheap" but far less wasteful.
Photography
For a thumbnail gallery of these images, click here
Images by John Stevenson/BikeRadar.com