Interbike show
Las Vegas, Nevada, USA, September 22-26, 2008
Main Page Previous Part Next Part
Part 2 - September 23: Goodies from day one of the Outdoor Demo
By James Huang in Boulder City, Nevada
Finally! Chris King debuts its long awaited bottom bracket
Chris King officially unveiled its long awaited bottom bracket
Photo ©: James Huang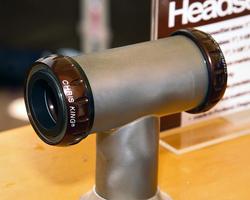 After years of anticipation and piles of rumor and speculation, Chris King will finally offer a bottom bracket with its much-respected logo. The new bit will use stainless steel bearings similar to those in its near-bulletproof headset and will also incorporate a clever grease injection system that makes for fast overhauls or even situation-specific lube replacement.
The new bottom bracket can be had in either road or mountain versions and Chris King will offer the precision machined aluminum cups in the entire range of ten anodized colors, which now also includes brown. Also on tap will be a similarly precise machined aluminum cup installation/removal tool, though unfortunately a few months after the bottom bracket's October debut.
If the bottom bracket is anything like Chris King's headsets, we have grand expectations here indeed. The best part is that it's not even terribly expensive: suggested retail is a palatable US$129.
Chris King has been busy in the hub department, too, with a wealth of new sizes that include 10mm and 12mm thru-axle rears and road-specific 130mm OLD bolt-on singlespeed and cassette hubs. Front hub fitment options now cover the complete gamut of possibilities and now includes not one, but two 15mm thru-axle options.
The lighter route uses the 9mm shell but the 20mm option will likely appeal to riders who might already have a 20mm Chris King front wheel in the corral. Retrofit axle kits will be available for both.
Things haven't slowed down in the headset realm, though. Soon to be standard sotto voce shallow etching retains the standard Chris King logo but doesn't go all the way down to the base metal for a more subtle look. Deep-style etching will remain a stock option for black headsets and a special order for other colors.
And coming sometime in the future are hidden-type internal headsets called InSet. Chris King is still evaluating fitment options with a number of key builders but like the bottom bracket, this is something many of us have been anticipating for quite a while. Unfortunately, no possible release date was offered nor were we permitted to shoot images. Suffice to say, though, the samples were shiny and anodized with laser-etched logos. Stay tuned.
WTB brings back the SST
WTB reintroduces the venerable SST saddle
Photo ©: James Huang

SST devotees can finally stop scouring the pages of Ebay for their beloved saddles as WTB will bring back the classic shape for 2009. While not exactly the same as it was when it was discontinued in 2003, the new version is a near carbon copy. There's the same broad and flat rear, that telltale dropped nose, the Comfort Zone blind cutaway up front and not a sharp edge in sight. Lightweight DNA foam padding is used throughout but the nose now sports much more padding than it used to.
Top-end Team versions will weigh 240g (claimed) with titanium rails and a real leather cover while the cromoly-railed Race edition will add another 95g.
Also new from WTB is the Vigo for those riders looking for a high-end saddle but not necessarily one that's aimed at the skinny racer crowd. The Vigo is notably broad at the rear and uses a healthy amount of firm padding throughout for long-term comfort and support.
Even so, the top-end Vigo Carbon SLT will weigh a competitive 295g with its leather cover, composite shell and titanium rails while even the base model Pro's cromoly rails and synthetic top will only add 20g.
Tire-wise, WTB will offer five proper UST tires plus a few new casing sizes to expand the versatility of the existing Prowler MX, Dissent and Wolverine patterns. The Dissent 2.3 looks particularly interesting with its opposing-angle crown and side knobs and deep channel in the transition area. According to WTB's Dain Zaffke, the Dissent 2.3 should behave much like how some World Cup DH riders prefer with its predictable transition drift and firm catch as you lean it over hard.
For the cross-country crowd, WTB adds a downsized 1.95" version of its fast-rolling Wolverine that supposedly weighs as little as 498g and a 2.1" Prowler MX for looser conditions.
Want more? WTB will also debut a version of its LaserDisc Lite front hub that is specifically designed around the new 15mm thru-axle system. Even with its tall flanges, stainless steel bearings and new labyrinth seals, the LaserDisc Lite QR15 will only weigh 169g. Now things are getting interesting…
New seatpost and additional crankset and chainring options from Rotor
Rotor adds a 110BCD 38/53T combo
Photo ©: James Huang

Rotor forges ahead on its lightweight path with a new SP1 seatpost which is claimed to weigh just 178g in a 27.2 x 350mm size. The forged aluminum mast uses a stepped-down outer diameter to shave grams (seatpost shafts require less strength as you move away from the frame until you reach the head) and an ovalized interior to retain strength. The two-bolt head's triangular layout supposedly also eliminates the need for rotating barrel nuts, thus cutting even more weight.
Rotor scored a virtual coup with this year's Tour de France winner, Carlos Sastre (CSC-Saxo Bank), who raced with a pair of camouflaged elliptical Q-Rings. Riders who want to be like Sastre (but maybe can't climb like him) can get the same 110mm BCD 38/53T combo he ran complete with its lighter milled-out profile.
Consumers can also get Q-Rings as part of an expanding range of Ágilis cranks. The Ágilis XC2 mountain bike cranks offer a road bike-like pedal stance width (commonly referred to as 'q-factor') as low as 160mm plus a 27/40T combination that arguably offers more real-world versatility than the more common 29/44T setup when matched with an 11T rear cog.
Road Ágilis users can now also get a Quarq-compatible spider for a well-integrated and clean-looking power meter option.
Photography
For a thumbnail gallery of these images, click here
Images by James Huang/Cyclingnews.com