Interbike 2002
Las Vegas, USA, October 5 - 8, 2002
Interbike preview
By Paul Mirtschin
With the start of Interbike just days away, you can almost sense the anticipation of the gear-freaks out there. What will be new on this year's models, what new parts can I buy, and who will be riding on what team bike next year?
So in order to let the gear-freaks get some sleep over the weekend, here is a sneak preview of what to expect from our Interbike coverage. We have some new bikes to show off, lots of new parts, and a few product rumours that will either be confirmed or denied next week. So let's get the ball rolling.
Titec
Women's seat
Photo: © Titec

It looks like the 31.8mm "oversize" handlebar size on mountainbikes is making a comeback, with a number of manufacturers including Titec debuting both bars and stems in that size. Titec is also releasing its new El Norte range of heavy-duty mountainbike equipment, all knock-rated, and all very solid. Comprising of two new oversized 31.8mm 7000 series aluminum bars, a 6000 series stem and the Berserkr EL Norte saddle.
Titec is also releasing new Nixi women's saddle. Utilising Titec's exclusive Women's Relief Zone for extra padding where you need it, titanium and cromoly railed versions will be available.
Also new is the C3 MTB carbon component line, featuring a carbon mountain bike stem, three carbon bars and a carbon post. Both the stem and bars are 31.8mm and the post uses a one-piece carbon quill and post head. For the non-carbon fans there is also a new precision machined 7000 series aluminium Rip stem.
Truvativ
Shiny
Photo: © Truvativ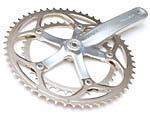 Usually seen as just a mountainbike company, Truvativ enters the 2003 selling season with an entirely new road range. The Elita range includes road, cyclocross and even tandem cranks, while the Rouleur cranks push Truvativ into the elite aisle of the market.
The new road cranks are all ISIS splined, and fit perfectly into the new GigaPipe ISIS bottom brackets. The GigaPipe system uses an oversize axel and in most models more than the usual two bearings.
Truvativ are also releasing road and mountainbike bar/stem combo's, chain devices, and the new range of heavy duty Holzfeller gear.
Giant
Once was ONCE
Photo: © Titec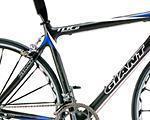 On the road front, Giant's 2003 range moves both up and out. The new carbon TCR models are a big step forward for Giant, who really hasn't utilised carbon for frames since the days of Cadex. And with the OCR range of frames now featuring cyclocross, track and touring geometries, there is a frame for everyone.
In the mountainbikes, Giant is introducing a new range in the VT series. With adjustable travel on both ends, the bike is designed to replace the Warp range. It is also the first model to use Giant's new FluidForm technology, which uses hot oil under pressure to form the aluminium tubes to almost any shape.
Giant has also signed a deal with Answer/Manitou to use the Answer suspension products on most of the high range bikes.
Ritchey
Groovy
Photo: © Titec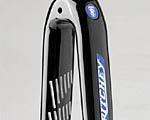 As we have seen at Eurobike, Ritchey's mountainbike range has moved to 31.8mm for bars and stems, as well as moving to 20mm bolt through for some of its new mountainbike hubs.
But it's in the road range that we see the big surprise, with an all new carbon road fork making an appearance. With carbon blade legs and steerer it's bound to weigh two fifths of nuff all, so I'm sure this fork will start popping up on quite a few bikes in the coming months.
Yeti
Bounce
Photo: © Titec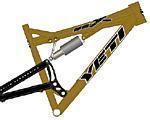 We received an email from Australian cross country champion and Yeti importer Paul Rowney outlining the 2003 range from Yeti. Two standouts are the redesigned AS-X and the Road Project Carbon frame.
The AS-X comes with increased travel and stiffness over the 2002 model, and now comes with the Progressive 5th Element shock. The frame weighs in at just 4.3kg including shock, so should be good for almost any occasion.
The Road Project Carbon road frame is custom built from Easton/Yeti Scandium tubing, and also comes with Easton carbon E-Stay seatstays. And it shows with a frame weight of just 1.2kg.
Photos
Images supplied by respective companies