Interbike 2002
Las Vegas, USA, October 5 - 8, 2002
Interbike part 16 - It's all art
By Tim Maloney in Las Vegas
Photo: © Rob Karman

Merlin Metalworks 2003: The Sky's The Limit To Merlin's Magic
Among the most remarkable bikes at the Interbike show this year was the Merlin Cielo. That's Italian for "sky" and this unique Ti lugged Carbon fiber bike with an integrated 1.125 inch headtube actually lives up to its catalog hype as a "blending of technology and art." With elegant sculpted lugs, matte carbon on burnished titanium and trademark hourglass seatstays created in carbon-fiber, the show-stopper Cielo is available in ten sizes as well as custom. With the price of a Campy Record 10v set at US$6,680, one can always dream!
Merlin also unveiled their lightest frame ever and first compact design, the Magia. Built in MTS size-specific 3AL-2.5V Ti, Magia's magic will result in a 2.1 pound frame with a special engraved head badge. An integrated 1.125 inch headtube and oversized 1.375 inch downtube in a compact design are mated with Merlin's trademark hourglass seatstays for a certain to be magic carpet ride aboard the new Magia.
Merlin's other models, the classic Extralight, Cyrene, Agilis, Fortius and XLM mountainbike join the Solis, a new concept from Merlin. Solis offers the high performance of Merlin, morphed into a new frame design that offers more comfort. Built in MTS size-specific 3AL-2.5V titanium, Solis has a shorter top-tube and longer head tube to keep the rider more upright. This design should enable more neophyte riders who want a high-performance bike with extra comfort to get the most out of their cycling experience. www.merlinbike.com
Tomac: The Legend Of Johnny T Lives
Photo: © Robert Gilbreath

After years of riding other peoples bikes, mountain bike legend John Tomac teamed up with fellow mountain bike legend Doug Bradbury, founder of Manitou, and started his own brand. Although not a commercial success, Tomac was known for making a great bike.
With American Bicycle Group taking control of Tomac's bike company several years ago, the product line has become more focused, putting Tomac's 2003 line on a level that compares well with any MTB brand on the market today. New for '03 is the incredible Revolver Ti, a 6AL-4V and 3AL-2.5V titanium dual suspension XC bike with Bradbury's suspension expertise reflected in the single pivot active rear suspension with three inches of travel. The unique machined Ti control link further reflects ABG's world class manufacturing expertise. Two more affordable models in AN-6 aluminum round out the new Tomac Revolver family.
Johnny T and Bradbury spent time refining the 98 Special for 2003 by revising the swingarm on this dual suspension XC bike to make it stiffer. With four inches of travel, Tomac's AN-6 alu 98 Special is more of an all around trail bike than the Revolver. The 98 Special family is also available in a Comp and 98 Special Pro model as well. For those of the downhill persuasion, Tomac has continued the 204 Magnum DH bike for you! Custom made by suspension legend Doug Bradbury, the 204 Magnum has all the bells and whistles you would expect in a world class DH rig and more. Eight inches of suspension travel, Hayes hydraulic discs, Manitou Dorado DH fork…need you ask more?
Tomac's Six Shooter is his version of a freeride bike; combining XC geometry and more solid DH construction. Made from custom for Tomac AN-6 alu, the six shooter offers six inches of rear travel, Manitou Sherman fork and Magura discs. More details can be found at www.tomac.com
The Art Of Sport From Giro Sport Design
Image: © Giro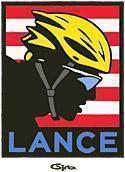 Although art and sport don't often mix, Giro Sport Design of Santa Cruz, California has commissioned a limited edition of 500 signed and numbered serigraph prints by artist Michael Schwab to commemorate Lance Armstrong's 4th consecutive Tour De France victory. "We are proud to launch this project," Giro's Greg Shapleigh told Cyclingnews. "All of the proceeds from the sales, totaling $60,000, will be shared equally between the Lance Armstrong Foundation and USA Cycling."
Schwab is a well known graphic artist who has created award-winning artwork for Apple Computer, SF Opera, Golden Gate National Parks, Sundance Film Festival and others. But with the extremely high demand for this poster, prospective purchasers must follow several steps to obtain a limited edition Lance Armstrong poster from Giro.
Giro's Shapleigh asked us to note that:
All Lance Armstrong Posters will be sold only directly through Giro.
Lance Armstrong Poster Orders will be taken by telephone on a first-come, first-served basis starting November 1, 2002 via Giro's special Lance Armstrong Poster information number: 1-866-235-6864
Each customer can purchase one print only
Payment by Visa / Master Card only
Call Giro's special Lance Armstrong poster information number for more details: 1-866-235-6864
Photos
Images by Rob Karman/www.roadbikephotos.com
Images by Robert Gilbreath/www.TexasBikeTrails.com