Interbike 2002
Las Vegas, USA, October 5 - 8, 2002
Interbike part 8 - Day 3: Lance talks, and talks, and runs the raffle
By Gerard Knapp in Las Vegas
Photo: © Cyclingnews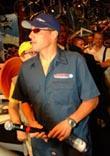 They came, they smiled, they signed and did the right thing - the list of elite professional riders who attended Interbike this year was bolstered by the appearance of four-time Tour de France winner Lance Armstrong on Tuesday, October 8, who joined former US pro rider Bob Roll for a Q & A and prize-drawing session on a temporary stage at the Trek booth.
However, work was not too far from Armstrong's mind, as he explained to the crowd that this week the World Road Championships were being held in Belgium, a worlds that will not feature himself, or his team-mate Floyd Landis, or Tyler Hamilton, or George Hincapie, who were all at Interbike doing some schmoozing.
Photo: © Cyclingnews

The topic of the worlds was one of the many questions asked of Armstrong by members of the large crowd. Despite its industry-only access, the Interbike visitors and delegates who gathered to listen to Armstrong are perhaps some of the biggest fans of the sport, given that the financial realities of the cycling industry means that for many, they are in the industry for their love of the sport, rather than bolstering their bank balances.
Armstrong was relaxed and at ease as he spoke for 45 minutes, answered questions on a wide range of subjects and conducted a raffle with Roll. This time arround, the handful of journalists present let the people ask the questions and Armstrong was happy to oblige. Indeed, he openly invited people to fire away.
So back to the worlds. "I haven't fully decided yet," Armstrong said when asked about the 2003 worlds in Hamilton, Canada. "You can't ride (competitively) in the spring, summer and then fall," he said of his 2003 program. While admitting that the Spring Classics and in particular the Amstel Gold are very important races, the crowd got the impression that next year the Texan will aim for another rainbow jersey, this time on North American soil. It was consistent with Armstrong's comments at the press conference following the San Francisco Grand Prix last month.
Although in a relaxed mood, Armstrong answered questions directly but without the tension which can accompany his press conferences in some parts of Europe. Perhaps it was the presence of Bob Roll, who got the ball rolling by asking "So what's up with Robbie McEwen?", in reference to the Australian's sprinter's comments to Cyclingnews in a story during this year's Tour de France.
Photo: © Rob Gilbreath

In that story, McEwen told Cyclingnews' correspondent John Trevorrow he was annoyed with Armstrong for seemingly assisting his rival Erik Zabel during the 2002 TdF, and that there was a small feud between the forthright Texan and equally direct Queenslander. It seems that - and with all due respect to people from both States - Texans are to the US what Queenslanders are to Australia: honest, direct, straight-talking, no-BS-kind-of-people. Taking a backward step is out of the question.
Subsequently, McEwen relayed some in-the-bunch dialogue that went on between the two. The quote: "I told him 'Shut your mouth or I will fill it with my fist.'", originally reported on Cyclingnews (see story) but repeated in countless publications around the world, provided the most colourful comment to emerge from this year's TdF. For his part, it seems Lance didn't quite hear McEwen's verbal spray. "I asked Robbie 'which part of that didn't I hear?'" when asked by Roll about the comments. While not denying the feud, it seems that McEwen's gaffe was breaking protocol and revealing what goes on inside the peloton as they battle it out day after day.
Roll seemed sympathetic at least to this part; riders from all levels know that there are many comments made inside a bunch during a race, dialogue which normally stays inside the bunch or kept for memoirs. But breaking down the barrier of Euro-mystique is one of the qualities these riders bring to cycling fans in English-speaking countries. At Interbike, Armstrong was happy to talk about what goes on in Europe, such as the dialogue between himself and team director Johan Bruyneel over their two-way radios during races.
"What goes on in my ear-piece?" Armstrong repeated the question to the crowd. "A lot of joking and frivolity. You could listen in easily with a scanner if you wanted to," he admitted. "Part of it is keeping the guys laughing, at other times it is serious discussion about tactics." Armstrong also warned would-be eaves-droppers that there's "a lot of F-bombs in there. Please don't scan and listen in."
Roll also asked about the presence of comedian/actor Robin Williams within the USPS enclave during the Tour. "He can be the team mascot," Roll said, "he's small and furry." Armstrong said Williams "brags about how he's always wearing arm-warmers and leg-warmers."
Inside the USPS team bus during the Tour, the team listened to Floyd Landis's favourite CD, ZZ Top's Greatest Hits. At full volume. Indeed, it seems they may also have been forced to hear Landis sing, as Armstrong said "the truth is Floyd can really sing". Part of this cultural exchange with their Spanish-speaking team-mates was explaining the meaning of the term "pearl necklace" to Roberto Heras (Cyclingnews assumes our Spanish-speaking readers can work out this euphemism without assistance). After he joined Roll and Armstrong on stage to great applause, Landis said half-innocently "I actually thought a pearl necklace was a strong of pearls, Lance thinks it's something else".
The stories then grew a little tall. Armstrong recounted how Landis motivated himself on a particularly miserable day when they had to go for a long training ride: "One day he (Landis) drank 13 cappucinos and I said to Floyd 'you can't do that'." More seriously, Armstrong said of his team-mate "that guy is going to be a damn good bike racer" and predicted he will become the next major American stage racer in Europe.
The questions came thick and fast. What did he think of the San Francisco Grand Prix. "That race is getting too hard," he joked. "One day you're sitting on the beach drinking white wine, the next you're going up Fillmore 10 times," he said of the brutally-steep climb in the circuit race which is held a little late in the season for some, it would seem.
Would he ride the Giro? "It depends on what the team does. One of these years I'd like to do the Giro ... but the Tour is our objective." Armstrong explained that the Vuelta is more important for the Heras and the Spanish-speaking riders.
His biggest accomplishment? "I'm most happy to have three healthy children," he said. While admitting it wasn't really an 'accomplishment' in any sporting context, it was what gave him his greatest joy in life. He said it "still blows me away how they do it" of the in vitro fertilisation process which has allowed he and his wife Kristin to have their son Luke and twin girls Isabelle and Grace after his cancer treatment.
In that theme, another asked if he would like Luke to follow in his footsteps. "I'd probably prefer that he didn't become a cyclist, but he can do whatever the hell he wants to. I kind of feel he has that bike gene ... he rips around on his bike. I was probably like that."
Armstrong only slightly hesitated with questions asking him "what's it like to be a world icon" or "when will he run for president"; politics is definitely off the radar. "I will never be a politician. There's too many, ah, problems."
Photo: © AFP

However, most of the questions were about bike racing. What went through his head when he gave Ullrich 'the look' on stage 10 of the 2001 Tour? He wasn't staring down Ullrich - "it's not a taunt" - but was looking for team-mates and generally working out a good time to hit the gas. "There's a lot to look at," he joked. In this year's Tour "I think we all missed him (Ullrich). It's better for the event if he's there. He's the scariest guy out there."
It's unlikely he would ride in Paris-Roubaix - "it's a scary race" - but he didn't rule it out either. Was there enough support for Heras in this year's Vuelta (although the question wasn't directed at his own non-participation)? "He could have used more support ... but it's hard to argue with the time trial on the final day. Gonzalez was flying," he said of Aitor Gonzalez' storming performance in the final day of this year's Vuelta which toppled Heras from the lead. "We had some crashes, some bad lack," he said of the USPS team in Spain's national tour.
Did Miguel Indurain influence his pedaling style? While Armstrong said he didn't study footage of the great Spaniard in action, "from the race he looked smooth on the bike". Would he do more mountain biking? "I'd love to ride the mountainbike more often." Would he ever enter an ironman event (triathlon)? "No! It's to hard. When I'm done with this suffering ... I'll go and watch one."
He was also asked about Ullrich's crash in the 2001 TdF. "We're getting a lot of questions about the 2001 Tour - this year's Tour must have been boring or something?" Would he win six Tours? "It would be irresponsible of me to say that. The only focus is number five." Would he try for six? "Of course ... but there's a lot between now and 2004." He said "you do the math, it's possible".
Was he disapppointed he didn't catch Richard Virenque on the Mont Ventoux stage of this year's Tour? "I thought we'd catch him. I really wanted to catch him. In my opinion it's the hardest climb in the world ... it's killed someone before." He also pointed out that the feared climb is likely to return in the 2004 Tour, an indication of his motivation to win a stage on this climb.
Best and worst days on the 2002 Tour? The best was Mont Ventoux, the worst was the first major time trial. "That was a really bad day. I did not feel good that day." There were also questions about his training and preparation. "Am I sleeping in the altitude tent? Not right now ... but I do it use it as much as I can stand it." He said he also does one really hard eight and a half hour day in the mountains each year in preparation for the Tour.
As he was answering the questions, he was also announcing winning ticket numbers, giving away prizes such as signed USPS jerseys, greeting and posing for photos with the winners, and talking. He also signed a yellow t-shirt worn by an infant to great applause. Then came the big prizes, a pair of Trek OCLV frames - one in silver and the other a stars-and-stripes special. "We're giving these away?" At this point Armstrong did talk about his sponsor's products and how he rides the same bikes which can be bought in stores.
Would he go for the hour record? "I'd like to ... but I have to prioritise." Just as proceedings were winding down, Armstrong was joined on stage by Eddy Merckx, who was working nearby on his own booth promoting his eponymously-named bikes. Eddy was asked how many Tours Armstrong could win. "Five or six," the legend replied. Then it was over, and Armstrong left the show escorted by security guards through the thick crowd of fans and autograph hunters. The Trek executives looked pleased, their man had stolen the show.
There were 12 TdF yellow jerseys on the floor at Interbike, although Greg LeMond and Eddy Merckx could do their business relatively unhindered, apart from the occasional polite fan seeking an autograph. At times it's possible for dealers to ask Eddy to explain the virtues of his latest creations on his relatively modest booth. But to see the adulation of Armstrong - even within an industry setting - is to witness his popularity and why many people hope his success will continue to rub off on the rest of the cycling industry.