Interbike 2002
Las Vegas, USA, October 5 - 8, 2002
Interbike part 19 - Cyfac boldly goes; Pearl Izumi babies Basso
Cyfac goes intergalactic
Dilithium crystals not included
Photo: © Cyfac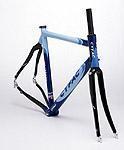 French manufacturer Cyfac has a distinguished history supplying bikes to leading French teams, and legendary riders, such as Bernard Hinault, and Laurent Brochard. The company was a supplier to the Festina team and this year its bikes could be seen underneath a French team which featured a certain Scottish time trial expert.
The frames have been widely used in Europe for many seasons and are now being distributed in the US. The top-of-the-range model for 2003 is the Starship model, named after the Columbus aluminium tubeset. It comes with a Columbus Muscle carbon rear triangle, Muscle carbon fork and FSA integrated headset. The frame is stiff and light and is aimed at riders looking for good performance in sprinting, climbing, and rolling across the flats.
The Cyfac Starship frame comes in four sizes (S, M, L, and XL) using a sloping frame geometry developed from years of building frames for Hinault, Cyril Guimard, former world-champion Laurent Brochard, and David Millar. The medium-size frame weighs 2.187lbs/980grams.
The Starship frames are built from an aluminium-silicon-magnesium alloy and are heat-treated after welding to the "F state". "F state" means that the entire frame is heat-treated after welding to increase the overall strength and integrity of the frame - pretty much an essential stage with aluminium alloys that contain silicon and magnesium. This heat treatment is designed to ensure that the mechanical characteristics of the frame are homogeneous in the zones near the welding areas, ie, no weakness in the welds. For detail and numbers junkies, the process consists of baking the completed frame at 535°C for 35 minutes, cooling the frameset in a bath, and then 'aging' it at 180°C for 10 hours.
Cyfac brings four models to the US market, namely the Starship, XLR8R, Airplane, and Altec 2+). Custom road and time-trial frames are also available.
For more info: www.veloeuropa.com
Basso prepares for 2003
Ivan Basso
Photo: © Pearl Izumi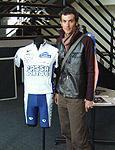 A few days after Interbike, Pearl Izumi welcomed several pro riders to its facility for the bi-annual photo shoot of its new range. Among those riders was emerging Italian pro Ivan Basso (Fassa Bortolo), winner of the white jersey competition in this year's Tour de France.
"I think it's shrunk in the wash"
Photo: © Pearl Izumi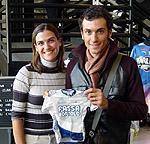 Apart from his obligatory duties for the team's clothing sponsor, Basso is also preparing for the arrival of his first child in February next year and picked up a specially made baby-size jersey for his expected child.
For more info: www.pearlizumi.com