Recently on Cyclingnews.com
Eurobike 2002
Friedrichshafen, Germany, August 29-September 1, 2002
Eurobike Pt 2b
Orange
By Paul Mirtschin
222 nice
Photo: © Bike2build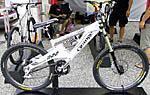 Orange have made a huge name for themselves in the U.K. over the last few years, and in the last 12 months have really made a push into the worldwide market. Having bikes under World Cup and NORBA winners such as Steve Peat's Royal/Orange team and the Global Racing riders can't have hurt.
And here are two very different bikes from Orange, both as exciting (and expensive) as each other, but aimed at very different markets. The 222 is the bike that Steve Peat has been riding for the last 12 months in testing for Orange, and although it looks similar to last year's model, it now has a wider bottom bracket and the rear hub also gets some extra width.
Very light.
Photo: © Bike2build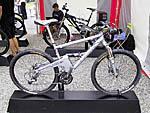 The Sub 3 is aimed at the XC market, and with only three inches of travel at either end, isn't for dropping off cliffs. Wearing its full 2003 XTR kit, it's also not for those who don't have a lot a cash. We don't have a weight on it but Orange say that with its XTR spec it's "very light".
Ritchey
Shiny and light
Photo: © Bike2build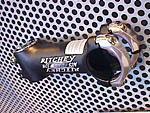 Ritchey, as usual, had a heap of gear on show at Eurobike. Stems, seatposts, hubs and more were on show, and most were in the usual black... Except for the stem faceplates. Ritchey has decided to run up a heap of coloured faceplates so you can match your stem to, well anything you like actually!
Ritchey's is also having another stab at the 31.8 millimetre oversized handlebar diameter for mountain bikes. This size came and went in mountain bikes in the early 90s, not getting wide acceptance because 25.4mm was the wide and well-entrenched standard. But 31.8mm has taken off on the road (where there's a good case for replacing a bunch of smaller sizes with one big one) so it's no surprise to see it cross over to mountain biking as well. Almost Ritchey's stems and bars were being offered available in the oversized dimension.
The downhill market also gets some goodies, with the 20mm Ritchey front hub. We have some pics of that beastie coming soon.