Recently on Cyclingnews.com
Eurobike 2002
Friedrichshafen, Germany, August 29-September 1, 2002
Crank Bros.
By Paul Mirtschin
Mmmm... Titanium
Photo: © Cyclecomponents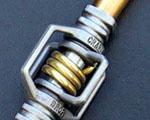 It usually takes a pedal manufacturer a few years to make a dent in the market, but Crank Bros managed to do it in just a few months when they released their Eggbeater pedal last year. The lightweight mountainbike pedal took the market by storm, and most people thought that it couldn't be bettered. Until now.
This season will see the release of three new Eggbeater pedals, a new cleat, and a clone from Look. Crank Bros were showing off the new full titanium Eggbeater, a Ti body and winged model as well as a new OEM model for bike manufacturers to spec on their bikes. At a claimed 185 grams per pair, the new full Ti pedals will be a fantastic gram saver for the weight weenies out there, as well as fulfilling the need for titanium parts wherever possible.
Look!
Photo: © Cyclecomponents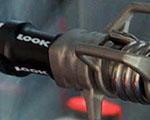 A surprise finding at the show was an Eggbeater clone with Look branding. Yes Look have licensed the Eggbeater design from Crank Bros. and will be selling it under the moniker of "4x4". Crank Bros decision to allow other manufacturers to clone their design was based on a need to legitimise the pedal, something they felt they couldn't do on their own. With Look's marketing power and Crank Bros. design, we can look forward to many more of these pedals being found on bikes.