Recently on Cyclingnews.com
Eurobike 2002
Friedrichshafen, Germany, August 29-September 1, 2002
Colnago 2003
By Tim Maloney
A power split.
Photo: © Cyclingnews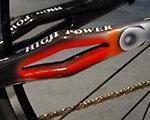 Il Grande Ernesto is at it again for 2003. The Casa di Cambiago has created an innovative new version of the ever-popular C-40. Alex Colnago, Ernesto's nephew and right-hand man told Cyclingnews in an exclusive interview at Eurobike that "our newest innovation is called the HP, or High Power. We've modified the profile of the chainstay. After extensive testing over the last year, we've found that the advantage of this HP system is to provide three percent more comfort in the ride, but also has five percent torsional ridigity in the chainstay." Colnago went on to explain that the classic C-40 B Stay would remain in the line for 2003, so consumers have a choice between the HP and the prior model. The C-40 B Stay HP will be available before the end of 2003.
Colnago has not followed the integrated headset boom. "We don't think that this adds any technical advantage to the bike and we have heard too many problems with this design," stated Alex Colnago. "It's really just a question of the look of the frame but with no real advantage and potential problems, we just prefer not to do this."
What a crank!
Photo: © Cyclingnews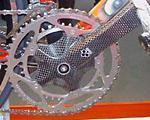 Alex Colnago explained that the CT-1 and Oval Master would remain, while the next new model for 2003 was the Dream B-Stay. "We've married the custom drawn Columbus Airplane aluminum front end of the Dream Plus to the 100 percent carbon fiber rear triangle of the B-Stay for this new model. We've also added a new color scheme for 2003, called 'New Look'," said Colnago. "It's a softer, more classic line and we've added a special metalflake paint in silver and blue."
New from Cambiago is an attractive new carbon fiber crankset. "These are already available, but only for Campagnolo," said Colnago. "We expect to have a Shimano version available soon. We have some new Colnago wheels as well. Our wheels have a carbon fiber hub with straight pull spokes, laced to a classic rim. With the straight-pull hub, the spoke has no lateral tension at the hub." For now, the new Colnago wheels are only on complete bikes, but may be available as an aftermarket upgrade next year.
Look for more from our EICMA report on Colnago's 2003 line and check www.colnago.com for more information.