Recently on Cyclingnews.com
Eurobike 2002
Friedrichshafen, Germany, August 29-September 1, 2002
Assos
By Tim Maloney
Stretchy.
Photo: © Cyclingnews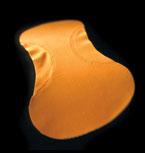 On the opposite pole of Swiss cycling technology is Assos, generally considered the premiere cycling clothing maker in the world. Assos CEO Roche Meier told Cyclingnews that, "we have spent years of research to develop our new Elastic Interface Technology concept; our new short inserts are made in an innovative new material that moves with every pedal stroke and eliminates friction and chafing."
A close fit.
Photo: © Cyclingnews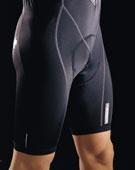 Assos has put their new Elastic Interface Technology in their '03 line across the board, from the FI. Lady Women's specific short up to the brand new super-short, the FI.13, made in their new DuPont ACFX Lycra, a microfiber fabric with muscle compression characteristics. US retail for the the FI.13 is around $200 and FI.13 is already available in very limited quantities from Assos dealers worldwide. See www.assos.com and www.elasticinterface.com for more info.