Recently on Cyclingnews.com
On Test: Trek Madone 5.2, November 26, 2007
A worthy successor
Trek's new Madone
Photo ©: James Huang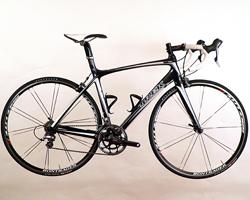 Trek had a daunting task ahead of it when it set out to develop the successor to its iconic Madone. Cyclingnews Tech Editor James Huang sets out on this latest version to find out if the company's designers did their homework.
Trek's previous generation Madone was the epitome of a tool born and bred to get the job done on the race course. Its no-frills OCLV tube-and-lug design was light and efficient; its durability record was among the best in the industry, and its unflappable handling characteristics made it at home on nearly any course.
However, that same no-frills race tool design also offered increasingly fading showroom appeal once the 'Lance factor' wore off. The Madone had certainly grown even lighter, stiffer, and more responsive with each iteration, but its basic design was essentially an evolution of the original early 90's OCLV design and its purpose-built appearance was looking increasingly dated amidst a sea of more progressively designed competition.
A quantum leap forward
We've already covered the technical aspects of the new Madone so we won't go into too much detail here, but suffice to say that few will accuse Trek of playing it safe this time around. Visually and technically speaking, the new Madone is a distinct departure from what we're used to seeing from Trek with a bold, swoopy new appearance and heavily shaped tubes. Instead of going the tried-and-true route with standard frame convetions, Trek fitted the Madone with a radical 90mm-wide bottom bracket shell (with integrated bearings that are adaptable to nearly any crankset), a novel semi-integrated seatmast that provides a wide range of fit options with no cutting required, and a tapered and oversized 1 1/8"-to-1 1/2" steerer tube on the new E2 fork. Any speck of conservatism has clearly been tossed out this time around, and the head tube even sports a new logo.
The new E2 front end
Photo ©: James Huang

The 90mm-wide bottom bracket shell
Photo ©: James Huang

Bottom bracket bearings
Photo ©: James Huang

The integrated headset
Photo ©: James Huang

The 'No90' fork design
Photo ©: James Huang

Trek sticks with reliable aluminum fork tips
Photo ©: James Huang

Each of the eleven new Madones shares the aforementioned features and varies primarily in build spec and fit. Our Madone 5.2 tester boasts Trek's mid-level OCLV Black Series carbon frame arranged in its new 'Performance Fit', which uses the same proven Madone geometry that we've grown to love but with a 30mm longer head tube for a slightly more relaxed position. Build kit is mostly comprised of Shimano's new gap-filling Ultegra SL group, including a compact crankset, STI Dual Control levers, both derailleur's, and brake calipers. Nearly everything else wears the Bontrager logo, though, including the newly updated Race Lite clincher wheelset and Race X Lite tires, Race Lite VR aluminum handlebar and Race X Lite stem, and Race Lite saddle.
Total weight on our 54cm tester was 7.3kg (16.1lb), not including pedals.
Trek puts its money where its mouth is
The hyper-wide bottom bracket shell, grossly oversized down tube, and asymmetric chain stays of the new Madone 5.2 clearly pay dividends as drivetrain response is exceedingly efficient, arguably even more so than the old Madone SSL frame. Likewise, the newly enlarged fork and head tube and wide top tube yield a pleasantly rigid and reactive front triangle.
The overall combination delivers a potent mix of traits: the new Madone offers excellent climbing manners both in and out of the saddle, and on long and steady or short and steep pitches alike. It surges forward from a standstill and in all-out sprints, and eats up long stretches of pavement like I go through gummy bears. As promised, the perfectly neutral handling personality of the original has also been faithfully retained, and even sharpened thanks to the more rigid front end. At low speeds or high, this bike goes where you point it, and without any unnecessary drama or body English.
So far, all of this could apply to the old Madone and it'd be safe to say that this new version is just as capable a race tool as before. In fact, the Discovery Channel team rode the very same OCLV Black Series frames throughout the 2007 season since the top-end Red Series bikes weren't yet available. However, in today's hyper-competitive carbon road bike arena, it is no longer sufficient to simply be light, stiff, efficient, and fast. Discerning consumers now demand supreme comfort, too, and like many of the latest breed of top carbon machines, the new Madone 5.2 now delivers all of the above in buckets.
Trek claims an almost unbelievable 39% increase in vertical compliance from last year's Madone, and after putting in several months of riding, we have no reason to argue. Our Madone 5.2 tester was uncannily smooth with a magic carpet ride over rough pavement (especially when seated thanks to some engineered flex in the seat mast) and exceptional bump absorption overall, even on bigger jolts. The added vertical compliance also adds to the bike's performance, as the micro 'suspension' provides an eerily surefooted and planted feel even with overinflated tires. Road feel is perhaps a hair too muted for some, but only just.
The new Performance Fit (and a generous dose of steerer tube) indeed offers a more upright and relaxed riding position… if you want it. While this new fit variant is 30mm taller up front than the original (or the new Pro Fit, which maintains the old head tube length), it's still no easy chair and should still accommodate all but the most aggressive positions. In all honesty, we would have argued that the old head tubes were too short for the vast majority of the population anyway, so we'd be more inclined to label Performance Fit simply as 'normal.'
Racers looking to decide between the two would be best served by checking out both variants before settling for one or the other. In most cases, you'll likely get a proper 'ass-up-head-down' race fit just by eliminating most of the headset spacers and/or swapping to the shorter headset cone. This would offer the additional benefit of a more adequately supported steerer tube and more rigid front end. A more important determinant for many may also be that Trek equips the Performance Fit versions with compact drivetrains and slightly shorter stems; Pro Fit models come with standard-sized chainrings. Pick your poison.
Oh how far we've come
One of the biggest revelations on our Madone 5.2 was the new Shimano Ultegra SL group, which could easily pass for Dura-Ace in terms of raw performance, if not quite in terms of weight. Shifts were impeccably smooth, brakes were supremely capable in both power and modulation, and the Ultegra SL compact crankset offered stiff and reliable power transfer along with a surprisingly low-friction spin (the latter almost certainly aided by the proprietary Enduro cartridge bearing setup which uses its own low-friction seals). Sure, the badges still say 'Ultegra' on them, but unless you simply have to have Dura-Ace this is easily the best high-end value in Shimano's current road parts bin.
Our test bike's variety of Bontrager bits also provided unflappable performance throughout the test period (for the most part). The newly revised Race X Lite stem continues to offer excellent stiffness and light weight in a reliable alloy package and we continue to be enamored with Bontrager's versatile VR handlebar bend. Despite their manageable US$449.99 retail price, the revamped Race Lite wheelset spun up reasonably well, felt stiff enough, and stayed round and true.
About our only component caveat was with the Race Lite saddle. We never quite got on with its old-school traditional shape, which seemed to almost concentrate pressure on soft tissue areas instead of relieve it. Bontrager's new InForm range of saddle widths may alleviate the issue somewhat, but riders who gravitate towards models with flatter tops or anatomic cutouts and features will likely want to look elsewhere. Still lamenting the passing of your San Marco Rolls? Step right up.
Survey says…
Surely we must have had other issues with something, you say? Hmm… well, the non-replaceable derailleur hanger does concern us a bit, although we will agree that the stiffer foundation makes for faster shifts and it is factory-replaceable in the event of a mishap. Um… the semi-integrated seatmast design makes it more difficult to fit the new Madone in a standard travel case, but it's still possible (our 54cm tester fit snugly; larger ones will probably require fork removal). Let's see, what else… ok, it could be argued that the styling, while striking, is too reminiscent of a Specialized Roubaix or Orbea Orca. We'll give you that one.
Other than those rather minor nits, though, we'd have to say that Trek knocked this one out of the park, which is a good thing because they really needed to. The new Madone not only 'does nothing wrong' like the old one, but now also manages to do just about everything very, very well. Is it the stiffest bike we've tested? Probably not. The most comfortable? Hard to say, but if not, it's not far off. What the Madone does do is strike that elusive, nearly perfect balance of drivetrain stiffness, front triangle rigidity, vertical compliance, and smart handling in a good looking package loaded to the gills with high tech features.
Keep 'em coming, Trek. We want more.
Price: US$3679.99
Weight: 7.3kg (16.1lb), without pedals, 54cm frame
Pros: Excellent drivetrain and front triangle rigidity, outstanding vertical compliance, perfectly neutral handling, smart appearance, progressive frame design
Cons: Not much
Cyclingnews rating:


More info: www.trekbikes.com
Photography
For a thumbnail gallery of these images, click here
Images by James Huang/Cyclingnews.com
Full specification: Trek Madone 5.2
Frame: Trek Madone 5.2, OCLV Black Series carbon, Performance Fit
Available sizes: 50, 52, 54 (tested), 56, 58, 60, 62cm
Fork: Bontrager Race X Lite w/aluminum E2 steerer
Headset: Cane Creek IS-2 integrated w/cartridge bearings (1.125" upper, 1.5" lower)
Stem: Bontrager Race X Lite, 31.8mm
Handlebars: Bontrager Race Lite VR, 31.8mm
Tape/grips: Bontrager Gel Cork
Front brake: Shimano Ultegra BR-6600-G
Rear brake: Shimano Ultegra BR-6600-G
Brake levers: Shimano Ultegra SL STI Dual Control ST-6600-G
Front derailleur: Shimano Ultegra SL FD-6600-G
Rear derailleur: Shimano Ultegra SL FD-6600-G
Shift levers: Shimano Ultegra SL STI Dual Control ST-6600-G


Cassette: Shimano 105 CS-5600, 12-25T
Chain: Shimano Ultegra CN-6600
Crankset: Shimano Ultegra SL FC-6601, 172.5mm, 34/50T
Bottom bracket: Shimano Hollowtech II
Pedals: not included
Wheelset: Bontrager Race Lite
Front tire: Bontrager Race X Lite, 700 x 23c
Rear tire: Bontrager Race X Lite, 700 x 23c
Saddle: Bontrager Race Lite
Seat post: n/a