Recently on Cyclingnews.com
On Test: Trek Madone SSL 6.5, March 13, 2007
A wolf in sheep's clothing
The Trek Madone SSL 6.5
Photo ©: Paul Henderson-Kelly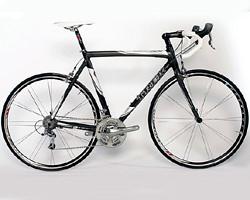 The Trek Madone is not just a single model, but rather an entire family of premium carbon fiber road race models. Steve Beletich discovers that the second-in-command Madone SSL 6.5 offers nearly all of the benefits of the top-level SSL 6.9, but at a significantly reduced cost.
Any cyclist who has ever turned the pedals in anger is familiar with Trek Bicycles: long-time bike provider to Team Discovery Channel and sponsor of Lance Armstrong (just check Trek's website - I defy you to find a web page without a picture of Lance on it). However long before the Lance relationship began, Trek was a pioneer of carbon fibre frame technology and has remained at the forefront of the material ever since.
Satellite-grade stuff in your living room
At the heart of the latest Trek Madone SSL 6.5 is a frame made from Trek's OCLV 55/HM carbon fibre. This is code for Optimum Compaction Low Void, High Modulus carbon fibre sheet, each square meter of which has a mass of 55 grams. If that sounds light, that's because it is. Trek's other two OCLV materials are already exceedingly light, each weighing just 110g or 120g per square meter. While this may suggest that the swap in material should yield roughly a 50% weight savings, the actual difference on the SSL frame is more subtle as it uses a greater number of those lighter OCLV 55 layers to achieve the desired properties.
The Bontrager Race XXX Lite carbon fibre stem
Photo ©: Paul Henderson-Kelly

Shimano squeezes a third chainring
Photo ©: Paul Henderson-Kelly

The Bontrager Race X Lite Pro saddle
Photo ©: Paul Henderson-Kelly

Ultra-lightweight OCLV 55 carbon fibre
Photo ©: Paul Henderson-Kelly

Bontrager Race X Lite Carbon handlebars
Photo ©: Paul Henderson-Kelly

Trek continues to stand behind non-integrated headsets.
Photo ©: Paul Henderson-Kelly

According to Tyler Pilger, Trek Road Product Manager, "The advantage of the 55gsm over 110gsm of the same base material is that the 55gsm version has more layers for a given wall thickness. This allows us to do two things: we have more directional options in our layup while still maintaining a balanced layup of the same thickness, and often we can go with a slightly thinner wall. So instead of six layers of 110gsm, we might be able to use eight to ten layers of 55gsm and get the directional balance we are looking for."
Trek claims that our 58cm Madone test frame weighs just 893g. While we didn't strip the bike down to verify the claim, we have little reason to doubt it given our 7.02kg total bike weight (without pedals). That's just 220 grams over the UCI minimum weight limit, or around 450 grams over if you throw some decent pedals on it (as I did - Speedplay Zero stainless - very light and extremely functional). So you get the picture: it's a light bike, and certainly among the lightest we've reviewed.
Geometry-wise, the Madone frame is interesting. The 73 degree seat tube angle is pretty standard for a frame of this size, but the base of the seat tube is offset slightly forward from the bottom bracket shell. This results in an unusually large gap between the rear wheel and seat tube, and also provides a saddle position which is relatively far forward. I was able to achieve a 60mm saddle setback, even with the supplied Bontrager setback seat post, a feat which I have not been able to accomplish with very many road frames. The end result is a nice forward saddle position (i.e. close to time-trial position) without a correspondingly steep seat tube angle or its usually associated harsh ride quality.
Tried and true
Trek equips the Madone SSL 6.5 with a full Shimano Dura-Ace group, although ours somewhat curiously arrived with a triple crank set (oh, hell - it's time I switched to granny gears anyway). The rest of the package is unflinchingly Bontrager, right down to the handlebar tape. The Bontrager label also graces the carbon fibre seat post, stem and handlebars - all de rigueur for a high end road bike. The only non-Shimano, non-Bontrager item of note was the non-integrated headset, supplied courtesy of Cane Creek.
Wheels are Bontrager Race X-Lites (only one X, not three X's like the carbon jobs that Lance rolled on). These are medium profile alloy clincher rims with 20 paired radial aero spokes on the front wheel and 24 on the rear (radial on the non-drive side and interlaced on the drive side). Keith also provides tyres in the form of dual compound Race X-Lites with a staggering 290 threads per inch. You can also put 150 pounds of pressure in 'em. Very nice.
Out of the impressive shipping box, the Madone showed remarkable build quality, save for some slightly dodgy handlebar taping that was easily fixed. Yes, the bike was light to pick up, and yes, it's a nice looking unit, in an understated way - metallic grey paint with white and red trim. White Bontrager saddle and white bar tape are a nice touch, to begin with anyway.
Go, go, go!
The first impression on the road is definitely one of speed. On the flat and down slight inclines, the Madone was very, very fast. Aero spokes, and not many of them, no doubt aid in the sensation, but I also felt that the tyres, at 150 psi, were a large part of the speed equation. Uphill, the bike was a dream, as you can imagine, and the near-illegal weight and chunky bottom bracket shell don't exactly hurt, either.
Surprisingly, the Madone SSL 6.5 was extraordinarily well behaved on the road. Although capable of neck-snapping acceleration when asked, the frame displayed excellent stability and control - not once was I nervous about its ability to hold the road and go where the front wheel was pointed. Its ability to absorb road bumps and vibrations was not as impressive as other carbon frames I have ridden, but then again low-spoke rims and 150 PSI in the tyres is not going to assist in this department. It's safe to say that some may prefer slightly more damping from road buzz, but to be fair, Trek did originally intend for this frame to be an all-out racing machine.
With respect to the componentry, the standout items, for me, were the brakes and crankset. I am always astounded as to just how much stopping power is on tap from Dura-Ace calipers, and I almost always lock a wheel when using Dura-Ace after an extended period on Campy's Record.
The Dura-Ace crankset is a thing of beauty, and the triple chain ring does not appear to add much weight to the whole bike. Shifting up and down the chain rings was a breeze, although several times I found myself in the inner ring when I only wanted the middle ring - no doubt a function of throwing the derailleur to its extremes, as one does with a double crank set. A triple requires slightly more finesse.
The other Bontrager components went largely unnoticed, as they should, although the saddle was probably a little narrow for my derriere. The carbon seat post, stem and bars were all a delight to use, and fulfilled their roles quietly and without issue.
Lance lite
All in all, the Trek Madone SSL 6.5 is a very, very capable road machine. The component spec of the Madone was on par with the frame, and the wheels and tyres deserve a special mention for their speed and road holding ability. In general, the Madone would be equally at home in a criterium or road race, as it is stupendously light and fast in all situations, but with excellent road manners.
Weight: 7.02kg (15.5lb)
Price: US$5830
Pros: weight, handling
Cons: slight transmission of road vibration
Cyclingnews rating:

Photography
For a thumbnail gallery of these images, click here
Images by Paul Henderson-Kelly/Cyclingnews.com
Full specification: Trek Madone SSL 6.5
Frame: Trek OCLV 55/HM carbon fibre
Available sizes: 50, 52, 54, 56, 58, 60, 62cm (center-to-top)
Fork: Bontrager Race X Lite carbon fibre
Headset: Cane Creek S-8
Stem: Bontrager Race XXX Lite Carbon, 12 degree, 31.8mm
Handlebars: Bontrager Race X Lite Carbon
Tape/grips: Bontrager Cork
Front brake: Shimano Dura-Ace BR-7800
Rear brake: Shimano Dura-Ace BR-7800
Brake levers: Shimano Dura-Ace STI Dual Control ST-7803
Front derailleur: Shimano Dura-Ace FD-7803
Rear derailleur: Shimano Dura-Ace RD-7800-GS
Shift levers: Shimano Dura-Ace STI Dual Control ST-7803


Cassette: Shimano Dura-Ace CS-7800, 12-25T
Chain: Shimano Dura-Ace CN-7801
Crankset: Shimano Dura-Ace FC-7803, 53/39/30T
Bottom bracket: Shimano Dura-Ace SM-FC7800
Pedals: not included
Wheelset: Bontrager Race X Lite clincher
Front tire: Bontrager Race X Lite clincher, 700x23c
Rear tire: Bontrager Race X Lite clincher, 700x23c
Saddle: Bontrager Race X Lite Pro
Seat post: Bontrager Race X Lite Carbon