Road Season Preview 2004
Team profile, February 26, 2004
A little more Clockwork Orange
Just a little more Clockwork Orange is needed to give EE their best year yet
Photo ©: Jeff Tse & Monique du Bois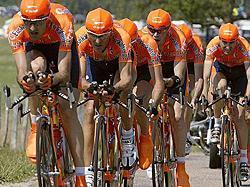 You better watch out, because last year was just the start. After spending the past month hanging around their unofficial home town of Durango, Cyclingnews' Martin Hardie got the impression that whatever is said about this gang of brightly clad Basques, Euskaltel-Euskadi appear to have a quiet but firm determination about them, and with just a little more Clockwork Orange, EE will have their best year yet.
EUSKALTEL-EUSKADI'S SUCCESS AND RISE TO PROMINENCE in 2003 has brought about change: "We have to change our mentality from now on," says Manager Miguel Madariaga. "Up until now the team has had a lot of freedom; from now on, no."
What Madariaga is referring to is the liberty of all the team members to demonstrate their worth by looking escapes or victories. "This is now over," he says.
Is he signaling the end of the Euskaltel that in some ways took over the mantle of Kelme in its heyday? The team you could always count on to be in a break or soaring up the mountain passes? I don't think so, but it does seem to signal that Euskaltel will not just be looking for those long hours of TV time that provide exposure for their sponsors, simply by being in those chance breaks we see day in and day out during the Tour.
Change, but staying true to its roots
The gallant but risky type of racing we often see from Division 2 and 3 teams is not the racing of Euskaltel from now on. Now Euskaltel now has objectives that go beyond mere qualifying for a wild card entry to the Tour. The objectives go beyond hoping for a Laiseka-esque Luz Ardiden victory, or the chance that one of the Etxebarrias will mark and follow almost every attempt to escape up the road.
"He is going to be one of the most important Basque riders in history. We have before us a rider who can win a Grand Tour, and this can only be said of very few people."
- David Etxebarria on his team-mate Iban Mayo
But in the wake of their best showing since last year's Tour, there is no doubt that the team continues true to its raison d'etre. "The roots are the same, as well as the intentions and the hopes," says Madariaga. "This team has been like a child that was born into a poor family, which was molded by living through a series of blows and misfortunes. This kid has nearly always been in shorts with dirty legs, but now it wears trousers.
Madariaga feels that at last Euskaltel lives a healthy life in a "good environment". "This is the best team line-up in our history," Madariaga boasts, but equally humbly, he says he doesn't know "where I found the energy, the intelligence or the instinct" to bring it all together in the negotiations with sponsors and riders. "I don't like the negotiations," he says.
One ambition: "To win the Tour"
Can Zubeldia reach the podium?
Photo ©: Jeff Tse

And with this line-up, Madariaga has but one ambition: "To win the Tour." Not necessarily this year: "We have three years to win the Tour - in this time we have to do it".
This is no wild fantasy and frankly Madariaga doesn't expect to achieve the victory this year. His feeling is that the changes in mentality which he speaks about will mean that this year may not be their best or their most successful year. "When you change the system of playing the game, at first things don't go well," he says. Not going well this year means getting onto the podium in the Tour along with a stage victory, and winning the Vuelta al Pais Vasco and Euskal Bizkleta. Not an easy feet for a team that might not just go to well this year.
A stage victory in the Tour could come from any number of players... the most likely being Mayo, the Etxebarrias and Laiseka. After Zubeldia's prologue in 2003, he can't be counted out either. But the podium gets a little trickier; Madariaga, Mayo and Zubeldia have all been asked: "Who will it be on the podium?" Madariaga says, "either of the two" but his preference, seems to swing to Haimar Zubeldia at the present time. But in saying this, he does not discount the possibility of Iban Mayo, nor discount the great glory that Mayo has given the team and the country with his performances last year.
Zubeldia, for his part, aspires for a podium position, but his first objective is simply to be better than 2003. He doesn't discount going for a stage win as well. When asked about Mayo's aspirations he says, "they are the same". Mayo says, "To win and stage and to get on the podium is a very ambitious objective, but last year I saw that I could get there." He also felt that Zubeldia could achieve similar objectives, but that physically it would be harder for Zubeldia to win a stage and make the podium.
Mayo says without a doubt that they could both fight for the podium without affecting themselves or the team. There is no question of either of the two aspirants attacking each other on the road - it simply isn't imaginable for either rider. But Zubeldia reckons that what could be the difference in the end is the final time trial, "like it was between Moreau and Beloki in 2000" he says. Which one, or whether both make it onto the podium, is an open question, but the final objective in the end according to Zubeldia is for a "rider from Euskaltel- Euskadi to win". Mayo says much the same: "If I don't win, it has to be a team-mate that does."
Other goals for the Orange Armada
Apart from the Tour, what else has the Orange Armada got in store for us? For one, the third leader of the team, Samuel Sanchez, won't be going to France in July. The last two years just haven't been his, after being eliminated in the Pyrenees in 2002 and on Alpe d'Huez in 2003. Sanchez will instead focus on the week long tours, the World Cup races and then the Vuelta in September. After a bittersweet 2003, his primary mission will be the early part of the season, a time of the year where he has always done well, in Paris-Nice and Milan-San Remo, for example.
Already Sanchez has put in a steady performance with his third place in the Ruta del Sol/Vuelta Andalucía during mid-February. Sanchez aims "to peak for Paris Nice, and with a little more luck, I could win a stage and get on to the podium."
"But my big objectives for the year will be Pais Vasco and Liège. I want to do better than I did in 2003," he says. Remember Sanchez was the only rider who could stay with and work with Armstrong in last year's Liège-Bastogne-Liège. "I want to try and win Pais Vasco and then take that form and fight for Liège."
Judging from the objectives from various riders on the team, the Vuelta al Pais Vasco and Liège-Bastogne-Liège may get a little crowded this year. You get the feeling that they wouldn't mind a Mapei-like Paris Roubaix podium in both these races.
The extraordinary Etxebarrias
Looking north, last year Flèche Wallonne saw two non-Euskaltel Basques, Igor Astarloa and Aitor Osa take first and second place. (A side note: there are reportedly 70 Basque pros scattered throughout the peloton this year; the majority in Esukaltel - 23 - and Cafés Baqué - 10). But in fourth place last year at Flèche, following his second place in 2002, was that Basque-Venezuelan arrow, Unai Etxebarria. Cruising in not too far behind were Iban Mayo and Samuel Sanchez in 16th and 17th respectively.
Unai takes first win for EE in 2004
Photo ©: AFP

Unai Etxebarria has already shown some good early season form, his win in Majorca testament to his preparation, winning via a lone attack in the final kilometre. Maybe that win was a pay-off for his off-season training in Brisbane during December 2003. But when I asked him about his triumph in the fifth stage of the Balears week, he only said: "It was beautiful."
David Etxebarria hasn't been too shoddy up north in the past either. In 2002, he was eighth in Flèche Wallonne and fifth in 2001. But in the big one, Liège, the diminutive Etxebarria is in fact in sight of a sort of quasi record - another podium finish would make that three times on the podium with his third place in 2001 and his second in 2000. Last year he had to settle for 19th, ahead of Armstrong but behind his team-mates Mayo (second) and Sanchez (sixth).
Etxebarria has made it clear that Liège is one race he wants on his palmares: "Liège is the only dream along with the World's that I have failed to complete; we could say that it is the objective of my professional career - twice I have been at the verge of winning," said David Etxebarria to Cyclingnews in 2002. But now he acknowledges that a victory is complicated. "There are only a few people who have made it onto the podium in Liege three times," he says. Complicated also by the fact that his namesake, Unai, and the younger generation of Mayo and Sanchez have performed well in the Ardennes, so it seems likely that if all goes according to plan, it will be Mayo or Sanchez who will be supported by the team for a victory in Liège this year.
"I think that it [Liège] is a race that is not so important for me now, in the way that say, Pais Vasco is, but yes, it is not out of my head," says Etxebarria. In relation to the Vuelta a Pais Vasco, David E. notes that he has been second, fourth and sixth. "Two years ago, I won two stages and finished second."
Other players
Not far away from David back then, was none other than a young Samuel Sanchez. David's second objective for the year will of course be the Tour. "This year we have two leaders and it will be a little different for me," he says.
"That is with a change in the mentality, I think you won't see as much of me because now I am in a team, like it was when I was with ONCE, where we have riders for the Tour and not only stages." Regarding his other goal in life, the World's, David won't have a chance there or at the Olympics, having renounced the opportunity to ride for selection.
On the great orange hope, Iban Mayo, David Etxebarria says, "I have known him for eight years." In fact, they both live within 50 metres of each other in Durango: "I have always seen he is good and has a lot of class, and that he is going to be one of the most important Basque riders in history. We have before us a rider who can win a Grand Tour, and this can only be said of very few people. I believe that we have to leave him [be] and do what fits him, and only with this can we be sure that he will follow through with the results.
But aside from the more well-known names amongst this gang of Basques, the early season has given us an opportunity to see that some others are putting in efforts that match the enthusiasm of their fans and the determination of their leaders. The not so well-known, skinnier and taller younger Zubeldia, Joseba, finished a very credible third in the early season French opener, Etoile des Bessèges, 10 seconds behind race winner, Laurent Brochard. By the way, it should be noted that David Etxebarria was not that far back in the overall. And in the Valencian one day Classic, the Trofeo Luis Puig, one of the young Euba twins, Josu Silloniz, also ran third behind the lone breakaway, Oscar Freire. World's sub-champion Alejandro Valverde took out the bunch sprint ahead of Silloniz, but the young Euskaltel rider pipped Zabel for the podium place.
A little more Clockwork Orange
Several men, one mission: to win the Tour
Photo ©: Iban Gorriti

However, even with this determination on the road, one thing is for sure that to ensure a place on the podium in the Tour in July, EE will have to do better in the team time trial. Last year, Iban Mayo said about the team's TTT preparation: "To tell the truth, we haven't done a thing. We haven't prepared for the team time trial in any way. I don't know how it will turn out; last year we went better in this stage, and we hope to do well, but we will have to do it to find out."
Well the fact is that even though they cop a lot of bad press for their TTT, and even if a difference here would put them a lot further up the standings in the general classification, they are reasonably steady improvers in this discipline. Especially when they haven't gone out of their way to do well. In their three years at the Tour, their deficits have steadily reduced from 4'45 in 2001 to 3'22 in 2003.
With the likes of Iker Camano coming home from Phonak and a little more determination and higher goals, we might see another minute or more shaved off their TTT in 2004. Have a quick glance at the general classification for the 2003 Tour, take a minute off EE's 2003 TTT, add a little more aggression on the road, combine that with better team riding for the podium, and you could easily imagine the name of Vinoukourov being replaced by that of Zubeldia.
It may all be imagination on my behalf, but so is Euskaltel the imagination of one man, Madariaga, and one people, the Basques. As Zubeldia has said, "We are an emanation of the Basque people," and you have to give them one thing, they have imagination. But in reality, a little more Clockwork Orange might be all that's needed when the road finally reaches Paris at the end of July.