Team TIAA-CREF - 2006
TIAA-CREF in '06: Bigger, better, brighter
By Les Clarke
Jon Vaughters
Photo ©: Beth Seliga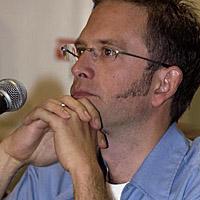 After a solid 2005, TIAA-CREF are back in numbers for 2006, with the addition of some experienced riders and the return of the talented young crew that has begun to establish itself as part of America's most promising youth development team. Team manager Jonathon Vaughters has worked hard with his staff to establish two bases for the 2006 season, allowing riders to ride both in the USA and Europe without the logistical hassle associated with cross-Atlantic travel, as was the case last year. It's a big change which is already paying dividends.
"Last year we were packing up everything and take eight guys over to Europe for a month of racing before packing everything up and coming back, which we did a couple of times," he says, before adding, "This year we're just doing the full 100 days of racing in Europe; we've got two cars, a truck, a motor home and all that over in Europe, and it's just there full-time." This will allow the team to race more often in Europe, which is where the team has to be to move forward. "We've got a staff based in Europe and a staff based in the US, and we're just pulling riders back and forth, not all the logistics. As opposed to doing 30 or 40 days of racing over there we can do a full 100-day calendar," explains Vaughters. "We've got an extensive calendar - we're racing every week throughout the year except for the month of July; we don't quite have an invitation to that one yet!"
Another big change has been the addition of experienced riders such as Danny Pate, Mike Creed and Rashaan Bahati. They're part of the development process for the younger riders, and Vaughters is confident that they'll help the young guys step up a level. "Some of the other guys like Danny Pate and Mike Creed have been around for a while - even though they're still young, they're much more experienced than other guys on the team," he says. "But it's just enough experience to guide everyone else; it's not enough that you're moving away from the core goal of the team which is to develop young riders, but you're giving the other riders another tool and a bit more knowledge to be able to move forward."
Another day
Photo ©: Régis Garnier

It's all part of the plan to be racing in the Pro Tour in the next few years, and the ex-Credit Agricole pro is well aware of the fact that financial concerns need to be met in order to grow. "All of our sponsors have upped the ante [in 2006], and we've got some people behind the scenes who have upped the ante as well." says Vaughters. "Some of these private investors have come in with the dream of producing a majority-American Pro Tour team, where it's a case of taking a 25-rider Pro Tour team and 15 or 20 of them are American as opposed to just one or two, like on Discovery right now. That's kind of the dream behind the team, and these guys have shared in it."
So if the money's looked after and the team is performing well then it's a case of success breeding success, which is something Vaughters believes in. "You get a couple of performances like this [Brad Huff's Normandie win] and everyone realises that, 'hey, if I want to keep my spot next year I'm going to have to raise my game as well'. That's what leads to some long-term momentum that gets us to the point in two or three years when we're knocking on the door of the Pro Tour," he says.
That momentum has also made TIAA-CREF a name that's synonymous with young rider development for the future. "In general we've developed the reputation in the US and Europe as a place where guys want to go to - it's not a team where guys say, 'well, if they pay me enough I'm going to go and race there'; it's a team people want to come to because we've got a really good race programme, and for the most part we're organised and professional," explains Vaughters. "We're doing really good races and trying to take of the guys and make sure they get the attention they need to perform at their best, so it's not like anyone's getting lost in the shuffle."
Danny Pate
Photo ©: Beth Seliga

And in terms of personnel, who are the riders to watch in 2006, according to the boss? "I think when Danny Pate hits his form - he's always a bit of a slow starter - I think you'll see the Danny that hasn't been seen since he won the world championships in 2001. I really have some high hopes for him. Tom Peterson is a really big climbing and stage race talent - he's just turned 19 years old and he's a young kid so we put him in California but trying not to over-race him because he's so young." The team will be in action again at the Tour de Georgia, a race that may unveil a couple of talents to the American public. "I think at the Tour of Georgia the two guys from our team you'll hear of will be Tom and Mike Lange," says Vaughters. "Mike is a little 52kg guy - he's learnt how to race in the big pelotons of Europe, so I think he'll bring those skills back to Georgia, and he'll find a place in that race for sure. I'm also hoping that if Georgia goes well for Tom [Peterson] and he hits some form it's definitely more suited to him that California was - and now he's got some international experience under his belt he could do something special."
Riders such as Timmy Duggan and Ian MacGregor will be stepping up to the plate again this year, and Pate, Brad Huff, Mike Creed and Taylor Tolleson will also be riding at the track world championships, providing some diversity in the programme for the team, which should prove a positive move. All in all, Vaughters is looking forward to 2006 and it looks like being a good year for the team already. "If you look at the results so far this season - [Etoile de Besseges] and the like - it's been really solid," he says. "We were really solid at the Tour of California, and within the programme all the guys are feeding off each other. If one group of guys does well in one race, then the other guys in Europe or the US want to outdo the group that's on the other side of the ocean; it's just feeding off itself."
See also:
December 30, 2006 - An interview with TIAA-CREF's silent financial backer
April 5, 2006 - On course for the ProTour in 2009
Rider profiles
Team diaries