Results and Reports from Australia
Promoters wishing to submit results should send them to Cyclingnews
Trek Bikes Summer Series Rd 4
Heffron Park, January 28, 2003
Strongman Renshaw in charge
By John Sunde
Dr Bob leads B Grade
Photo: © John Sunde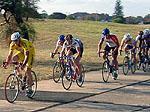 World Teams Pursuit Champion, Mark Renshaw returned to Sydney club racing after competing in the Jacobs Creek Tour Down Under and immediately asserted his authority by outsprinting Steve Fitzpatrick to win round 4 of the 12 week Trek Bikes Summer Series. Commenting after the race, Mark claimed that suffering around the windy Heffron Park wasn't so bad after being on the receiving end of a fair amount of suffering in Adelaide for 5 days.
A smaller than usual field of 65 riders turned up for round 4, with many of the riders backing up from racing in the successful 10th edition of the Joseph Sunde Memorial Criterium held the day before. A grade was the smallest field with only a dozen riders, but size doesn't matter when you've got big engine power like Mark Renshaw, Steve Williams, Stewart Campbell and Stuart Dangerfield to drive things along.
B grade were once again revved up from the gun, but have yet to learn it takes more than a few hard turns down the Heffron straight to stay away from a smooth peddling A grade. B grade were able to snatch the early sprint points on laps 7 and 5 to go and ever improving Randwick Botany rider Chris Jenkins was able to collect 13 points to start putting some pressure on club mate Robbie Cater in the Sprint King competition.
On a hot and fast night, most of the B grade bunch were able to hang onto the A grade train when the 2 bunches came together with 5 laps to go. Two laps later C grade, who started with 30 riders and had ridden very well to that point, were caught and a larger than usual bunch came around for the bell to contest the last lap finale.
Determined to make amends after being rolled in the sprint the day before, Stewart 'Computer' Campbell split the field with a vicious attack which resulted in a small group of 4 riders getting away and hitting the straight with a clear gap on the field. The next move came from recently crowned NSW Madison Champ, Steve Fitzpatrick but he was accounted for by a fast and very strong finish from Mark Renshaw.
Desperate to claim some competition points, protect his lead in the Series and keep at least one hand on the Trek 5500 carbon frame, Anthony Spurgeon made sure he beat the rest of the field home to claim 5th place.
Chris Jenkins capped off a good night's racing to win the B grade bunch prize and Craig Dempsey continued his domination of the C grade competition to win C grade for the 4th consecutive week.
Photography
Images by John Sunde
Results
1 Mark Renshaw (Bathurst)
2 Steve Fitzpatrick (St George)
3 Stewart Campbell (Easts)
4 Dave Stewart (Easts)
5 Anthony Spurgeon (Caravello)
 
B Grade
 
1 Chris Jenkins (Randwick Botany)
 
C Grade
 
1 Craig Dempsey (Easts)
 
Trek Bikes Pointscore 
 
1 Anthony Spurgeon (A)      13
2 Stewart Campbell (A)       9
3 Stuart Dangerfield (A)     7
3 Robert Cater (B)           7
3 Steve Fitzpatrick (A)      7
3 Mark Renshaw (A)           7
4 Matt White (A)             4
4 Steve Wooldridge (A)       4
4 Dave Stewart (A)           4
5 Liam Kelly (A)             3
6 Graeme Moffet (A)          2
7 Jose Rodriguez (A)         1
 
A/B Grade Sprint King
 
1 Robert Cater (B)          47
2 Chris Jenkins (B)         27
3 Anthony Spurgeon (A)      15
4 Patrick Jones (B)         10
5 Stuart Dangerfield (A)     8
6 Stewart Campbell (A)       5
6 Mark Renshaw (A)           5
7 John Kenny (B)             4
7 Steve Fitzpatrick (A)      4
8 Paul Rowney (A)            3
8 Matt White (A)             3
8 Steve Wooldridge (A)       3
8 Dave Watkinson (B)         3
9 Liam Kelly (A)             2
9 Will Gray (B)              2
10 Steve Williams (A)        1
10 Dave Stewart (A)          1
 
C Grade Pointscore
 
1 Craig Dempsey            20
2 Roger Shackleton          6
2 Dave Jackson              6
3 Stefan Borunivic          1
3 Tim Rice                  1
3 Frank Fortuna             1
3 Luke Picton               1