Results and Reports from Australia
Promoters wishing to submit results should send them to Cyclingnews
Randwick Botany CC
Heffron Park, January 25, 2002
Kelly takes A Grade, English visitor Dean wins D Grade
By Tony Horneman
Randwick juniors
Photo: © Tony Horneman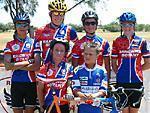 After last weeks sweltering 39DegC heat, mild and sunny conditions greeted eighty-four senior and junior riders for the weekly Randwick Botany Criterium races at Heffron Park, Maroubra on Saturday.
Randwick Botany's Liam Kelly stormed home to win the A-Grade 32km race in a time of 49min 46sec and an average speed of 39kph. Only a bike length behind was Eastern Suburbs rider Dave Stewart. Randwick Botany star Robert Cater finished third followed by Todd Sinclair (North Sydney). Simon Price from the Hobart Wheelers Cycling Club competed in his first A-Grade race at Heffron Park and finished just out of the placings. "It was a pretty hard race" Price said after the race. Price recently moved from Hobart to Sydney and is looking forward to participating in Randwick Botany Cycling Club training rides.
The thirteen-rider B-Grade race was conducted over 28km. Keegan Aitchison blasted off the line and in doing so dispelled any thoughts of some of the B-grade bunch of a nice steady warm up to race pace. The bunch was forced to react quickly and to up-the-pace from the start. Aitchison was reeled back in by about half way through the first lap. On lap 3 Randwick Botany's Clive Hammerson launched off the front of the bunch with Simon Kenny of Sydney Cycling Club hot on his wheel. There was clear confusion as to who was going to chase down this break with a number of Sydney CC riders and several Randwick Botany riders not willing to chase down their club mates. On lap 4, John Buckton launched an attack from the back of the bunch on the hill and managed to break free from the peleton and set about getting across to the two breakaways. It took him a full lap to get across and by that time he was a very tired individual. The threesome stayed away from the B-grade peleton until Randwick Botany strongman Clive Hammerson again turned-up-the-wick and started to ride away from the other two. Another couple of laps, and although they worked hard together to stay away, the breakaway of Kenny and Buckton was caught by the bunch. B-Grade then set about trying to reel in Hammerson but he had put too much distance on the field. Hammerson crossed the line first in a time of 47min 15sec and an average speed of 36kph and the bunch sprinted for the minor placings. Second was Murray Walsh (Sutherland) and third David Jackson (Randwick Botany).
A 20-rider field lined up for the C-Grade 24km event. Thomas Murdoch and Wayne Goold went up the road with 3 laps to go, and was 150m ahead of the main bunch by the last lap. Murdoch crossed first in a time of 42min 55sec and an average speed of 34kph just ahead of Goold. Randwick Botany Club Captain Janelle Lindsay won the bunch sprint for third place. Simon Ross from Sydney Cycling Club enjoyed his first race at Heffron Park, but finished out of the placings.
D-Grader Stephen Dean, from Slough near Windsor, England is on a working holiday in Australia and recently joined the Randwick Botany Cycling Club. Dean has never raced a bike before, but managed to win the 25-rider D-Grade 20km race in a time of 36min 5sec and an average speed of 33.5kph. Second was Jonathon Hogard (Randwick Botany) with Luke Davison (Southern Cross) third.
The E-Grade 12km race was won by Julia Guinan in 29min 30sec followed by Norman Jew and Rodney Wagner (Caravello)
Eight junior riders competed in Time Trial and an all-in 10km handicap race. Placings and times are listed in the column at the end of this report.
Coverage of local cycling results can be heard on Sydney's Eastside Radio 89.7FM "GAME ON" program, hosted by Brad Cooke, each Saturday morning from 10am.
Randwick Botany Cycling Club conducts racing at Heffron Park, Maroubra NSW each Saturday throughout the year. Juniors start at 1.00pm and Seniors 2.30pm. For more information please contact the club secretary Helen Vella on 02 9667 3307, email secretary@randwickbotanycc.com or website www.randwickbotanycc.com.
Results
Seniors
A Grade, 32km
 
1 Liam Kelly (Randwick Botany CC)             49.46
2 David Stewart (Eastern Suburbs)
3 Robert Cater (Randwick Botany CC)
4 Todd Sinclair (Randwick Botany CC)
 
B Grade, 28km 
 
1 Clive Hammerson (Randwick Botany CC)        47.15
2 Murray Walsh (Sutherland)
3 David Jackson (Randwick Botany CC)
 
C Grade, 24km
 
1 Thomas Murdoch (Randwick Botany CC)         42.55
2 Wayne Goold (Randwick Botany CC)
3 Janelle Lindsay (Randwick Botany CC)
 
D Grade, 20km
 
1 Stephen Dean (Randwick Botany CC)          36.05
2 Jonathon Hogard (Randwick Botany CC)
3 Luke Davison (Southern Cross)
 
E Grade, 12km
 
1 Julia Guinan (Randwick Botany CC)          29.30
2 Norman Jew (Randwick Botany CC)
3 Rodney Wagner (Caravello)
Juniors
U17 1km Time Trial
 
1 Thomas Murdoch (Randwick Botany CC)        3.24
2 Tyrone Bicknall (Randwick Botany CC)       0.19
3 Belinda Anguin (Randwick Botany CC)        0.29
 
U15 1km Time Trial
 
1 Andrew Young (Randwick Botany CC)          3.45
2 Luke Davison (Southern Cross)              0.29
3 Tom Paton (Randwick Botany CC)             1.04
 
U13 1km Time Trial
 
1 Sam Buckland (Randwick Botany CC)          4.51
 
U11 1km Time Trial
 
Elliott Doughty (Randwick Botany CC)         5.01
 
10 km Handicap
 
1 Elliott Doughty (Randwick Botany CC)
2 Tyron Bicknall (Randwick Botany CC)
3 Sam Buckland (Randwick Botany CC)