Results & reports from Australia
Promoters wishing to submit results should send them to Cyclingnews
Randwick Botany CC
Heffron Park, September 14 2002
Jerzy Sowa triumphant at Heffron Park
By Tony Horneman
A Graders
Photo: © Tony Horneman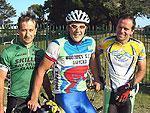 After months of training, perseverance and regular appearances at Randwick Botany Cycling Club's weekly criterium races at Heffron Park, Jerzy Sowa from the T.K. Masters Gizycko Cycling Club in Poland won the A-Grade 36km race on Saturday. Patrick Jones made numerous attacks and got away from the peloton on several occasions. A broken spoke unfortunately put an end to Paddy's chances at taking out A-Grade.
Sowa's winning time was 58min 13sec at an average speed of 37.5kph. Second placegetter was Garry Oliver from Manly Warringah followed by Graeme Peadon from the Dubbo Cycling Club.
Visiting riders features in the B-Grade 32km event, with Paul Hanley from University of Queensland club winning in a time of 54min 4sec and an average speed of 36kph. Second was Brad Conner (Goldstars, Gold Coast) and John McKenzie (Eastern Suburbs) third.
B Graders
Photo: © Tony Horneman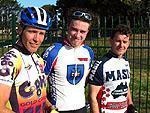 Paula Rettenmaier from the Sutherland Cycling Club rode strongly in the C-Grade 28km event. Paula was joined by fellow Sutherland Club members Jim Eades and Frank Shean. Waratah Veteran riders including Bruce Watkins, Greg Hall and Murray Tulett also featured. Randwick Botany rider Keegan Aitchison orchestrated a 4-rider breakaway at the half way point. Aitchison was joined by two other Randwick Botany riders Tony Caruana and Wayne Goold along with Murray Tilett. The foursome stayed away to fight out the sprint for final placings. Caruana was first to cross the line in a time of 47min 15sec only a bike length ahead of Murray Tilett with Wayne Goold coming home third. Keegan Aitchison took fourth place.
Randwick Botany's Andrew Young made some powerful attacks during the D-Grade 20km race to keep the pace up. New RBCC member Jonathon Hogard also rode well, wearing his Qantas team colours from his success with the Qantas team in the PowerTel/The Bulletin Corporate Challenge recently conducted in Centennial Park. Randwick Botany female AIS Development Squad member, track star and winner of last week's D-Grade event, Janelle Lindsay, failed to get in the places this week. However, she did compete in the Randwick Botany individual time trial Club Championships earlier in the day and posted an excellent time. In the final sprint, John Droz proved too strong winning in a time of 40min 21sec. Roy O'Toole was second with Jeremy O'Brien third. The E Grade event was contested over 14km and was won by Kevin Blanchfield.
Junior riders competed in time trails and a handicap event earlier in the day. After only a few weeks riding, U11 rider Sam Buckland's 2km Time Trial time of 4min 31sec continues to improve. Times, average speeds and placings for other junior riders can be found at the end of this report.
Commissaire Joanne Buckton nominated Keegan Aitchison as the Randwick Botany Cycling Club Rider of the Week, for his performance in C Grade.
Results,

A Grade, 36km

1 Jerzy Sowa (T.K. Masters Gizycko Club, Poland)     58.13
2 Garry Oliver (Manly Warringah)
3 Graeme Peadon (Dubbo)

B Grade, 32km

1 Paul Hanley (University of Queensland)             54.04
2 Brad Conner (Goldstars, Gold Coast)
3 John McKenzie (Eastern Suburbs)

C Grade, 28km

1 Tony Caruana                                       47.15
2 Murray Tilett (Waratah)
3 Wayne Goold
4 Keegan Aitchison

D Grade, 20km

1 John Droz                                          40.21
2 Roy O'Toole
3 Jeremy O'Brien

E Grade, 14km

1 Kevin Blanchfield

U17 Time Trail 6km

1 Michael Murdoch                                    10.53
2 Thomas Murdoch                                      0.14

U15 Time Trial 4km

1 Andrew Young                                        7.31
2 Jade Hughes                                         0.36

U13 Time Trial 4km

1 Tamas Bykerk                                        8.09

U11 Time Trial 2km

1 Andriano Maradini                                   4.16
2 Sam Buckland                                        0.15

10km Junior Handicap

1 Michael Murdoch
2 Andriano Maradini
3 Andrew Young