7th CSC Classic (GP Aarhus) - 1.2
Denmark, May 4, 2003
2002 Results Results Past winners
Piil wins for CSC
Jakob Piil wins the CSC Classic
Photo: © Frank Rud Jensen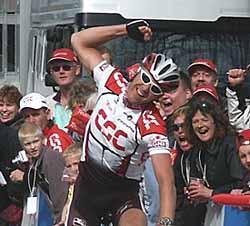 Team CSC's Jakob Piil has won the 7th edition of the CSC Classic, beating Team fakta's Scott Sunderland and J°rgen Bo Petersen in the sprint to the line on "Frederiks AllÚ", in the Danish city of ┼rhus. Piil was part of the very first breakaway, which also stayed away to win, something that has never occurred in this race before.
Among the 12 riders who rode away in the first part of the 196 km long parcours were two team CSC riders and two team fakta riders. The group was reduced to five men on Jeksen hill: Piil, Thomas Bruun Eriksen (CSC), Scott Sunderland, J°rgen Bo Petersen (fakta) and G÷ran Jensen (Glud & Marstrand). Team fakta also had three in the chasing group - RenÚ J°rgensen, Kurt-Asle Arvesen and Allan Johansen, and thus held the superiority in numbers.
"Unfortunately for us, that didn't translate itself into victory in the end," Team fakta manager Peter Sejer said. "Strangely enough, none of the other teams represented in the second group seemed interested in bridging the gap! That way the group of five held their lead to the finish. I'm not happy with how the race went but with two men on the podium we showed that team fakta again was the strongest team today, and that's a good reason to be satisfied."
After the race Scott Sunderland told the press it was quite a confusing situation "With Kurt-Asle Arvesen and Allan Johansen, our two best sprinters were in the second group. I thought the whole time that the other teams would ride and bring us back, that seemed logical. I knew our team also would have a reasonable chance of winning in this kind of sprint if they did, but nothing happened, we just stayed out there. I had the feeling we weren't even going fast."
"On top of that, our earphones didn't work properly today, so we had little communication with the car and each other. I told J°rgen Bo to go in the last 500 metres, but he didn't hear me...I found myself sprinting against Jakob Piil...I don't know, it was a really weird race today!"
Photography
Images by Frank Rud Jensen/www.cykel-sport.dk
Results
1 Jakob Piil (Den) Team CSC                            4.34.18
2 Scott Sunderland (Aus) Team fakta
3 Jorgen Bo Petersen (Den) Team fakta                     0.01
4 G÷ran Jensen (Den) Glud & Marstrand Horsens             0.02
5 Thomas Bruun Eriksen (Den) Team CSC                     0.03
6 Gerben L÷wik (Ned) BankGiroLoterij Cycling Team         0.44
7 Julien Smink (Ned) Van Hemert Groep
8 Jeremy Hunt (GBr) MBK-Oktos-Saint-Quentin
9 Rik Reinerink (Ned) BankGiroLoterij Cycling Team        0.45
10 Allan Johansen (Den) Team fakta
11 Michael Skelde (Den) Team fakta
12 Kurt-Asle Arvesen (Nor) Team fakta
13 Cezary Zamana (Pol) Mroz
14 Bram Schmitz (Ned) BankGiroLoterij Cycling Team
15 Krzysztof Krzywy (Pol) Mroz                            0.46
16 Mads Andersen Bugge (Den)
17 Lasse B°chmann-Larsen (Den)
18 Bram De Waard (Ned) Van Vliet-EBH advocaten            2.58
19 Lars Michaelsen (Den) Team CSC                         2.59
20 Andrea Tafi (Ita) Team CSC


Past winners
2002 Laurent Jalabert (Fra) CSC-Tiscali           196 kms in 4.40.11
2001 Michael Sandstod (Den) CSC-World Online      190 kms in 4.34.06

2000 Arvis Piziks (Lat) Memorycard-Jack&Jones     190 kms in 4.21.08
1999 Allan Johansen (Den) Team Chicky World       190 kms in 4.28.12
1998 Romans Vainsteins (Lat) Kross-Selle Italia   190 kms in 4.28.37
1997 Bjarne Riis (Den) Deutsche Telekom

Past winners courtesy of Mario Stiehl, www.world-of-cycling.com