Be Active Cycle Instead Criterium Series - NE
Perth, Australia, January 2, 2002
Race 1 - January 2: Leederville (Oxford and Carr Streets), 7.30pm-8.30pm
Eastern States Cyclists Lead In Leederville
By Renae Woodhams
Nic Brown leads Graeme Brown
Photo: © Tom Kroyer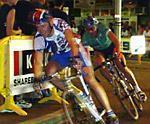 The first race of the Be Active Cycle Instead Criterium Series saw record crowds line the streets of Leederville to witness one of the most challenging circuits in the four-part world class cycling series.
New South Wales cyclist, Steve Williams, led home a strong field of 44 riders to win the W.J. Moncrieff Leederville Loop, ahead of Brett Aitken (SA) and Mark Renshaw (NSW) with local favourites Daniel Mackey, Jason Rigg and Nic Brown claiming minor placings.
The early stages of the race saw defending Sprint King Graeme Brown break away strongly taking out the first Sprint Lap showing the form that won him the prestigious title in 2001. But Henk Vogels, who returned from the US to take part in the Series, did not let the Sprint King keep his crown and opened up a commanding 30 second lead which at its peak reached 240 metres.
Vogels maintained his impressive lead and with the support of the crowd spurring him on, for more than half an hour looked unbeatable. However, with 20 minutes remaining he was challenged by Williams, Mackey, Renshaw, Nic Brown Jason Rigg and, within a lap, was swallowed back into the chaser group. Cat and mouse tactics saw the lead change every few metres in the final laps of the race before Williams made his move.
A crash on the northern corner of the course saw defending Overall Champion Hilton Clarke Jr fall, eliminating his chances of retaining the coveted yellow jersey.
With just five laps to go and in a clever tactical display, Williams - who for most of the race rode unnoticed in the back of the pack - broke away strongly to open up an unbeatable 20 metre lead, despite valiant sprints by Aitken, Renshaw and Mackey in the final stages.
"This is one of the toughest courses in the Series," Williams said. "It's a fast paced course with tight corners and I knew I had to be the first to break in the final laps if I was to be a serious contender. I'm looking forward to maintaining form tomorrow night."
The first race of the Be Active Cycle Instead Criterium Series saw just 18 riders finish from a starting field of 44, demonstrating the complexity of the course and the intensity of the Series.
The Siena's Caffe Peter Watson Mile, which ran ahead of the cycling event, saw the 2001 Australian 1500m champion, Clint Mackavicious (NSW), take out the race with Alistair Stevenson (QLD) second and Anthony Parish (QLD) third.
The Be Active Cycle Instead Criterium Series continues tomorrow night in Victoria Park from 7.30pm with Henk Vogels Jr riding in the Sprint King green jersey and Steve Williams wearing the Overall Champion yellow jersey.
The Be Active Cycle Instead Criterium Series is a "Best on Earth in Perth" event. For more information on riders, races and courses please visit www.perthcriterium.com.au.
Photography
Images by Tom Kroyer
Results
1 Steve Williams (NSW) Caravello Joinery
2 Brett Aitken (SA) Be Active - Cycle Instead
3 Mark Renshaw (NSW) FRF Couriers
4 Daniel Mackey (WA) WAIS
5 Jason Rigg (WA) Kirke Securities
6 Nic Brown (WA) Apex Rentals
7 Henk Vogels (WA) WA Sports Centre Trust
8 Peter Dawson (WA) WAIS
9 Tony Mann (Qld.) Visionary & National Estate Builders
10 Jarrod Poad (NZ) Visionary & National Estate Builders
11 Damien Cranage (SA) Apex Rentals
12 Phil Riemann (WA) Kirke Securities
13 Ryan Suckling (WA) Kirke Securities
14 Jonathon Davis (NSW) FRF Couriers
15 Wayne van Moorsel (WA) Kirke Securities
 
Green Jersey Sprints
 
Sprint No.1
 
1 Graeme Brown (NSW) Bike Force Australia
2 Nic Brown (WA) Apex Rentals
3 Henk Vogels (WA) WA Sports Centre Trust
 
Sprint No.2
 
1 Henk Vogels (WA) WA Sports Centre Trust
2 Graeme Brown (NSW) Bike Force Australia
3 Daniel Mackey (WA) WAIS
 
Sprint No.3
 
1 Henk Vogels (WA) WA Sports Centre Trust
2 Graeme Brown (NSW) Bike Force Australia
3 Jonathon Davis (NSW) FRF Couriers
 
Sprint No.4
 
1 Henk Vogels (WA) WA Sports Centre Trust
2 Steve Williams (NSW) Caravello Joinery
3 Nic Brown (WA) Apex Rentals
 
Final Sprint
 
1 Steve Williams (NSW) Caravello Joinery
2 Brett Aitken (SA) Be Active - Cycle Instead
3 Mark Renshaw (NSW) FRF Couriers
 
"Be Active - Cycle Instead" Criterium Series classification
 
1 Steve Williams (NSW) Caravello Joinery                          15 pts
2 Brett Aitken (SA) Be Active - Cycle Instead                     14
3 Mark Renshaw (NSW) FRF Couriers                                 13
4 Daniel Mackey (WA) WAIS                                         12
5 Jason Rigg (WA) Kirke Securities                                11
6 Nic Brown (WA) Apex Rentals                                     10
7 Henk Vogels (WA) WA Sports Centre Trust                          9
8 Peter Dawson (WA) WAIS                                           8
9 Tony Mann (Qld.) Visionary & National Estate Builders            7
10 Jarrod Poad (NZ) Visionary & National Estate Builders           6
11 Damien Cranage (SA) Apex Rentals                                5
12 Phil Riemann (WA) Kirke Securities                              4
13 Ryan Suckling (WA) Kirke Securities                             3
14 Jonathon Davis (NSW) FRF Couriers                               2
15 Wayne van Moorsel (WA) Kirke Securities                         1
 
Fondriest & Live Clothing Sprint King classification
 
1 Henk Vogels (WA) WA Sports Centre Trust                         10 pts
2 Graeme Brown (NSW) Bike Force Australia                          7
3 Steve Williams (NSW) Caravello Joinery                           5
4 Nic Brown (WA) Apex Rentals                                      4
5 Brett Aitken (SA) Be Active - Cycle Instead                      2
6 Mark Renshaw (NSW) FRF Couriers                                  1
7 Jonathon Davis (NSW) FRF Couriers                                1
8 Daniel Mackey (WA) WAIS                                          1
 
Teams classification
 
1 WAIS                                                             26 pts
2 Kirke Securities                                                 19
3 Apex Rentals                                                     15
4 Caravello Joinery                                                15
5 FRF Couriers                                                     15
6 Be Active - Cycle Instead                                        14
7 Visionary & National Estate Builders                             13
8 WA Sports Centre Trust                                            9