Athens Twilight Criterium - NE
Athens, GA, USA, April 27, 2003
2002 Results Results Past winners
Solo breaks upset the sprinters
By Kristy Scrymgeour
Early break was the winning break
Photo © Jonathan Devich
Although the strength of the field in this year's Athens Twilight Criterium was decimated due to the conflict of two concurrent NRC races, the ongoing Tour de Georgia and the Vuelta de Bisbee, the action was fast and furious as usual.
Originally planned as part of the Tour de Georgia, this evening criterium is always a crowd favourite with approximately 40,000 locals and university students annually crowding the streets. This year was no different. With favourites in the field such as Jonas Carney (Prime Alliance) and University of Georgia graduate Tina Mayolo-Pic (Diet Rite), it proved that this race is still a favourite for the seasoned pros who love a good criterium.
Crashes have always been an issue on this tight 1km course as evidenced by an early crash in the women's race which claimed Mayolo-Pic after puncturing her front tyre. She managed to rejoin the group after a wheel change. With dangerous sprinters in the field such as Mayolo-Pic and Nicole Freedman (Basis), other teams worked hard to avoid a field sprint. The decisive break formed with seven laps to go which included Anne Samplonius (TDS), Candice Blickem (Genesis -Scuba) and New Zealand rider Tania Duff-Miller (Diet Rite).
Schmatz makes his move
Photo © Jonathan Devich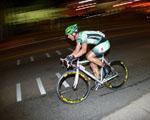 Shortly after, on the following lap, Blickem attacked her breakaway companions and managed to stay away to take the victory. Samplonius and Mayolo-Pic were eventually caught by a hard chasing field, although Mayolo-Pic still managed to take the field sprint for second ahead of Gina Grain (Victory Brewing). Twenty three year old Blickem, who was delighted with her win and her improvement upon last years 8th place at this race, also won last year's Michelin Classic.
Later in the evening, as the scene on the sidewalk really started to liven up, it was the men's turn to brave the dark, lamp-lit streets and perhaps random beer bottles being thrown onto the course. This year it was Dan Schmatz (7UP-Maxxis), a new fast man on the scene, who upset Carney and Canadian National Road Champion and last years winner of the First Union US Pro Championships, Mark Walters (Navigators).
The race was once again aggressive from the beginning as Walters got away in a solo break that was later bridged by six others. Joining Walters was Carney, Australian rider Cameron Hughes (Schroeder Iron), James Taylor (OLP), Adam Myerson (Sportsbook.com), Ryan Guay (Navigators) and Schmatz. With two laps to go, Schmatz made his move and attacked the break. Like the women's race, it ended in solo fashion as Schmatz took the win ahead of Walters and Carney.
Photography
Images by Jonathan Devich/thefastrack.com
Images by Steve Verdell
Results

Men
 
1 Dan Schmatz (USA) 7UP-Maxxis
2 Mark Walters (Can) Navigators
3 Jonas Carney (USA) Prime Alliance
4 James Taylor (USA) OLP
5 Cameron Hughes (Aus) Schroeder Iron
6 Adam Hodges Myerson (USA) Sportsbook.com
7 Ryan Guay (USA) Navigators
8 Mike Tillman (USA) Schroeder Iron
9 Siro Camponogara (I) Navigators
10 Jesse Lawler (USA) Jittery Joe's
 
Women
 
1 Candice Blickem (Genesis Scuba-FFCC)
2 Tina Mayolo-Pic (Diet Rite
3 Gina Grain (Victory Brewing-Amorosos)
4 Nicole Freedman (Basis)
5 Shannon Hutchison (Colavita-Bolla)
6 Christina Underwood (Fuji)
7 Helen Kelly (TDS)
8 Iona Wynter (Genesis Scuba-FFCC)
9 Tracy Sproule (Atlanta Velo)
10 Joanne Kiesanowski (Diet Rite)

Past winners

Men
 
2002 Gord Fraser (Can) Mercury
2000 Gord Fraser (Can) Mercury
 
Women
 
2002 Ina Teutenberg (Ger) Saturn
2000 Sarah Ulmer (NZl) Elita