7th Tour of Japan - 2.5
Japan, May 19-26, 2002
Main Page Results Photos Previous stage Next stage
Stage 2 - May 20: Todaiji Temple - Nunome Dam Circuit (Nara), 146.2 km
Stage to Scheirlinckx; Lead to Niedzwiecki
By Miwako Sasaki, Japanese Cycle Sport
Scheirlinckx on the attack
Photo: © Miwako Sasaki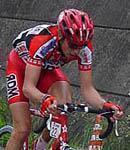 Belgian Bert Scheirlinckx (RDM-Flanders) won the second stage of 7th Tour of Japan, beating Poland's Pawel Niedzwiecki (Mroz) who was the winner of the Tour of Japan last year. After some initial confusion, Niedzwiecki was awarded the green leader's jersey today ahead of Scheirlinckx.
92 riders started in front of the houses of the huge statue of Buddha in the Todaiji Temple in Nara. The weather was cloudy and the temperature was 18 degrees. The first 25km from the Todaiji Temple to the circuit of Nunome Dam was neutralized for traffic reasons, so the race officially started at the circuit of Nunome Dam.
At the first mountain sprint (9 laps to go), Poland's Kazimierz Stafiej (Mroz) crossed first, in front of his teammate Pawel Niedzwiecki (Mroz) and Japanese Koki Shinbo (Asian Ind. Racing). Stafiej, who won the red mountains jersey two years ago, also crossed first in the second mountain point and took the jersey today.
At that point, 13 riders had broken away from the peloton, including Niedzwiecki, Stafiej, Oleksandr Klymenko (Mroz), Pierre Ackermann, Florian Ludi, Simone Mori (Team Jura Suisse), Wolfram Wiese (Team Comnet-Senges), Australian Gene Bates, and Scheirlinckx. At five laps to go, these 13 riders had 22 seconds on the peloton.
At the final mountain sprint (3 laps to go), Scheirlinckx crossed first and Niedzwiecki followed him, while 3rd place went to Bates. The first two riders attacked the break from there, and in the final laps they had an advantage of 1'10 to the chase group, and 1'30 to the peloton. Niedzwiecki continued to follow Scheirlinckx, but he couldn't beat the Belgian in the final sprint.
"This is my first victory as a professional, so I'm very happy now," said Scheirlinckx who comes from Zottegem.
But he had an unhappy moment after the race. Even though there wasn't a protocol ceremony today, only the winners were given their jerseys by the organizer, so photographers had the chance to take some pictures there.
Scheirlinckx looked happy as he wore the green leader's jersey at that moment. But the general classification was confirmed after 2 hours, and it was found that Niedzwiecki was the real race leader according to the race rules. When two riders finish on the same time and they have no time gap to each other on the general classification, the race leader is decided by the previous day's result. Niedzwiecki finished in 31st place and Scheirlinckx was 39th place yesterday.
The Belgian received the bad news in the hotel, after some celebrations with his teammates.
Photography
Photos courtesy of Miwako Sasaki
Results
1 Bert Scheirlinckx (Bel) RDM-Flanders                       3.49.40
2 Pawel Niedzwiecki (Pol) Mroz
3 Kam Po Wong (Hkg) Hong Kong National Team                     0.54
4 Shinri Suzuki (Jpn) Shimano Racing                            0.55
5 Wolfram Wiese (Ger) Team Comnet-Senges                        0.56
6 Shinichi Fukushima (Jpn) Team Bridgestone Anchor              0.58
7 Takehiro Mizutani (Jpn) Team Bridgestone Anchor
8 Kazuya Okazaki (Jpn) RT Nipponhodo
9 Florian Ludi (Swi) Team Jura Suisse                           0.59
10 Markus Ganser (Ger) Team Comnet-Senges                       1.02
11 Michel Klinger (Swi) Team Jura Suisse                        1.04
12 Maxim Iglinskiy (Kaz) Kazakhstan National Team
13 Axel Hauschke (Ger) Team Comnet-Senges
14 Simone Mori (Ita) Team Jura Suisse
15 Satoshi Hirose (Jpn) RT Nipponhodo                           1.06
16 Kazimierz Stafiej (Pol) Mroz
17 Makoto Iijima (Jpn) Sumita-Ravanello-Pealizumi
18 Stefan Ganser (Ger) Team Comnet-Senges                       1.07
19 Jurgen Landrie (Bel) RDM-Flanders                            1.08
20 Stijn Vanstraelen (Bel) RDM-Flanders
21 David Chassot (Swi) Team Jura Suisse                         1.09
22 David Plas (Bel) RDM-Flanders
23 Mateusz Mroz (Pol) Mroz
24 Pierre Ackermann (Swi) Team Jura Suisse
25 Scott Davis (Aus) Australian National Team
26 Tetsuya Okada (Jpn) Team Bridgestone Anchor
27 Zbigniew Wyrzykowski (Pol) Mroz                              1.10
28 Tomoya Kano (Jpn) Shimano Racing
29 Junichi Shibuya (Jpn) Team Bridgestone Anchor                1.11
30 Hans-Jurgen Juretzek (Ger) Team Comnet-Senges                1.12
31 Oleksandr Klymenko (Ukr) Mroz                                1.13
32 Hisafumi Imanishi (Jpn) Shimano Racing
33 Assan Bazayev (Kaz) Kazakhstan National Team                 1.14
34 Mitsuteru Tanaka (Jpn) Asian Ind. Racing
35 Takumi Beppu (Jpn) RT Nipponhodo                             1.19
36 Koki Shimbo (Jpn) Asian Ind. Racing                          1.20
37 Takeaki Ayabe (Jpn) RT Nipponhodo                            1.22
38 Pavel Nevdakh (Kaz) Team Orbea Etxeondo
39 Hideto Yukinari (Jpn) Miyata-Subaru Racing Team              1.23
40 Bakhtiyr Mamyrov (Kaz) Kazakhstan National Team
41 Peep Mikli (Est) AXA-VVZ Professional Cycling Team           1.28
42 Nor.Effendy Rosli (Mas) Malaysia National Team               1.29
43 Adrian Laidler (Aus) Australian National Team
44 Kairat Baigudinov (Kaz) Team Orbea Etxeondo                  1.30
45 Ashley Humbert (Aus) Australian National Team
46 Pawel Zugaj (Pol) Mroz
47 David Mcpartland (Aus) Australian National Team
48 Masahiro Shinagawa (Jpn) Miyata-Subaru Racing Team           1.32
49 Yusuke Takahashi (Jpn) Team Orbea Etxeondo
50 Andrey Medyannikov (Kaz) Kazakhstan National Team            1.33
51 Alexandr Dymovskikh (Kaz) Kazakhstan National Team           1.34
52 Ikki Yoneyama (Jpn) Sumita-Ravanello-Pealizumi
53 Edward Dunning (Ned) AXA-VVZ Professional Cycling Team
54 Guiseppe Ribolzi (Swi) Team Jura Suisse
55 Siu Lun Ho (Hkg) Hong Kong National Team
56 Ngai Ching Wong (Hkg) Hong Kong National Team                1.35
57 David Pell (Aus) Australian National Team
58 Nico Indekeu (Bel) RDM-Flanders                              1.37
59 Yoshiyuki Abe (Jpn) Shimano Racing
60 Kazuyuki Manabe (Jpn) Miyata-Subaru Racing Team
61 Tomokazu Fujino (Jpn) Team Bridgestone Anchor                1.38
62 Viktor Shestakov (Kaz) Kazakhstan National Team              1.56
63 Taiji Tanaka (Jpn) Sumita-Ravanello-Pealizumi                1.58
64 Yoshimasa Hirose (Jpn) Team Bridgestone Anchor               1.59
65 King Nin Lau (Hkg) Hong Kong National Team
66 Marco Engels (Bel) RDM-Flanders
67 Marcel Luppes (Ned) AXA-VVZ Professional Cycling Team
68 Tjarco Cuppens (Ned) Team Comnet-Senges
69 Jan Hordijk (Ned) AXA-VVZ Professional Cycling Team          2.02
70 Kaoru Ouchi (Jpn) Shimano Racing                             2.14
71 Shinji Suzuki (Jpn) Asian Ind. Racing                        2.22
72 Gene Bates (Aus) Australian National Team                    2.26
73 Yasuki Uchiyama (Jpn) Miyata-Subaru Racing Team              2.41
74 Masamichi Yamamoto (Jpn) Shimano Racing                      9.27
75 Jun Otsuka (Jpn) Miyata-Subaru Racing Team                   9.44
76 Ken Akita (Jpn) Asian Ind. Racing                           10.26
77 Suhardi Hassan (Mas) Malaysia National Team                 14.40
78 Teruo Iida (Jpn) Team Orbea Etxeondo                        15.21
79 Makoto Takeuchi (Jpn) Team Orbea Etxeondo                   16.00
80 Kazutaka Fukao (Jpn) Sumita-Ravanello-Pealizumi             17.45
81 Hiroshi Sakaguchi (Jpn) Asian Ind. Racing                   18.45
82 Koichi Asano (Jpn) Miyata-Subaru Racing Team
83 Ah.Thiam Wong (Mas) Malaysia National Team
84 Kentaro Eshita (Jpn) Asian Ind. Racing
85 Danny Stam (Ned) AXA-VVZ Professional Cycling Team          21.45
TC Musairi Musa (Mas) Malaysia National Team
TC Robert Slippens (Ned) AXA-VVZ Professional Cycling Team
TC Kai Ming Tsang (Hkg) Hong Kong National Team
TC Kazuaki Akasaka (Jpn) Sumita-Ravanello-Pealizumi
TC Takashi Yamada (Jpn) Sumita-Ravanello-Pealizumi
TC Chun Ming Tsoi (Hkg) Hong Kong National Team
DNF Shahrizan Selamat (Mas) Malaysia National Team
 
General classification after stage 2
 
1 Pawel Niedzwiecki (Pol) Mroz                               6.46.49
2 Bert Scheirlinckx (Bel) RDM-Flanders
3 Kam Po Wong (Hkg) Hong Kong National Team                     0.54
4 Shinri Suzuki (Jpn) Shimano Racing                            0.55
5 Wolfram Wiese (Ger) Team Comnet-Senges                        0.56
6 Takehiro Mizutani (Jpn) Team Bridgestone Anchor               0.58
7 Kazuya Okazaki (Jpn) RT Nipponhodo                            0.58
8 Shinichi Fukushima (Jpn) Team Bridgestone Anchor
9 Florian Ludi (Swi) Team Jura Suisse                           0.59
10 Makoto Iijima (Jpn) Sumita-Ravanello-Pealizumi               1.02
11 Stijn Vanstraelen (Bel) RDM-Flanders
12 Markus Ganser (Ger) Team Comnet-Senges
13 Maxim Iglinskiy (Kaz) Kazakhstan National Team               1.04
14 Axel Hauschke (Ger) Team Comnet-Senges
15 Michel Klinger (Swi) Team Jura Suisse
16 Simone Mori (Ita) Team Jura Suisse
17 Satoshi Hirose (Jpn) RT Nipponhodo                           1.06
18 Kazimierz Stafiej (Pol) Mroz
19 Stefan Ganser (Ger) Team Comnet-Senges                       1.07
20 Jurgen Landrie (Bel) RDM-Flanders                            1.08
21 Mateusz Mroz (Pol) Mroz                                      1.09
22 David Chassot (Swi) Team Jura Suisse
23 David Plas (Bel) RDM-Flanders
24 Tetsuya Okada (Jpn) Team Bridgestone Anchor
25 Scott Davis (Aus) Australian National Team
26 Tomoya Kano (Jpn) Shimano Racing                             1.10
27 Junichi Shibuya (Jpn) Team Bridgestone Anchor                1.11
28 Hans-Jurgen Juretzek (Ger) Team Comnet-Senges                1.12
29 Oleksandr Klymenko (Ukr) Mroz                                1.13
30 Hisafumi Imanishi (Jpn) Shimano Racing
31 Mitsuteru Tanaka (Jpn) Asian Ind. Racing                     1.14
32 Assan Bazayev (Kaz) Kazakhstan National Team
33 Takumi Beppu (Jpn) RT Nipponhodo                             1.19
34 Koki Shimbo (Jpn) Asian Ind. Racing                          1.20
35 Pavel Nevdakh (Kaz) Team Orbea Etxeondo                      1.22
36 Takeaki Ayabe (Jpn) RT Nipponhodo
37 Zbigniew Wyrzykowski (Pol) Mroz
38 Bakhtiyr Mamyrov (Kaz) Kazakhstan National Team              1.23
39 Hideto Yukinari (Jpn) Miyata-Subaru Racing Team
40 Peep Mikli (Est) AXA-VVZ Professional Cycling Team           1.28
41 Nor.Effendy Rosli (Mas) Malaysia National Team               1.29
42 Adrian Laidler (Aus) Australian National Team
43 Kairat Baigudinov (Kaz) Team Orbea Etxeondo                  1.30
44 Pawel Zugaj (Pol) Mroz
45 Ashley Humbert (Aus) Australian National Team
46 David Mcpartland (Aus) Australian National Team
47 Masahiro Shinagawa (Jpn) Miyata-Subaru Racing Team           1.32
48 Yusuke Takahashi (Jpn) Team Orbea Etxeondo
49 Andrey Medyannikov (Kaz) Kazakhstan National Team            1.33
50 Guiseppe Ribolzi (Swi) Team Jura Suisse                      1.34
51 Ikki Yoneyama (Jpn) Sumita-Ravanello-Pealizumi
52 Alexandr Dymovskikh (Kaz) Kazakhstan National Team
53 Siu Lun Ho (Hkg) Hong Kong National Team
54 Edward Dunning (Ned) AXA-VVZ Professional Cycling Team
55 David Pell (Aus) Australian National Team                    1.35
56 Nico Indekeu (Bel) RDM-Flanders                              1.37
57 Kazuyuki Manabe (Jpn) Miyata-Subaru Racing Team
58 Yoshiyuki Abe (Jpn) Shimano Racing
59 Tomokazu Fujino (Jpn) Team Bridgestone Anchor                1.38
60 Jan Hordijk (Ned) AXA-VVZ Professional Cycling Team          1.52
61 Viktor Shestakov (Kaz) Kazakhstan National Team              1.56
62 Taiji Tanaka (Jpn) Sumita-Ravanello-Pealizumi                1.58
63 Tjarco Cuppens (Ned) Team Comnet-Senges                      1.59
64 King Nin Lau (Hkg) Hong Kong National Team
65 Marcel Luppes (Ned) AXA-VVZ Professional Cycling Team
66 Marco Engels (Bel) RDM-Flanders
67 Yoshimasa Hirose (Jpn) Team Bridgestone Anchor
68 Kaoru Ouchi (Jpn) Shimano Racing                             2.14
69 Shinji Suzuki (Jpn) Asian Ind. Racing                        2.22
70 Gene Bates (Aus) Australian National Team                    2.26
71 Yasuki Uchiyama (Jpn) Miyata-Subaru Racing Team              2.41
72 Pierre Ackermann (Swi) Team Jura Suisse                      3.05
73 Masamichi Yamamoto (Jpn) Shimano Racing                      9.27
74 Jun Otsuka (Jpn) Miyata-Subaru Racing Team                   9.44
75 Ken Akita (Jpn) Asian Ind. Racing                           10.26
76 Ngai Ching Wong (Hkg) Hong Kong National Team               12.41
77 Suhardi Hassan (Mas) Malaysia National Team                 14.40
78 Makoto Takeuchi (Jpn) Team Orbea Etxeondo                   16.00
79 Teruo Iida (Jpn) Team Orbea Etxeondo                        17.27
80 Kazutaka Fukao (Jpn) Sumita-Ravanello-Pealizumi             17.45
81 Kentaro Eshita (Jpn) Asian Ind. Racing                      18.45
82 Hiroshi Sakaguchi (Jpn) Asian Ind. Racing
83 Ah.Thiam Wong (Mas) Malaysia National Team
84 Danny Stam (Ned) AXA-VVZ Professional Cycling Team          21.59
85 Koichi Asano (Jpn) Miyata-Subaru Racing Team                22.51
 
Points classification
 
1 Bert Scheirlinckx (Bel) RDM-Flanders                             5 pts
2 Jan Hordijk (Ned) AXA-VVZ Professional Cycling Team              5
3 Pawel Niedzwiecki (Pol) Mroz                                     4
4 Stijn Vanstraelen (Bel) RDM-Flanders                             4
5 Shinri Suzuki (Jpn) Shimano Racing                               4
6 Kam Po Wong (Hkg) Hong Kong National Team                        3
7 Makoto Iijima (Jpn) Sumita-Ravanello-Pealizumi                   3
8 Wolfram Wiese (Ger) Team Comnet-Senges                           1
9 Stefan Ganser (Ger) Team Comnet-Senges                           1
 
Mountains classification
 
1 Kazimierz Stafiej (Pol) Mroz                                    11 pts
2 Pawel Niedzwiecki (Pol) Mroz                                     6
3 Bert Scheirlinckx (Bel) RDM-Flanders                             5
4 Koki Shimbo (Jpn) Asian Ind. Racing                              1
5 Gene Bates (Aus) Australian National Team                        1
 
Sprints classification
 
1 Tjarco Cuppens (Ned) Team Comnet-Senges                          7 pts
2 Makoto Iijima (Jpn) Sumita-Ravanello-Pealizumi                   5
3 Takehiro Mizutani (Jpn) Team Bridgestone Anchor                  5
4 Mateusz Mroz (Pol) Mroz                                          2
5 Zbigniew Wyrzykowski (Pol) Mroz                                  2
6 Maxim Iglinskiy (Kaz) Kazakhstan National Team                   2
7 Kaoru Ouchi (Jpn) Shimano Racing                                 1
 
Teams classification
 
1 RDM Flanders                                              20.22.37
2 Mroz                                                          0.05
3 Team Comnet-Senges                                            0.52
4 Team Bridgestone-Anchor                                       0.55
5 Team Jura Suisse                                              0.57
6 Shimano Racing                                                1.08
7 Kazakhstan                                                    1.31
7 Rt.Nippon Hodo                                                1.13
9 Hong Kong                                                     1.53
10 Australia                                                    1.58
11 Team Orbea Etxe-Ondo                                         2.14
12 Miyata-Subaru Racing Team                                    2.22
13 Sumita Ravanello Pearlizumi                                  2.24
14 Axa-Vvz                                                      2.41
15 Aisan-Ind.Racing                                             2.46
16 Malaysia                                                    32.44