7th Tour of Japan - 2.5
Japan, May 19-26, 2002
Main Page Results Photos Next stage
Stage 1 - May 19: Sakai Senboku Circuit (Osaka), 140.8 km
Hordijk wins Dutch dominated stage
By Miwako Sasaki, Japanese Cycle Sport
Bad call for Vanstraelen
Photo: © Miwako Sasaki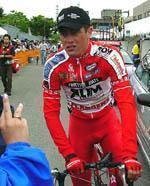 Dutchman Jan Hordijk (AXA-VVZ) won the first stage of Tour of Japan, beating Belgian Stijn Vanstraelen (RDM-Flanders) in a bunch sprint and taking the first leader's jersey in the week long race.
Although it was raining in Osaka in the morning, the weather became fine in the afternoon, and 92 riders from 13 countries started the race in 20 degree temperatures. Dutchman Tjarco Cuppens, who was riding for German Team Comnet-Senges, got the first sprint points (9 laps to go), ahead of Mateusz Mroz (Mroz) and Ouchi Kaoru (Shimano-Racing team). Cuppens also took second in the second sprint (6 laps to go), won by Japanese Takehiro Mizutani (Team Bridgestone Anchor). In the end, Cuppens took the yellow sprint jersey today.
After some unsuccessful attacks, the peloton was together at two laps to go. At the final corner with 300m to go, Japan's Makoto Iijima (Sumita Ravanello-Pearizumi) jumped from the peloton and went of the win. It was not only his hope, but also every Japanese fan's hope, but he didn't have enough power.
After the bunch sprint, Vanstraelen raised his arm and the race announcer called his name as the winner. He was also congratulated by his teammates, but in the photo finish, it was found that Hordijk won the stage by just a few cm.
"I came here to win a stage," said Hordijk, who also won the green leader's jersey and the blue points jersey. It was the second victory for him this season after he won a Belgian race one month ago.
Hordijk and his team manager said that the team were not interested in keeping the leader jersey. "I'm a sprinter, so I want to keep a points jersey and to win the final stage in Tokyo," said Hordijk.
Photography
Photos courtesy of Miwako Sasaki
Results
1 Jan Hordijk (Ned) AXA-VVZ Professional Cycling Team      2.57.09
2 Stijn Vanstraelen (Bel) RDM-Flanders
3 Makoto Iijima (Jpn) Sumita-Ravanello-Pealizumi
4 Shinri Suzuki (Jpn) Shimano Racing
5 Stefan Ganser (Ger) Team Comnet-Senges
6 Masamichi Yamamoto (Jpn) Shimano Racing
7 Tjarco Cuppens (Ned) Team Comnet-Senges
8 Mateusz Mroz (Pol) Mroz
9 Maxim Iglinskiy (Kaz) Kazakhstan National Team
10 Gene Bates (Aus) Australian National Team
11 Jurgen Landrie (Bel) RDM-Flanders
12 Guiseppe Ribolzi (Swi) Team Jura Suisse
13 Axel Hauschke (Ger) Team Comnet-Senges
14 Marcel Luppes (Ned) AXA-VVZ Professional Cycling Team
15 Takehiro Mizutani (Jpn) Team Bridgestone Anchor
16 King Nin Lau (Hkg) Hong Kong National Team
17 Bakhtiyr Mamyrov (Kaz) Kazakhstan National Team
18 Marco Engels (Bel) RDM-Flanders
19 Nor.Effendy Rosli (Mas) Malaysia National Team
20 Suhardi Hassan (Mas) Malaysia National Team
21 Kaoru Ouchi (Jpn) Shimano Racing
22 Koki Shimbo (Jpn) Asian Ind. Racing
23 Satoshi Hirose (Jpn) RT Nipponhodo
24 Junichi Shibuya (Jpn) Team Bridgestone Anchor
25 David Chassot (Swi) Team Jura Suisse
26 Pavel Nevdakh (Kaz) Team Orbea Etxeondo
27 Shinji Suzuki (Jpn) Asian Ind. Racing
28 Oleksandr Klymenko (Ukr) Mroz
29 Yasuki Uchiyama (Jpn) Miyata-Subaru Racing Team
30 Hisafumi Imanishi (Jpn) Shimano Racing
31 Pawel Niedzwiecki (Pol) Mroz
32 Nico Indekeu (Bel) RDM-Flanders
33 Mitsuteru Tanaka (Jpn) Asian Ind. Racing
34 Kam Po Wong (Hkg) Hong Kong National Team
35 Ikki Yoneyama (Jpn) Sumita-Ravanello-Pealizumi
36 Masahiro Shinagawa (Jpn) Miyata-Subaru Racing Team
37 David Plas (Bel) RDM-Flanders
38 Kentaro Eshita (Jpn) Asian Ind. Racing
39 Bert Scheirlinckx (Bel) RDM-Flanders
40 Markus Ganser (Ger) Team Comnet-Senges
41 Assan Bazayev (Kaz) Kazakhstan National Team
42 Tetsuya Okada (Jpn) Team Bridgestone Anchor
43 Takeaki Ayabe (Jpn) RT Nipponhodo
44 Alexandr Dymovskikh (Kaz) Kazakhstan National Team
45 Kazuya Okazaki (Jpn) RT Nipponhodo
46 Andrey Medyannikov (Kaz) Kazakhstan National Team
47 Kazutaka Fukao (Jpn) Sumita-Ravanello-Pealizumi
48 Yusuke Takahashi (Jpn) Team Orbea Etxeondo
49 Florian Ludi (Swi) Team Jura Suisse
50 Michel Klinger (Swi) Team Jura Suisse
51 Viktor Shestakov (Kaz) Kazakhstan National Team
52 Scott Davis (Aus) Australian National Team
53 Hiroshi Sakaguchi (Jpn) Asian Ind. Racing
54 Shinichi Fukushima (Jpn) Team Bridgestone Anchor
55 Musairi Musa (Mas) Malaysia National Team
56 Kairat Baigudinov (Kaz) Team Orbea Etxeondo
57 Shahrizan Selamat (Mas) Malaysia National Team
58 Ah.Thiam Wong (Mas) Malaysia National Team
59 Makoto Takeuchi (Jpn) Team Orbea Etxeondo
60 Hans-Jurgen Juretzek (Ger) Team Comnet-Senges
61 Takumi Beppu (Jpn) RT Nipponhodo
62 Wolfram Wiese (Ger) Team Comnet-Senges
63 Chun Ming Tsoi (Hkg) Hong Kong National Team
64 Pawel Zugaj (Pol) Mroz
65 Tomoya Kano (Jpn) Shimano Racing
66 Siu Lun Ho (Hkg) Hong Kong National Team
67 Kazuyuki Manabe (Jpn) Miyata-Subaru Racing Team
68 Jun Otsuka (Jpn) Miyata-Subaru Racing Team
69 Kazimierz Stafiej (Pol) Mroz
70 Hideto Yukinari (Jpn) Miyata-Subaru Racing Team
71 Edward Dunning (Ned) AXA-VVZ Professional Cycling Team
72 David Mcpartland (Aus) Australian National Team
73 Ashley Humbert (Aus) Australian National Team
74 Takashi Yamada (Jpn) Sumita-Ravanello-Pealizumi
75 Simone Mori (Ita) Team Jura Suisse
76 Tomokazu Fujino (Jpn) Team Bridgestone Anchor
77 David Pell (Aus) Australian National Team
78 Adrian Laidler (Aus) Australian National Team
79 Yoshiyuki Abe (Jpn) Shimano Racing
80 Kai Ming Tsang (Hkg) Hong Kong National Team
81 Ken Akita (Jpn) Asian Ind. Racing
82 Peep Mikli (Est) AXA-VVZ Professional Cycling Team
83 Yoshimasa Hirose (Jpn) Team Bridgestone Anchor
84 Taiji Tanaka (Jpn) Sumita-Ravanello-Pealizumi
85 Zbigniew Wyrzykowski (Pol) Mroz                            0.12
86 Robert Slippens (Ned) AXA-VVZ Professional Cycling Team    0.14
87 Danny Stam (Ned) AXA-VVZ Professional Cycling Team
88 Pierre Ackermann (Swi) Team Jura Suisse                    1.56
89 Teruo Iida (Jpn) Team Orbea Etxeondo                       2.06
90 Koichi Asano (Jpn) Miyata-Subaru Racing Team               4.06
91 Kazuaki Akasaka (Jpn) Sumita-Ravanello-Pealizumi           5.06
92 Ngai Ching Wong (Hkg) Hong Kong National Team             11.06
 
General classification after stage 1
 
1 Jan Hordijk (Ned) AXA-VVZ Professional Cycling Team      2.56.59
2 Stijn Vanstraelen (Bel) RDM-Flanders                        0.04
3 Makoto Iijima (Jpn) Sumita-Ravanello-Pealizumi              0.06
4 Shinri Suzuki (Jpn) Shimano Racing                          0.10
5 Stefan Ganser (Ger) Team Comnet-Senges
6 Masamichi Yamamoto (Jpn) Shimano Racing
7 Tjarco Cuppens (Ned) Team Comnet-Senges
8 Mateusz Mroz (Pol) Mroz
9 Maxim Iglinskiy (Kaz) Kazakhstan National Team
10 Gene Bates (Aus) Australian National Team
11 Jurgen Landrie (Bel) RDM-Flanders
12 Guiseppe Ribolzi (Swi) Team Jura Suisse
13 Axel Hauschke (Ger) Team Comnet-Senges
14 Marcel Luppes (Ned) AXA-VVZ Professional Cycling Team
15 Takehiro Mizutani (Jpn) Team Bridgestone Anchor
16 King Nin Lau (Hkg) Hong Kong National Team
17 Bakhtiyr Mamyrov (Kaz) Kazakhstan National Team
18 Marco Engels (Bel) RDM-Flanders
19 Nor.Effendy Rosli (Mas) Malaysia National Team
20 Suhardi Hassan (Mas) Malaysia National Team
21 Kaoru Ouchi (Jpn) Shimano Racing
22 Koki Shimbo (Jpn) Asian Ind. Racing
23 Satoshi Hirose (Jpn) RT Nipponhodo
24 Junichi Shibuya (Jpn) Team Bridgestone Anchor
25 David Chassot (Swi) Team Jura Suisse
26 Pavel Nevdakh (Kaz) Team Orbea Etxeondo
27 Shinji Suzuki (Jpn) Asian Ind. Racing
28 Oleksandr Klymenko (Ukr) Mroz
29 Yasuki Uchiyama (Jpn) Miyata-Subaru Racing Team
30 Hisafumi Imanishi (Jpn) Shimano Racing
31 Pawel Niedzwiecki (Pol) Mroz
32 Nico Indekeu (Bel) RDM-Flanders
33 Mitsuteru Tanaka (Jpn) Asian Ind. Racing
34 Kam Po Wong (Hkg) Hong Kong National Team
35 Ikki Yoneyama (Jpn) Sumita-Ravanello-Pealizumi
36 Masahiro Shinagawa (Jpn) Miyata-Subaru Racing Team
37 David Plas (Bel) RDM-Flanders
38 Kentaro Eshita (Jpn) Asian Ind. Racing
39 Bert Scheirlinckx (Bel) RDM-Flanders
40 Markus Ganser (Ger) Team Comnet-Senges
41 Assan Bazayev (Kaz) Kazakhstan National Team
42 Tetsuya Okada (Jpn) Team Bridgestone Anchor
43 Takeaki Ayabe (Jpn) RT Nipponhodo
44 Alexandr Dymovskikh (Kaz) Kazakhstan National Team
45 Kazuya Okazaki (Jpn) RT Nipponhodo
46 Andrey Medyannikov (Kaz) Kazakhstan National Team
47 Kazutaka Fukao (Jpn) Sumita-Ravanello-Pealizumi
48 Yusuke Takahashi (Jpn) Team Orbea Etxeondo
49 Florian Ludi (Swi) Team Jura Suisse
50 Michel Klinger (Swi) Team Jura Suisse
51 Viktor Shestakov (Kaz) Kazakhstan National Team
52 Scott Davis (Aus) Australian National Team
53 Hiroshi Sakaguchi (Jpn) Asian Ind. Racing
54 Shinichi Fukushima (Jpn) Team Bridgestone Anchor
55 Musairi Musa (Mas) Malaysia National Team
56 Kairat Baigudinov (Kaz) Team Orbea Etxeondo
57 Shahrizan Selamat (Mas) Malaysia National Team
58 Ah.Thiam Wong (Mas) Malaysia National Team
59 Makoto Takeuchi (Jpn) Team Orbea Etxeondo
60 Hans-Jurgen Juretzek (Ger) Team Comnet-Senges
61 Takumi Beppu (Jpn) RT Nipponhodo
62 Wolfram Wiese (Ger) Team Comnet-Senges
63 Chun Ming Tsoi (Hkg) Hong Kong National Team
64 Pawel Zugaj (Pol) Mroz
65 Tomoya Kano (Jpn) Shimano Racing
66 Siu Lun Ho (Hkg) Hong Kong National Team
67 Kazuyuki Manabe (Jpn) Miyata-Subaru Racing Team
68 Jun Otsuka (Jpn) Miyata-Subaru Racing Team
69 Kazimierz Stafiej (Pol) Mroz
70 Hideto Yukinari (Jpn) Miyata-Subaru Racing Team
71 Edward Dunning (Ned) AXA-VVZ Professional Cycling Team
72 David Mcpartland (Aus) Australian National Team
73 Ashley Humbert (Aus) Australian National Team
74 Takashi Yamada (Jpn) Sumita-Ravanello-Pealizumi
75 Simone Mori (Ita) Team Jura Suisse
76 Tomokazu Fujino (Jpn) Team Bridgestone Anchor
77 David Pell (Aus) Australian National Team
78 Adrian Laidler (Aus) Australian National Team
79 Yoshiyuki Abe (Jpn) Shimano Racing
80 Kai Ming Tsang (Hkg) Hong Kong National Team
81 Ken Akita (Jpn) Asian Ind. Racing
82 Peep Mikli (Est) AXA-VVZ Professional Cycling Team
83 Yoshimasa Hirose (Jpn) Team Bridgestone Anchor
84 Taiji Tanaka (Jpn) Sumita-Ravanello-Pealizumi
85 Zbigniew Wyrzykowski (Pol) Mroz                            0.22
86 Robert Slippens (Ned) AXA-VVZ Professional Cycling Team    0.24
87 Danny Stam (Ned) AXA-VVZ Professional Cycling Team
88 Pierre Ackermann (Swi) Team Jura Suisse                    2.06
89 Teruo Iida (Jpn) Team Orbea Etxeondo                       2.16
90 Koichi Asano (Jpn) Miyata-Subaru Racing Team               4.16
91 Kazuaki Akasaka (Jpn) Sumita-Ravanello-Pealizumi           5.16
92 Ngai Ching Wong (Hkg) Hong Kong National Team             11.16
 
Points classification
 
1 Jan Hordijk (Ned) AXA-VVZ Professional Cycling Team            5 pts
2 Stijn Vanstraelen (Bel) RDM-Flanders                           4
3 Makoto Iijima (Jpn) Sumita-Ravanello-Pealizumi                 3
4 Shinri Suzuki (Jpn) Shimano Racing                             2
5 Stefan Ganser (Ger) Team Comnet-Senges                         1
 
Sprints classification
 
1 Tjarco Cuppens (Ned) Team Comnet-Senges                        7 pts
2 Makoto Iijima (Jpn) Sumita-Ravanello-Pealizumi                 5
3 Takehiro Mizutani (Jpn) Team Bridgestone Anchor                5
4 Mateusz Mroz (Pol) Mroz                                        2
5 Zbigniew Wyrzykowski (Pol) Mroz                                2
6 Maxim Iglinskiy (Kaz) Kazakhstan National Team                 2
7 Kaoru Ouchi (Jpn) Shimano Racing                               1
 
Teams classification
 
1 Axa-Vvz                                                  8.51.17
2 Rdm Flanders                                                0.04
3 Sumita Ravanello Pearlizumi                                 0.06
4 Team Comnet-Senges                                          0.10
5 Shimano Racing
6 Mroz
6 Kazakhstan
8 Team Bridgestone-Anchor
9 Aisan-Ind.Racing
10 Team Jura Suisse
11 Malaysia
12 Rt.Nippon Hodo
13 Hong Kong
14 Team Orbea Etxe-Ondo
15 Miyata-Subaru Racing Team
16 Australia