25th Tour de l'Aude - 2.2 WE
France, May 15-24, 2009
Main Page Results Overall standings Stage Details Previous Stage Next Stage
Stage 3 - May 18: Lezignan Corbières – Lezignan Corbières , 116km
Number 17 for Teutenberg
Ina- Yoko Teutenberg wins the stage into Lezignan Corbieres
Photo ©: CJ Farquharson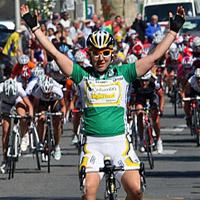 Ina-Yoko Teutenberg (Team Columbia-Highroad) won the 17th Tour de l'Aude stage of her career, as Amber Neben of Equipe Nürnberger Versicherung defended her leader's jersey in the third stage. A crash near the end of the stage caused confusion as to the overall leader, but after a protest, it was awarded to Neben.
Marianne Vos of DSB Bank was in a crash in the finale, just behind Teutenberg, with Neben behind Vos. Teutenberg went on to win and was given a time of two seconds ahead of Neben, thus taking over the general lead. Nürnberger Directeur Sportif Jochen Dornbusch protesed, and the jury ruled that since the crash occured within the final kilometer, all riders would be given the same time. Neben thus reclaimed the leader's jersey.
"I was the only one to get through the crash, so I reached the line alone," Teutenberg said afterwards. "The rider who crashed slid and took out a lot of the others, but luckily I was able to get through."
Teutenberg paid tribute to her Team Columbia-Highroad teammates who worked hard during the hilly 116km stage to reel in several dangerous moves. "We collaborated with another team to bring back one rider and set things up for a sprint. Then they put me in the right position. With a team of just six riders it's never easy to do everything but they did a great job," she explained.
With a fairly flat stage before the Tour de l'Aude ventures into the mountains, Teutenberg is just two seconds behind race leader Amber Neben and will be going for a third win. "I'm not really thinking about getting in the yellow jersey again. If that happens, it happens," she said.
"Really, I'm just going for another stage. The same thing applies to the green points jersey. If I can defend it, great, but then again maybe some climber will get a lot of points in the mountains and I lose it, continued Teutenberg. "I'll just take it on the day-by-day, rather than look too far ahead."
Photography
For a thumbnail gallery of these images, click here
Images by CJ Farquharson/WomensCycling.net
Results
1 Ina Teutenberg (Ger) Team Columbia Highroad Women         2.58.18  (39.03 km/h)
2 Tania Belvederesi (Ita) Gauss Rdz Ormu-Colnago                   
3 Denise Zuckermandel (Ger) German National Team                   
4 Emma Johansson (Swe) Red Sun Cycling Team                        
5 Kristin Armstrong (USA) Cervelo TestTeam                         
6 Julia Martisova (Rus) Gauss Rdz Ormu-Colnago                     
7 Chantal Blaak (Ned) Pays Bas                                     
8 Pascale Jeuland (Fra) Vienne Futuroscope                         
9 Monica Holler (Swe) Bigla Cycling Team                           
10 Amber Neben (USA) Equipe Nurnberger Versicherung                
11 Kaytee Boyd (NZl) Selle Italia Guezzi                           
12 Elisabeth Armitstead (GBr) Lotto-Belisol Ladiesteam             
13 Oxana Kozonchuk (Rus) Selle Italia Guezzi                       
14 Ludivine Henrion (Bel) Red Sun Cycling Team                     
15 Nikki Harris (GBr) British National Team                        
16 Trixi Worrack (Ger) Equipe Nurnberger Versicherung              
17 Joelle Numainville (Can) Esgl93-Gsd Gestion                     
18 Claudia Hausler (Ger) Cervelo TestTeam                          
19 Vicki Whitelaw (Aus) Vision 1 Racing                            
20 Catherine Hare Willianson (GBr) Fenixs                          
21 Lucinda Brand (Ned) Pays Bas                                    
22 Jennifer Hohl (Swi) Bigla Cycling Team                          
23 Jana Schemmer (Ger) German National Team                        
24 Christel Ferrier-Bruneau (Fra) Vision 1 Racing                  
25 Bettina Kuhn (Swi) Bigla Cycling Team                           
26 Laure Werner (Bel) Red Sun Cycling Team                         
27 Chantal Beltman (Ned) Team Columbia Highroad Women              
28 Sanne Van Paassen (Ned) Pays Bas                                
29 Sigrid Corneo (Slo) Selle Italia Guezzi                         
30 Mascha Pijnenborg (Ned) Red Sun Cycling Team                    
31 Martina Corazza (Ita) Gauss Rdz Ormu-Colnago                    
32 Leda Cox (GBr) Esgl93-Gsd Gestion                               
33 Lucy Martin (GBr) British National Team                         
34 Emmanuelle Merlot (Fra) Vienne Futuroscope                      
35 Noëmie Cantele (Ita) Bigla Cycling Team                         
36 Loes Gunnewijk (Ned) Team Flexpoint                             
37 Tina Liebig (Ger) DSB Bank                                      
38 Linda Villumsen (Ger) Team Columbia Highroad Women              
39 Nicole Cooke (GBr) Vision 1 Racing                              
40 Modesta Vzesniauskaite (Ltu) Bigla Cycling Team                 
41 Noortje Tabak (Ned) DSB Bank                                    
42 Veronica Andreasson (Swe) Bigla Cycling Team                    
43 Susanne Ljungskog (Swe) Team Flexpoint                          
44 Iris Slappendel (Ned) Team Flexpoint                            
45 Regina Bruins (Ned) Cervelo TestTeam                            
46 Eva Lutz (Ger) Equipe Nurnberger Versicherung                   
47 Madeleine Sandig (Ger) Equipe Nurnberger Versicherung           
48 Liesbeth De Vocht (Bel) DSB Bank                                
49 Tatiana Antoshina (Rus) Gauss Rdz Ormu-Colnago                  
50 Trine Schmidt (Den) Team Flexpoint                              
51 Luise Keller (Ger) Team Columbia Highroad Women                 
52 Karin Aune (Swe) Fenixs                                         
53 Grace Verbeke (Bel) Lotto-Belisol Ladiesteam                    
54 Marieke Van Wanroij (Ned) DSB Bank                              
55 Charlotte Becker (Ger) Equipe Nurnberger Versicherung           
56 Julie Beveridge (Can) Canadian National Team                    
57 Audrey Cordon (Fra) Vienne Futuroscope                          
58 Heather Logan (Can) Canadian National Team                      
59 Bianca Puratch-Knoepfle (Ger) Equipe Nurnberger Versicherung    
60 Saskia Elemans (Ned) Team Flexpoint                             
61 Helen Wyman (GBr) Vision 1 Racing                               
62 Svetlana Bubnenkova (Rus) Fenixs                                
63 Emma Silversides (GBr) Lotto-Belisol Ladiesteam                 
64 Catherine Delfosse (Bel) Lotto-Belisol Ladiesteam               
65 Marina Romoli (Ita) Selle Italia Guezzi                         
66 Kim Schoonbaert (Bel) Lotto-Belisol Ladiesteam                  
67 Lina-Kristin Schink (Ger) German National Team                  
68 Moriah Mac Gregor (Can) Canadian National Team                  
69 Debby Van Den Berg (Ned) Vision 1 Racing                        
70 Jennifer Fischer (Fra) Vienne Futuroscope                       
71 Mirjam Melchers Van Poppel (Ned) Team Flexpoint                 
72 Nathalie Jeuland (Fra) Vienne Futuroscope                       
73 Katie Colclough (GBr) British National Team                     
74 Emilia Fahlin (Swe) Team Columbia Highroad Women                
75 Paulina Brzezna (Pol) Red Sun Cycling Team                      
76 Silvia Valsecchi (Ita) Selle Italia Guezzi                      
77 Thomas Béatrice (Fra) Esgl93-Gsd Gestion                        
78 Marlijn Binnendijk (Ned) Pays Bas                               
79 Sarah Stewart (Can) Canadian National Team                      
80 Emma Pooley (GBr) Cervelo TestTeam                              
81 Marianne Vos (Ned) DSB Bank                                     
82 Lesueur Mélodie (Fra) Esgl93-Gsd Gestion                    0.33
83 Natalia Boyarskaya (Rus) Fenixs                             0.46
84 Patricia Schwager (Ned) Cervelo TestTeam                        
85 Petra Dijkman (Ned) Red Sun Cycling Team                        
86 Carrie Cartmill (Can) Canada                                1.12
87 Angela Hennig (Ger) DSB Bank                                    
88 Irene Van Den Broek (Ned) Pays Bas                          1.26
89 Audrey Lemieux (Can) Esgl93-Gsd Gestion                     1.32
90 Valentina Bastianelli (Ita) Gauss Rdz Ormu-Colnago          2.09
91 Martine Bras (Ned) Selle Italia Guezzi                          
92 Lieselot Decroix (Bel) Cervelo TestTeam                     8.01
93 Gabriella Day (GBr) Vision 1 Racing                             
94 Alexandra Greenfield (GBr) British National Team                
95 Suzanne Van Veen (Ned) Pays Bas                             8.03
96 Katherine Bates (Aus) Team Columbia Highroad Women              
97 Veronica Alessio (Ita) Gauss Rdz Ormu-Colnago               8.27
98 Elise Depoorter (Bel) Lotto-Belisol Ladiesteam             10.46
99 Nadezda Vlasova (Rus) Fenixs                               10.54
100 Virginia Hennig (Ger) German National Team                     
101 Fiona Dutriaux (Fra) Vienne Futuroscope                        
102 Janine Bubner (Ger) German National Team                       
103 Jenny Trew (Can) Canadian National Team                        
DNF Elena Eggl (Ger) German National Team                          
DNF Jennifer Letue (Fra) Esgl93-Gsd Gestion                        
 
Points
 
1 Ina Teutenberg (Ger) Team Columbia Highroad Women              40 pts
2 Tania Belvederesi (Ita) Gauss Rdz Ormu-Colnago                 34
3 Denise Zuckermandel (Ger) German National Team                 30
4 Emma Johansson (Swe) Red Sun Cycling Team                      26
5 Kristin Armstrong (USA) Cervelo TestTeam                       23
6 Julia Martisova (Rus) Gauss Rdz Ormu-Colnago                   20
7 Chantal Blaak (Ned) Pays Bas                                   18
8 Pascale Jeuland (Fra) Vienne Futuroscope                       16
9 Monica Holler (Swe) Bigla Cycling Team                         14
10 Amber Neben (USA) Equipe Nurnberger Versicherung              12
11 Kaytee Boyd (NZl) Selle Italia Guezzi                         10
12 Elisabeth Armitstead (GBr) Lotto-Belisol Ladiesteam            9
13 Oxana Kozonchuk (Rus) Selle Italia Guezzi                      8
14 Ludivine Henrion (Bel) Red Sun Cycling Team                    7
15 Nikki Harris (GBr) British National Team                       6
16 Trixi Worrack (Ger) Equipe Nurnberger Versicherung             5
17 Joelle Numainville (Can) Esgl93-Gsd Gestion                    4
18 Claudia Hausler (Ger) Cervelo TestTeam                         3
19 Vicki Whitelaw (Aus) Vision 1 Racing                           2
20 Catherine Hare Willianson (GBr) Fenixs                         1
 
Sprints
 
D57 Marseillette - km 21.5
1 Monica Holler (Swe) Bigla Cycling Team                          5 pts
2 Eva Lutz (Ger) Equipe Nurnberger Versicherung                   3
3 Vicki Whitelaw (Aus) Vision 1 Racing                            2
4 Kristin Armstrong (USA) Cervelo TestTeam                        1
 
D2113 Douzens - km 30.5
1 Monica Holler (Swe) Bigla Cycling Team                          5 pts
2 Vicki Whitelaw (Aus) Vision 1 Racing                            3
3 Iris Slappendel (Ned) Team Flexpoint                            2
4 Charlotte Becker (Ger) Equipe Nurnberger Versicherung           1
 
D611 Thezan des Corbières - km 97
1 Emma Pooley (GBr) Cervelo TestTeam                              5 pts
2 Kristin Armstrong (USA) Cervelo TestTeam                        3
3 Monica Holler (Swe) Bigla Cycling Team                          2
4 Vicki Whitelaw (Aus) Vision 1 Racing                            1
 
Mountains
 
Col de Villerouge (Cat. 2) km 66
1 Emma Pooley (GBr) Cervelo TestTeam                              5 pts
2 Charlotte Becker (Ger) Equipe Nurnberger Versicherung           3
3 Madeleine Sandig (Ger) Equipe Nurnberger Versicherung           2
4 Eva Lutz (Ger) Equipe Nurnberger Versicherung                   1
 
Teams
 
1 Gauss Rdz Ormu-Colnago                                    8.54.54
2 Red Sun Cycling Team                                             
3 Selle Italia Guezzi                                              
4 Bigla Cycling Team                                               
5 Pays Bas                                                         
6 Team Columbia Highroad Women                                     
7 Cervelo TestTeam                                                 
8 Equipe Nurnberger Versicherung                                   
9 Vision 1 Racing                                                  
10 German National Team                                            
11 Vienne Futuroscope                                              
12 British National Team                                           
13 Team Flexpoint                                                  
14 Esgl93-Gsd Gestion                                              
15 DSB Bank                                                        
16 Lotto-Belisol Ladiesteam                                        
17 Fenixs                                                          
18 Canadian National Team                                          
 
General classification after stage 3
 
1 Amber Neben (USA) Equipe Nurnberger Versicherung          6.44.54
2 Ina Teutenberg (Ger) Team Columbia Highroad Women            0.02
3 Trixi Worrack (Ger) Equipe Nurnberger Versicherung           0.08
4 Regina Bruins (Ned) Cervelo TestTeam                         0.09
5 Charlotte Becker (Ger) Equipe Nurnberger Versicherung            
6 Kristin Armstrong (USA) Cervelo TestTeam                     0.10
7 Madeleine Sandig (Ger) Equipe Nurnberger Versicherung        0.11
8 Eva Lutz (Ger) Equipe Nurnberger Versicherung                0.18
9 Linda Villumsen (Ger) Team Columbia Highroad Women           0.19
10 Emma Pooley (GBr) Cervelo TestTeam                              
11 Claudia Hausler (Ger) Cervelo TestTeam                      0.22
12 Mirjam Melchers Van Poppel (Ned) Team Flexpoint             0.26
13 Trine Schmidt (Den) Team Flexpoint                          0.27
14 Loes Gunnewijk (Ned) Team Flexpoint                         0.28
15 Susanne Ljungskog (Swe) Team Flexpoint                      0.32
16 Chantal Beltman (Ned) Team Columbia Highroad Women          0.34
17 Iris Slappendel (Ned) Team Flexpoint                            
18 Marianne Vos (Ned) DSB Bank                                 0.43
19 Saskia Elemans (Ned) Team Flexpoint                         0.47
20 Luise Keller (Ger) Team Columbia Highroad Women             0.49
21 Bianca Puratch-Knoepfle (Ger) Equipe Nurnberger Versicherung    
22 Liesbeth De Vocht (Bel) DSB Bank                            1.01
23 Noëmie Cantele (Ita) Bigla Cycling Team                     1.03
24 Tatiana Antoshina (Rus) Gauss Rdz Ormu-Colnago              1.09
25 Emma Johansson (Swe) Red Sun Cycling Team                   1.14
26 Julia Martisova (Rus) Gauss Rdz Ormu-Colnago                    
27 Modesta Vzesniauskaite (Ltu) Bigla Cycling Team             1.15
28 Tina Liebig (Ger) DSB Bank                                  1.16
29 Noortje Tabak (Ned) DSB Bank                                1.19
30 Tania Belvederesi (Ita) Gauss Rdz Ormu-Colnago                  
31 Monica Holler (Swe) Bigla Cycling Team                      1.24
32 Chantal Blaak (Ned) Pays Bas                                1.32
33 Vicki Whitelaw (Aus) Vision 1 Racing                        1.34
34 Sanne Van Paassen (Ned) Pays Bas                            1.36
35 Julie Beveridge (Can) Canadian National Team                1.38
36 Nicole Cooke (GBr) Vision 1 Racing                              
37 Heather Logan (Can) Canadian National Team                  1.42
38 Mascha Pijnenborg (Ned) Red Sun Cycling Team                    
39 Jennifer Hohl (Swi) Bigla Cycling Team                          
40 Lucinda Brand (Ned) Pays Bas                                1.43
41 Nikki Harris (GBr) British National Team                    1.49
42 Moriah Mac Gregor (Can) Canadian National Team                  
43 Pascale Jeuland (Fra) Vienne Futuroscope                    1.50
44 Christel Ferrier-Bruneau (Fra) Vision 1 Racing              1.51
45 Petra Dijkman (Ned) Red Sun Cycling Team                    1.54
46 Jennifer Fischer (Fra) Vienne Futuroscope                   1.55
47 Svetlana Bubnenkova (Rus) Fenixs                                
48 Sarah Stewart (Can) Canadian National Team                      
49 Helen Wyman (GBr) Vision 1 Racing                               
50 Katie Colclough (GBr) British National Team                 1.58
51 Audrey Cordon (Fra) Vienne Futuroscope                      2.01
52 Lucy Martin (GBr) British National Team                         
53 Elisabeth Armitstead (GBr) Lotto-Belisol Ladiesteam         2.03
54 Debby Van Den Berg (Ned) Vision 1 Racing                    2.11
55 Denise Zuckermandel (Ger) German National Team                  
56 Emmanuelle Merlot (Fra) Vienne Futuroscope                      
57 Karin Aune (Swe) Fenixs                                     2.13
58 Kaytee Boyd (NZl) Selle Italia Guezzi                       2.14
59 Oxana Kozonchuk (Rus) Selle Italia Guezzi                   2.15
60 Joelle Numainville (Can) Esgl93-Gsd Gestion                 2.17
61 Grace Verbeke (Bel) Lotto-Belisol Ladiesteam                    
62 Leda Cox (GBr) Esgl93-Gsd Gestion                           2.18
63 Martine Bras (Ned) Selle Italia Guezzi                      2.20
64 Catherine Delfosse (Bel) Lotto-Belisol Ladiesteam           2.25
65 Thomas Béatrice (Fra) Esgl93-Gsd Gestion                    2.28
66 Lina-Kristin Schink (Ger) German National Team              2.33
67 Marina Romoli (Ita) Selle Italia Guezzi                     2.35
68 Emilia Fahlin (Swe) Team Columbia Highroad Women            2.37
69 Natalia Boyarskaya (Rus) Fenixs                             2.48
70 Emma Silversides (GBr) Lotto-Belisol Ladiesteam             2.52
71 Angela Hennig (Ger) DSB Bank                                2.54
72 Paulina Brzezna (Pol) Red Sun Cycling Team                  3.03
73 Lesueur Mélodie (Fra) Esgl93-Gsd Gestion                    3.05
74 Silvia Valsecchi (Ita) Selle Italia Guezzi                  3.55
75 Nathalie Jeuland (Fra) Vienne Futuroscope                   4.01
76 Marieke Van Wanroij (Ned) DSB Bank                          5.00
77 Laure Werner (Bel) Red Sun Cycling Team                     5.08
78 Veronica Andreasson (Swe) Bigla Cycling Team                5.12
79 Ludivine Henrion (Bel) Red Sun Cycling Team                 5.14
80 Valentina Bastianelli (Ita) Gauss Rdz Ormu-Colnago          5.15
81 Kim Schoonbaert (Bel) Lotto-Belisol Ladiesteam              5.23
82 Audrey Lemieux (Can) Esgl93-Gsd Gestion                     5.24
83 Patricia Schwager (Ned) Cervelo TestTeam                    5.44
84 Marlijn Binnendijk (Ned) Pays Bas                           5.57
85 Catherine Hare Willianson (GBr) Fenixs                      6.03
86 Martina Corazza (Ita) Gauss Rdz Ormu-Colnago                6.09
87 Bettina Kuhn (Swi) Bigla Cycling Team                       6.32
88 Carrie Cartmill (Can) Canada                                7.21
89 Irene Van Den Broek (Ned) Pays Bas                          7.52
90 Sigrid Corneo (Slo) Selle Italia Guezzi                     8.08
91 Alexandra Greenfield (GBr) British National Team           10.14
92 Suzanne Van Veen (Ned) Pays Bas                            11.18
93 Katherine Bates (Aus) Team Columbia Highroad Women         11.49
94 Lieselot Decroix (Bel) Cervelo TestTeam                    13.12
95 Virginia Hennig (Ger) German National Team                 13.43
96 Elise Depoorter (Bel) Lotto-Belisol Ladiesteam             15.20
97 Jana Schemmer (Ger) German National Team                   15.25
98 Jenny Trew (Can) Canadian National Team                    16.49
99 Veronica Alessio (Ita) Gauss Rdz Ormu-Colnago              17.15
100 Gabriella Day (GBr) Vision 1 Racing                       23.52
101 Janine Bubner (Ger) German National Team                  26.14
102 Nadezda Vlasova (Rus) Fenixs                              29.45
103 Fiona Dutriaux (Fra) Vienne Futuroscope                   30.51
 
Points classification
 
1 Ina Teutenberg (Ger) Team Columbia Highroad Women              94 pts
2 Julia Martisova (Rus) Gauss Rdz Ormu-Colnago                   43
3 Tania Belvederesi (Ita) Gauss Rdz Ormu-Colnago                 42
4 Kristin Armstrong (USA) Cervelo TestTeam                       40
5 Marianne Vos (Ned) DSB Bank                                    39
6 Regina Bruins (Ned) Cervelo TestTeam                           36
7 Emma Johansson (Swe) Red Sun Cycling Team                      36
8 Martine Bras (Ned) Selle Italia Guezzi                         34
9 Linda Villumsen (Ger) Team Columbia Highroad Women             30
10 Denise Zuckermandel (Ger) German National Team                30
11 Oxana Kozonchuk (Rus) Selle Italia Guezzi                     28
12 Svetlana Bubnenkova (Rus) Fenixs                              26
13 Trixi Worrack (Ger) Equipe Nurnberger Versicherung            25
14 Ludivine Henrion (Bel) Red Sun Cycling Team                   25
15 Amber Neben (USA) Equipe Nurnberger Versicherung              23
16 Noëmie Cantele (Ita) Bigla Cycling Team                       20
17 Chantal Blaak (Ned) Pays Bas                                  18
18 Pascale Jeuland (Fra) Vienne Futuroscope                      16
19 Catherine Hare Willianson (GBr) Fenixs                        15
20 Monica Holler (Swe) Bigla Cycling Team                        14
21 Lucy Martin (GBr) British National Team                       10
22 Kaytee Boyd (NZl) Selle Italia Guezzi                         10
23 Loes Gunnewijk (Ned) Team Flexpoint                            9
24 Mascha Pijnenborg (Ned) Red Sun Cycling Team                   9
25 Elisabeth Armitstead (GBr) Lotto-Belisol Ladiesteam            9
26 Mirjam Melchers Van Poppel (Ned) Team Flexpoint                8
27 Nicole Cooke (GBr) Vision 1 Racing                             7
28 Trine Schmidt (Den) Team Flexpoint                             6
29 Jennifer Hohl (Swi) Bigla Cycling Team                         6
30 Nikki Harris (GBr) British National Team                       6
31 Martina Corazza (Ita) Gauss Rdz Ormu-Colnago                   5
32 Joelle Numainville (Can) Esgl93-Gsd Gestion                    4
33 Claudia Hausler (Ger) Cervelo TestTeam                         3
34 Katherine Bates (Aus) Team Columbia Highroad Women             3
35 Tatiana Antoshina (Rus) Gauss Rdz Ormu-Colnago                 2
36 Vicki Whitelaw (Aus) Vision 1 Racing                           2
37 Carrie Cartmill (Can) Canada                                   2
38 Charlotte Becker (Ger) Equipe Nurnberger Versicherung          1
39 Lucinda Brand (Ned) Pays Bas                                   1
 
Sprints classification
 
1 Vicki Whitelaw (Aus) Vision 1 Racing                           21 pts
2 Monica Holler (Swe) Bigla Cycling Team                         12
3 Marianne Vos (Ned) DSB Bank                                     6
4 Emma Pooley (GBr) Cervelo TestTeam                              5
5 Kristin Armstrong (USA) Cervelo TestTeam                        4
6 Eva Lutz (Ger) Equipe Nurnberger Versicherung                   4
7 Christel Ferrier-Bruneau (Fra) Vision 1 Racing                  3
8 Marina Romoli (Ita) Selle Italia Guezzi                         3
9 Angela Hennig (Ger) DSB Bank                                    3
10 Iris Slappendel (Ned) Team Flexpoint                           2
11 Nicole Cooke (GBr) Vision 1 Racing                             2
12 Charlotte Becker (Ger) Equipe Nurnberger Versicherung          1
 
Mountains classification
 
1 Emma Pooley (GBr) Cervelo TestTeam                              8 pts
2 Vicki Whitelaw (Aus) Vision 1 Racing                            5
3 Charlotte Becker (Ger) Equipe Nurnberger Versicherung           3
4 Madeleine Sandig (Ger) Equipe Nurnberger Versicherung           2
5 Amber Neben (USA) Equipe Nurnberger Versicherung                2
6 Eva Lutz (Ger) Equipe Nurnberger Versicherung                   1
7 Noëmie Cantele (Ita) Bigla Cycling Team                         1
 
Young rider classification
 
1 Trine Schmidt (Den) Team Flexpoint                        6.45.21
2 Marianne Vos (Ned) DSB Bank                                  0.16
3 Noortje Tabak (Ned) DSB Bank                                 0.52
4 Chantal Blaak (Ned) Pays Bas                                 1.05
5 Sanne Van Paassen (Ned) Pays Bas                             1.09
6 Julie Beveridge (Can) Canadian National Team                 1.11
7 Lucinda Brand (Ned) Pays Bas                                 1.16
8 Pascale Jeuland (Fra) Vienne Futuroscope                     1.23
9 Jennifer Fischer (Fra) Vienne Futuroscope                    1.28
10 Katie Colclough (GBr) British National Team                 1.31
11 Audrey Cordon (Fra) Vienne Futuroscope                      1.34
12 Lucy Martin (GBr) British National Team                         
13 Elisabeth Armitstead (GBr) Lotto-Belisol Ladiesteam         1.36
14 Denise Zuckermandel (Ger) German National Team              1.44
15 Oxana Kozonchuk (Rus) Selle Italia Guezzi                   1.48
16 Joelle Numainville (Can) Esgl93-Gsd Gestion                 1.50
17 Marina Romoli (Ita) Selle Italia Guezzi                     2.08
18 Emilia Fahlin (Swe) Team Columbia Highroad Women            2.10
19 Lesueur Mélodie (Fra) Esgl93-Gsd Gestion                    2.38
20 Valentina Bastianelli (Ita) Gauss Rdz Ormu-Colnago          4.48
21 Alexandra Greenfield (GBr) British National Team            9.47
22 Suzanne Van Veen (Ned) Pays Bas                            10.51
23 Lieselot Decroix (Bel) Cervelo TestTeam                    12.45
24 Virginia Hennig (Ger) German National Team                 13.16
25 Elise Depoorter (Bel) Lotto-Belisol Ladiesteam             14.53
26 Jana Schemmer (Ger) German National Team                   14.58
27 Veronica Alessio (Ita) Gauss Rdz Ormu-Colnago              16.48
28 Janine Bubner (Ger) German National Team                   25.47
29 Fiona Dutriaux (Fra) Vienne Futuroscope                    30.24
 
Teams classification
 
1 Equipe Nurnberger Versicherung                           20.14.59
2 Cervelo TestTeam                                             0.26
3 Team Columbia Highroad Women                                 0.54
4 Team Flexpoint                                               1.04
5 DSB Bank                                                     4.39
6 Gauss Rdz Ormu-Colnago                                       5.58
7 Bigla Cycling Team                                           6.23
8 Red Sun Cycling Team                                         7.55
9 Pays Bas                                                     8.04
10 Canadian National Team                                      8.19
11 Vision 1 Racing                                             8.23
12 British National Team                                       8.29
13 Vienne Futuroscope                                          8.53
14 Fenixs                                                      9.41
15 Lotto-Belisol Ladiesteam                                   10.04
16 Selle Italia Guezzi                                        10.43
17 Esgl93-Gsd Gestion                                         10.48
18 German National Team                                       11.24