25th Tour de l'Aude - 2.2 WE
France, May 15-24, 2009
All star cast for Tour de l'Aude silver anniversary
The Ljungskog victory salute.
Photo ©: CJ Farquharson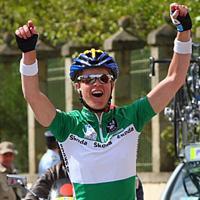 One of the oldest women's stage races in Europe celebrates its 25th anniversary this week. The Tour de l'Aude may be one year younger than its counterpart, the Grande Boucle Féminine Internationale, but while the latter has shrunk over the years due to problems with sponsorship, the Tour de l'Aude has expanded in length and stature.
The race was begun in 1985 by Jean Thomas, who took his expertise at promoting men's races and laid a solid foundation for what would become one of the top women's tours. It grew over the years from a four-day race to the current ten-day length, and the stages now take place across the département.
Situated between the Mediterranean sea and the Pyrenees, the region is well suited for a variety of stages and regularly attracts the top talent of the international women's peloton.
Swede Susanne Ljungskog won the past two editions, and returns with her Flexpoint team to defend her title. Amber Neben, winner of the previous two years, was Ljungskog's teammate, but is now on Equipe Nürnberger Versicherung. This could well set up an exciting head-to-head battle between Neben, the current time trial world champion and the two-time world road champion, Ljungskog.
Should Neben falter, her teammate Trixi Worrack will be gunning to take her second edition. The German has been on the podium of this race since winning it on her first attempt in 2004.
The rest of the peloton reads like a who's who of women's cycling. We have Olympic champion Kristin Armstrong, fresh off her victory in the Tour de Berne World Cup. World and Olympic road champion Nicole Cooke and her Vision 1 Racing team. World Cup leader Marianne Vos has won world championships in track, road and cyclo-cross and an Olympic gold on the track.
Fellow German and two-time winner Judith Arndt (Columbia-Highroad) will miss the race this year after breaking a bone in her hand last month. The team will focus on netting stage wins by prolific champion Ina Teutenberg, but should have a good shot at the overall classification through its youngsters Emilia Fahlin and Luise Keller.
Emma Pooley (Cervelo TestTeam), Olympic silver medalist, former World Cup leader Emma Johannson (Red Sun Cycling Team), former world champion Edita Pucinskaite (Team Dila' Kuota) and Canadian Champion Erinne Willock can all contend for the overall classification.
One important factor for a classification contender, however, is the strength of her team. The Tour de l'Aude is one of the few women's stage races which features a team time trial. With the individual test a mere 3.9km in length, the 27km team event will be one of the deciding factors for this race.