Jayco Bay Cycling Classic - NE
Geelong, Australia, January 2-6, 2009
Main Page Results Overall standings Previous Stage
Stage 10 - January 6: Geelong - Ritchie Boulevard - Elite men, 60 minutes
Brown defends lead in final stage
By Malcolm Sawford in Geelong
Graeme Brown (Urban Hotel) salutes the crowd
Photo ©: CJ Farquharson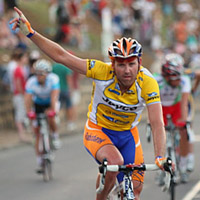 Graeme Brown (Urban Hotels) withstood all challenges from his nearest rivals in the final race of the 2009 Jayco Bay Cycling Classic. A fourth place on the night was all he needed to take his first series win in seven attempts. The stage was won by Sydney Olympic Madison gold medalist Brett Aitken (Savings & Loans), who triumphed from a small breakaway. Robbie McEwen moved up to second spot overall, while Bernie Sulzberger, trailing Brown by only one point before the final crit, dropped to third place. Sulzberger finished the race in 10th place.
Brown valued the competition. "It's an important win. There's no bad bike riders: no one has ever fluked a Bay Classic win. You've got old champions like Gary Sutton, who's been my coach for years, or Robbie McEwen, a six-time winner. I've never been able to win before and this means a lot." Despite not taking a win this week, the consistent McEwen finished the series in second place, just two points behind Brown.
Aitken liked the course. "It's such a nice race to win. It's such a prestigious one, the last one. I like this circuit, it really suits me with a good long sprint. I'm going to be 38 this month, I'm doing about three hours a week training: it's great to beat a couple of pros out there."
The men's race opened at a frightening pace, with the Mazda squad setting a high tempo for Dean Windsor, but it wasn't fast enough to prevent attacks by the O2 Reflections Group pair of Matt Wilson and Jeremy Hunt.
Shortly after the first sprint, won by Johnnie Walker (Degani/CBD), Wilson combined with the youngster to hold the bunch off for four laps, before Mark Renshaw (Mazda) brought the bunch back to the leaders. This sparked an immediate counter attack from Trent Wilson (Skilled), who had recently announced him imminent retirement from elite cycling.
Wilson forged a handy lead alone before being joined first by Leigh Howard (Jayco VIS), then by mountain bike champion Lachie Norris (BBB) and finally by Hunt. Howard left his temporary allies behind, but an attempt to reach the break by Robbie McEwen (Bike Hub/Ridley), Brown and Simon Gerrans (O2 Reflections Group) forced a reaction from the bunch and the bunch regrouped soon after the half-way sprint.
Cooke launches decisive move
Baden Cooke (O2 Reflections)
Photo ©: CJ Farquharson

Baden Cooke continued O2 Reflections Group's aggressive day with a strong counter attack. "It was my turn to attack. It was a lot earlier than I would have liked to go, about ten minutes to go would have been perfect, but I had to try and make it stick." Cooke hugged the barriers, and even went into an aerodynamic tuck approaching the hot dog corners, and built a lead of 13 seconds, before Aitken and defending series champion Mark Renshaw (Mazda) powered across the gap.
The trio stayed clear of all challengers, before Aitken launched an attack with two laps remaining. Cooke closed the gap, but Renshaw clipped a wheel in the corner and fell, and with the pits closed could not restart the race. "We're all fast sprinters, and it would have been exciting the three of us going for the line, but I am happy to see him go out!" Aitken admitted.
Aitken led Cooke for most of the final lap, but it was Cooke who led out first, and the fresher Aitken had little trouble storming past to take the win.
Brown was profuse in his admiration and thanks for his Urban Homes teammates. "That was as good as you get from any pro team. Four guys, they don't have to ride for me, it's just a composite team, if that was Rabobank I would have still been happy. Today was sensational."
Cooke was philosophical about his near miss. "When I saw Aitken and Renshaw coming across, they're not two guys you want to be sprinting against when you've been out there for 20 minutes, so I foxed around a bit and did my best, but Brett was quick off the wheel."
Reigning Australian champion Bernie Sulzberger (Virgin Blue) went into the race one point behind Brown, and took it up to his more heavily fancied rival in the closing laps. Brown knew who he had to keep an eye out for. "Towards the end he [Sulzberger] was riding like he had absolutely nothing to lose. He did a few attacks into those corners and I was thinking oh, err, and I wasn't sure, but I got the measure of him! But I knew that he and Dean Windsor would be attacking full gas and that's exactly what they did."
Windsor finished with the sprinter's jersey for the second year in succession, and vowed to return. "What a great week it was. Such a great field and I'm really excited to get the green. I'll come back next year and see if I can trade the green for an overall podium, maybe even a yellow!"
The support race was well won by Stuart Grimsey, who attacked the bunch before the first sprint, and took the win almost 30 seconds clear in a powerful display. The win gave him second overall for the series behind Shaun McCarthy, who took third in the stage and revealed on the podium that he has recently signed to race with the Panasonic UCI Continental team. Day three winner Cameron Carlyle rounded out the top three overall.
Photography
For a thumbnail gallery of these images, click here
Images by CJ Farquharson/WomensCycling.net
Images by Brenton Logan/www.durostrada.com
Results
Elite men

1 Brett Aitken (Savings & Loans)                     
2 Baden Cooke (O2 Reflections Group)                 
3 Robbie McEwen (Bike Hub/Ridley)                    
4 Graeme Brown (Urban Hotel)                         
5 Joel Pearson (Savings & Loans)                     
6 Jeremy Hunt (O2 Reflections Group)                 
7 Jono Cantwell (Virgin Blue)                        
8 James Langedyk (Jayco VIS)                         
9 Dean Windsor (Mazda)                               
10 Bernie Sulzberger (Virgin Blue)                   

Sprints

Sprint 1
1 Johnnie Walker (Degani/CBD)                        
2 Kristian House (Urban Hotel)                       
3 Will Walker (Degani/CBD)                           

Sprint 2
1 Trent Wilson (Skilled)                             
2 Leigh Howard (Jayco VIS)                           
3 Lachie Mnorris (BBB)                               

Sprint 3
1 Brett Aitken (Savings & Loans)                     
2 Mark Renshaw (Mazda)                               
3 Baden Cooke (O2 Reflections Group)                 
 
Final general classification
 
1 Graeme Brown (Urban Hotel)                       33 pts
2 Robbie McEwen (Bike Hub/Ridley)                  31
3 Bernie Sulzberger (Virgin Blue)                  26
4 Joel Pearson (Savings & Loans)                   24
5 Dean Windsor (Mazda)                             23
6 Simon Gerrans (O2 Reflections Group)             22
7 Baden Cooke (O2 Reflections Group)               20
8 Will Walker (Degani/CBD)                         17
9 Daniel Braunsteins (Degani/CBD)                  16
10 Jono Cantwell (Virgin Blue)                     15
11 Brett Aitken (Savings & Loans)                  13
12 Rohan Dennis (Skilled)                          10
13 Leigh Howard (Jayco VIS)                         8
14 Matt Wilson (O2 Reflections Group)               7
15 Mark Renshaw (Mazda)                             7
16 Jeremy Hunt (O2 Reflections Group)               5
17 Michael Stallard (Savings & Loans)               5
18 James Langedyk (Jayco VIS)                       3
19 Tommy Nankervis (Total Rush)                     2
20 Cody Stevenson (Budget Forklifts)                2
21 Nic Sanderson (Rock Racing)                      1
 
Points classification

1 Dean Windsor (Mazda)                             22 pts
2 Kristian House (Urban Hotel)                      7
3 Bernie Sulzberger (Virgin Blue)                   7
4 Matt Wilson (O2 Reflections Group)                6
5 Joel Pearson (Savings & Loans)                    6
6 Will Walker (Degani/CBD)                          5
7 Brett Aitken (Savings & Loans)                    3
8 Trent Wilson (Skilled)                            3
9 Johnnie Walker (Degani/CBD)                       3
10 Rohan Dennis (Skilled)                           3
11 Rory Sutherland (Total Rush)                     3
12 Kris Koke (Trevorrow/Chifley/Sally's Paddock)    3
13 Graeme Brown (Urban Hotel)                       3
14 Darren Lapthorne (Urban Hotel)                   3
15 Mark Renshaw (Mazda)                             2
16 Leigh Howard (Jayco VIS)                         2
17 Nathan Wise (Degani/CBD)                         2
18 Baden Cooke (O2 Reflections Group)               1
19 Daniel Braunsteins (Degani/CBD)                  1
20 Nic Sanderson (Rock Racing)                      1
21 Jonny Clarke (2XU)                               1
22 Mark O'Brien (Bike Hub/Ridley)                   1
23 Rahsaan Bahati (Rock Racing)                     1
24 Lachie Mnorris (BBB)                             1
 
Teams classification
1 O2 Reflections Group                             54 pts
2 Savings & Loans                                  42
3 Virgin Blue                                      41
4 Degani/CBD                                       33
5 Bike Hub/Ridley                                  31
6 Mazda                                            30
7 Urban Hotel                                      26
8 Jayco VIS                                        11
9 Skilled                                          10
10 Total Rush                                       2
11 Budget Forklifts                                 2
12 Rock Racing                                      1
 
Support Men - 45 minutes

1 Stuart Grimsey                                     
2 Jarrod Moroni                                      
3 Shaun McCarthy                                     
4 Dale Parker                                        
5 Samuel Spokes                                      
6 Cameron Carlyle                                    
7 Matthew Benson                                     
8 Chris Winn                                         
9 Damien Turner                                      
10 Ethan Kimmince                                    
 
Sprints
Sprint 1
1 Stuart Grimsey                                     
2 Shaun McCarthy                                     
3 Samuel Spokes                                      

Sprint 2
1 Stuart Grimsey                                     
2 Geoff Straub                                       
3 Scott Liston                                       
 
Final general classification
1 Shaun McCarthy                                   38 pts
2 Stuart Grimsey                                   28
3 Cameron Carlyle                                  27
4 Matthew Benson                                   26
5 Jarrod Moroni                                    26
6 Dale Parker                                      24
7 Jacob Sutherland                                 24
8 Scott Liston                                     16
9 Samuel Spokes                                    15
10 Geoff Straub                                    11
11 Peter Ladd                                       8
12 Patrick Drapac                                   8
13 Shaun Lewis                                      7
14 Marc Williams                                    6
15 Luke Mackenzie                                   5
16 Luke Ockerby                                     3
17 Adam Trewin                                      3
18 Damien Turner                                    4
19 Ethan Kimmince                                   4
20 Chris Winn                                       3
21 Angus Tobin                                      2
22 Lachlan Morton                                   2