Jayco Bay Cycling Classic - NE
Geelong, Australia, January 2-6, 2009
Main Page Results Overall standings Previous Stage Next Stage
Stage 2 - January 3: Geelong - Eastern Park - Elite women
Broun takes stage and overall in three-way battle
By Malcolm Sawford in Eastern Park
Kirsty Broun (MB Cycles) wins stage two
Photo ©: CJ Farquharson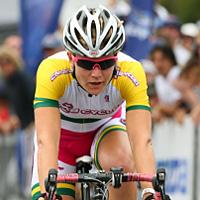 Reigning Australian criterium champion Kirsty Broun (MB Cycles) led the field home to claim the women's Jayco Bay Cycling Classic stage two, and the yellow jersey, ahead of Rochelle Gilmore (NSWIS) and day one winner, Josie Tomic (Plan B Racing). All three women are now tied on 20 points for the series, with Broun awarded the jersey on countback.
Broun was delighted to win wearing the national champion's jersey and equally ecstatic to pull on the yellow jersey. "It's very special. It's my first ever time in a yellow jersey and I'll have to see if I can keep it," she said.
The long and open course, just over two kilometres long, and with sweeping bends allowed the field to maintain quite a high pace. It also made it difficult for attacking riders to open a significant advantage. Most teams seemed determined to keep things together and rely on their fast finishers. Only Sarah Kent (Plan B) and Sky Lee Armstrong (NSWIS) shook off the chasers for more than a few moments.
The race seemed to be unfolding perfectly for Gilmore, who had won the first sprint comfortably over Broun and NSWIS teammate Megan Dunn to continue her sprinting dominance. Gilmore described the race as "a little bit more aggressive than yesterday. A less demanding course and so a lot of girls were having a go."
Neither sprinter contested the second sprint, but Belinda Goss (Pitcher Partners) showed a hint of her speed with a clear win ahead of the NSWIS train. At the finish, Broun turned the tables on Gilmore and stormed up the slight rise to the line to finish two lengths clear.
Tomic is supported by team-mate,
Photo ©: CJ Farquharson

Gilmore took responsibility for not capping off the hard work by her teammates. "I stuffed up the finish obviously. I fell asleep for a little bit and got myself boxed in, and only got out at the last moment, so to get second was pretty good considering," she said.
Best known as a pursuiter, Tomic also impressed with her sprint and came close to holding off Gilmore's desperate lunge. "I'm definitely not known as a sprinter, so I'm really happy with third. It shows you've got really good form."
The three leading women were all optimistic regarding their prospects on the shorter and hillier course they will tackle on day three. Broun felt her team had ridden perfectly and were ready to repeat. "We had to cover all the breaks and it was pretty quick out there, but I really enjoyed coming up some of those hills," Broun said.
For Tomic "the next couple of days are fairly hilly which will really suit me, and Sarah Kent will be a big help"; but Gilmore was convinced her young NSWIS team was the one to watch for. "I'm looking forward to the tougher circuit. I think it's going to be more of an honest race and my teammates have got really good legs. We've got one of the strongest teams and we're going to make it as hard as possible tomorrow and hopefully break it up a fair bit."
Photography
For a thumbnail gallery of these images, click here
Images by CJ Farquharson/WomensCycling.net
Results
1 Kirsty Broun (MB Cycles)                                       
2 Rochelle Gilmore (NSWIS)                                       
3 Josie Tomic (Plan B)                                           
4 Peta Mullens (Jayco VIS)                                       
5 Chloe Hoskins (Mazda)                                          
6 Belinda Goss (Pitcher Partners)                                
7 Isabella King (Urban Hotel)                                    
8 Megan Dunn (NSWIS)                                             
9 Nikki Butterfield (Skilled)                                    
10 Melissa Hoskins (Plan B)                                      
 
Points
 
Sprint 1
1 Rochelle Gilmore (NSWIS)                                       
2 Kirsty Broun (MB Cycles)                                       
3 Megan Dunn (NSWIS)                                             

Sprint 2
1 Belinda Goss (Pitcher Partners)                                
2 Megan Dunn (NSWIS)                                             
3 Lauren Kitchen (NSWIS)                                         
 
General classification after stage 2
 
1 Kirsty Broun (MB Cycles)                                     20 pts
2 Josie Tomic (Plan B)                                         20
3 Rochelle Gilmore (NSWIS)                                     20
4 Chloe Hoskins (Mazda)                                        13
5 Peta Mullens (Jayco VIS)                                     12
6 Belinda Goss (Pitcher Partners)                              11
7 Nikki Butterfield (Skilled)                                   5
8 Isabella King (Urban Hotel)                                   4
9 Emma Mackie (Pitcher Partners)                                4
10 Megan Dunn (NSWIS)                                           3
11 Laura McCaughey (Urban Hotel)                                2
12 Melissa Hoskins (Plan B)                                     1
13 Jenny Macpherson (G Force/Body Torque)                       1
 
Points classification
 
1 Rochelle Gilmore (NSWIS)                                      9 pts
2 Kirsty Broun (MB Cycles)                                      5
3 Belinda Goss (Pitcher Partners)                               3
4 Peta Mullens (Jayco VIS)                                      3
5 Megan Dunn (NSWIS)                                            3
6 Lauren Kitchen (NSWIS)                                        1
 
Teams classification
 
1 NSWIS                                                        23 pts
2 Plan B                                                       21
3 MB Cycles                                                    20
4 Mazda                                                        13
5 Jayco VIS                                                    12
6 Pitcher Partners                                             11
7 Urban Hotel                                                   6
8 Skilled                                                       5
9 G Force/Body Torque                                           1