6th Women's Ronde van Vlaanderen - CDM
Belgium, April 5, 2009
Ronde to see a new winner?
By Laura Weislo
Cooke will be the only previous winner to start on Sunday
Photo ©: AFP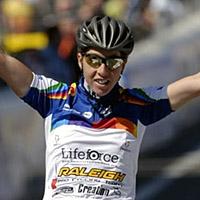 The women's World Cup heads to Belgium for round two for the Ronde van Vlaanderen Vrouwen, the women's Tour of Flanders, but will depart with just one of the previous champions, 2007 winner Nicole Cooke.
German Judith Arndt, who last year emerged victorious, will not race this year's event due to a broken collarbone she sustained in training. The race will also be without two-time champion Mirjam Melchers Van Poppel who called in sick for the opening World Cup round in Italy and has not recovered sufficiently to race in Belgium.
The only past champion who will toe the line on Sunday is Cooke, the reigning World and Olympic champion. She was sorely disappointed with the way the Trofeo Alfredo Binda went – she did not finish the cold, rainy race last weekend. With sun in the forecast, Cooke may have a better chance at a second win in Meerbeke. Her last victory here came in 2007 when she out-sprinted Zoulfia Zabirova.
"It was a special victory for me because it's such a well respected race over a tough parcours which has seen so many great moments over many years watched by passionate and knowledgeable fans," Cooke recalled.
Taking place on the same day as the men's version, the ladies will tackle an extended parcours of 131.6km which takes in the same final 56 kilometres as the men to finish in Meerbeke.
While the men head out from Brugge, the vrouwen begin in Oudenaarde, hitting the first of ten hellingen at kilometre 24.2, the Molenberg. The cobbled climb which kicks up to 14.2% will be a decisive spot for an early breakaway to form, especially considering it is followed by a demanding 3km cobbled sector.
In 2008, Dutch star Marianne Vos slipped into a seven-woman breakaway on the Molenberg, and perhaps used up too much energy in the move which was caught on the famed Muur-Kappelmuur. Vos was unable to follow American Kristin Armstrong and Arndt, who duked out the finale 21 seconds ahead.
The day could well be another duel between Cooke and Vos, who had a spectacular ride in Cittiglio last week to win the opening World Cup event over Emma Johannson (Red Sun). Johannson will return to try her hand again, and will hope to improve upon last year's ninth place finish.
Eva Lutz, Cyclingnews' latest diarist, will give her account of the race.
Photo ©: Equipe Nürnberger Versicherung
Also back in action is Armstrong, who last weekend took a strong third place ahead of Equipe Nürnberger's Eva Lutz. Both riders have shown excellent early season form and will be riders to watch.
The German team will also field the reigning time trial World Champion, Amber Neben, who is fresh off a narrow defeat at the Redlands Classic at the hands of Columbia-Highroad's Ina Teutenberg.
Teutenberg will be on hand for the festivities in Oudenaarde, and has shown some of the best climbing form of her career. Even though she is considered to be a sprinter, she has demonstrated time and again that she is fully capable of riding in a breakaway and then taking the win.
The same goes for Kirsten Wild, who took the overall victory in February at the Ladies' Tour of Qatar and fifth last week in Cittiglio. She will be a formidable back-up for Armstrong on the Cervélo TestTeam.
With 150 women on the line, riders will have to be attentive not only to the early attacks, but to the many turns and narrow roads which are riddled with obstacles. Luck, unbroken concentration and strong legs will be critical in order to be crowned the champion in Flanders.