Recently on Cyclingnews.com
95th Liège-Bastogne-Liège - HIS
Belgium, April 26, 2009
A coterie of côtes to challenge the champions
By Peter Hymas
Alejandro Valverde is back to win his third Liège-Bastogne-Liège in four years.
Photo ©: Roberto Bettini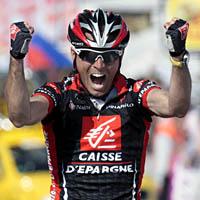 The 2009 Spring Classics season concludes on Sunday with the venerable Liège-Bastogne-Liège, a leg-breaking 261-kilometre test in the hills of the Belgian Walloon region which has seen the sport's champions do battle since the inaugural 1892 event.
In a Classic steeped in history and legendary performances befitting its Monument status, the 95th edition of Liège-Bastogne-Liège could see a re-writing of the record book if either of 2008's top-two, Alejandro Valverde and Davide Rebellin, should prevail on Sunday.
A victory by Valverde would vault the Spaniard into the rarified realm of three-time Liège-Bastogne-Liège winners, joining the Belgian triumvirate of Alfred De Bruyne, Léon Houa and Alfons Schepers. Only Eddy Merckx and Moreno Argentin have won more, with five and four career Liège-Bastogne-Liège victories respectively.
If the evergreen Rebellin, 37, emerges victorious he would eclipse the record of Stan Ockers as the oldest champion of 'La Doyenne'. Ockers won the 1955 Liège-Bastogne-Liège at the age of 35.
Liège-Bastogne-Liège starts in Liège's Place Saint-Lambert, a large square near the centre of town. For the first 106 kilometres, the riders take a fairly direct route to Bastogne, which is tucked away in the southeastern corner of Belgium close to Luxembourg. The route coming back is significantly longer, however, at 155 kilometres, and takes in most of the climbs of the race, before finishing in the northern Liège suburb of Ans.
There are 11 recognised climbs (côtes) in the race, which follows the same 261 kilometre parcours as last year. The first two climbs, the Côte de Ny and Côte de la Roche-en-Ardenne, occur in the peloton's opening southern journey to Bastogne and provide a launching ground for those riders eager to set out in an early break.
Michele Bartoli on Liège
Bartoli's best: First in 1997 and 1998
"Liège-Bastogne-Liège is a beautiful and very hard race. It is not that difficult to race, but you have to have a good team to control it up until the Côte de la Redoute.
"The years I won favourites went à bloc early on, but in the last years everyone seems to go more tranquillo and wait for Côte de Saint-Nicolas. I preferred to go all out on Redoute and to have less rivals.
"I think Liège-Bastogne-Liège, Flanders and Roubaix are the three most important races; if you win one of these you are part of cycling's story.
"I am curious to see if Lance Armstrong races; if he does Giro del Trentino it will be hard, almost impossible to race Liège the next day. Ivan Basso will do it, though; he is taking a private plane that night after Trentino.
Valverde will be the favourite again, or maybe his teammate Joaquím Rodríguez. The others are Thomas Dekker, Cunego and, if they can race, Di Luca and Rebellin. The Grand Tour men, like Nibali and Sastre, handle the long climbs well, but in the Classics you need explosiveness."
For more read Spring Classics: Bartoli holds court
The race's decisive action normally ensues in the final 100 kilometres after the Côte de Wanne as the frequency of the climbing intensifies. Traditionally, one of the decisive obstacles facing the race contenders is the 2.1-kilometre Côte de la Redoute, 35 kilometres from the finish. A further winnowing down of potential winners occurs over the remaining three côtes, the unclassified Côte de Sprimont (km 229), the Côte de la Roche aux Faucons (km 241.h) and the Côte de Saint-Nicolas (km 255.5).
The Côte de la Roche aux Faucons was new in last year's race and proved decisive in the day's outcome, launching Joaquim Rodriguez, Alejandro Valverde, Fränk Schleck and Davide Rebellin to the solo leader Andy Schleck.
The favourites
Davide Rebellin impressed on the Mur de Huy
Photo ©: ISPA

Defending champion Alejandro Valverde, the only Spaniard to ever claim victory in 'La Doyenne', has been the dominant force on the Ardennes climbs over the past three editions. The Spanish National Champion has finished no worse than second, taking victories in 2006 and 2008 plus a close second to Danilo Di Luca in 2007.
Valverde finished a quiet 21st in Amstel Gold followed by a 7th place in Flèche Wallonne. Valverde traditionally fares the worst in Amstel and improves as the Ardennes week progresses. The Spaniard can count on strong support from his Caisse d'Epargne team and Valverde will certainly be a threat to claim yet another Monument for his palmarès.
Davide Rebellin, fresh off of his third victory in Flèche Wallonne, possesses the experience, tactical nuance and explosive power to double up in the Belgian Ardennes Classics. Rebellin has finished on the Liège-Bastogne-Liège podium four times, including victory in 2004, and the 37-year-old Italian has the form and support of his Diquigiovanni teammates to perhaps land one step higher on the podium than last year's second place finish.
Damiano Cunego targeted the Ardennes Classics
Photo ©: ISPA

Fellow Italian Damiano Cunego stated that one of his goals for the 2009 season was to win an Ardennes Classic and it all comes down to Sunday's Liège-Bastogne-Liège to make that hope come to fruition. Cunego has displayed good form this week at Amstel Gold and Flèche Wallonne, finishing 5th and 3rd respectively, and his arsenal of climbing ability and explosive acceleration will be put to the test over the taxing 261-kilometre parcours on Sunday.
Team Saxo Bank will likely not be able to count on last year's third place finisher Fränk Schleck to once again be a podium contender due to an injury suffered at Amstel Gold, but the deeply talented squad has the likes of Karsten Kroon and Andy Schleck to vie for victory. Kroon came heartbreakingly close to winning Amstel Gold, finishing a close second to Serguei Ivanov, while Andy Schleck duplicated the feat at Flèche Wallonne, with only Davide Rebellin crossing the line before the Luxembourger. Andy Schleck came tantalizingly close to a Liège-Bastogne-Liège podium finish in 2008, finishing fourth, and he certainly has the form this year to improve on last year's effort.
Rabobank's Robert Gesink finished a fine third at Amstel Gold, but tendon problems in his knee prevented him from riding Flèche Wallonne. The young Dutchman's talent is well-suited for the Ardennes climbs, but his start on Sunday is still tenuous.
Only one Belgian, Frank Vandenbroucke, has set foot on the Liège-Bastogne-Liège podium in the past 16 years and Silence-Lotto's Philippe Gilbert is hoping to end that ignominious streak this year. Gilbert finished fourth in Amstel Gold and third in the Ronde van Vlaanderen and a victory at Liège-Bastogne-Liège would certainly be a welcome result for a team with only two wins thus far in 2009.
Gilbert's teammate Cadel Evans led the peloton up the final ascent of the Mur de Huy, ultimately finishing fifth, and the Australian should be again be a factor in 'La Doyenne' on Sunday.
The Beijing Olympic road race champion, Samuel Sanchez, has had a solid week in the Ardennes so far finishing 14th at Amstel Gold and just missing the podium at Flèche Wallonne where he ended up in 4th place. The Euskaltel-Euskadi Spaniard can deliver a powerful uphill sprint, an invaluable ability in a race frequently decided by a finishing kick on the slight rise to the line in Ans.
Other riders to watch will be Vincenzo Nibali (Liquigas), Christian Pfannberger (Katusha), Christian Knees (Team Milram), Thomas Lövkvist (Team Columbia-Highroad) and Rinaldo Nocentini (AG2R La Mondiale).
The Côtes:
Km 57.5, Côte de Ny (1.8 km, 5.7 %)
Km 82.0, Côte de la Roche-en-Ardenne (2.8 km, 4.9 %)
Km 128.0, Côte de Saint Roch (0.8 km, 12 %)
Km 172.0, Côte de Wanne (2.7 km, 7 %)
Km 178.5, Côte de Stockeu (1.1 km, 10.5 %)
Km 184.0, Côte de la Haute-Levée (3.4 km, 6 %)
Km 196.5, Côte du Rosier (4.0 km, 5.9 %)
Km 209.0, Côte de la Vecquée (3.1 km, 5.9 %)
Km 226.5, Côte de la Redoute (2.1 km, 8.4 %)
Km 241.5, Côte de la Roche aux Faucons (1.5 km, 9.9 %)
Km 255.5, Côte de Saint-Nicolas (1.0 km, 11.1 %)