Tour de Berne - CDM
Switzerland, May 4, 2008
Time to Bern in World Cup's Swiss leg
Marianne Vos races to win the last World Cup, Flèche Wallonne
Photo ©: AFP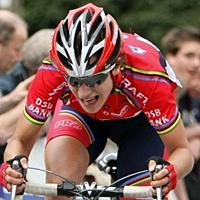 2007 Winner Edita Pucinskaite (Equipe Nürnberger Versicherung) heads the field as it moves on to Switzerland and the next round of the World Cup. The 1999 World Champion surprised the sprinters last year – and spoiled the 20th birthday of the then holder of the rainbow jersey Marianne Vos – on a predominantly flat course seemingly designed for them. This year, the far hillier profile ironically suits the characteristics of the Lithuanian far better; the riders will complete four laps of a 33.95-kilometre circuit, totalling 135.8 kilometres, and climb a total of 1680 metres.
The new parcours heads south instead of east – as it did previously – into the much hillier countryside and almost immediately begins the ascent of the big climb of the day. Despite being only 730 metres at its summit, the climb is almost five kilometres in length and will be enough to trouble the legs of the sprinters. The top of the climb does come with almost 25 kilometres still to go, including 10 kilometres that is predominantly downhill, but the fact that they will have to climb it four times may prove too much for some.
If any sprinters do manage to get to the final stages with the front group they will be rewarded with some long straight roads and an almost entirely flat roads – or even slightly downhill. The sharp final corner with less than 500 metres to go may be enough to disrupt a lead-out train – if one has made it that far – but if one of the fast women is there at the end they will be the favourite for victory. Nevertheless, the new course is definitely suited to the climbers and breakaway specialists than previously.
Current World Cup leader Marianne Vos
Photo ©: WomensCycling.net

Pucinskaite leads a Nürnberger Versicherung team with any number of potential winners. If she herself misses out, the course is well suited to a rider like Trixi Worrack, and Suzanne De Goede will be well motivated to do well after losing the World Cup jersey in last week's Flèche Wallonne. For the sprint – if it comes down to that – the team is well accounted for in the form of 2005 World Champion Regina Schleicher.
World Cup leader and Flèche winner Marianne Vos (DSB Bank) will not be present at the start line, she is aiming for Olympic glory and this race does not fit into her preparation plans. The team will nevertheless be well equipped for this race with riders like Andrea Bosman and Adrie Visser, both of whom can perform well on a course like this.
Also missing is the Halfords Bikehut team of Nicole Cooke – twice winner of the World Cup and fourth here last year behind Pucinskaite. Like Vos, Cooke is preparing for Beijing and so the World Cup is taking a back seat for this year. Someone who definitely will be present though, is Cooke's Great Britain team-mate from la Flèche Emma Pooley. Back with her Specialized Designs for Women team, Pooley is well suited for a course like this, and her Swiss team will be extra motivated in what is their home World Cup race. The course profile is not dissimilar to that of the Trofeo Alfredo Binda – the second round of the World Cup, which Pooley won – but surely the field will not allow her to get away in such circumstances again.
Cervelo Lifeforce will be in its 'home' race
Photo ©: WomensCycling.net

Also racing their "home" World Cup are the Bigla and Cervelo Lifeforce teams. As usual the Bigla team will be led by the powerful duo of Noemi Cantele and Nicole Brändli, but also bring strong riders like Andrea Grauss, Jennifer Hohl and especially 2006 winner Zoufila Zabirova. The Kazakh champion is steadily returning to form after a throat infection kept her out of the early season races.
Cervelo Lifeforce is also a team that could potentially provide a winner from every part of the team. Swiss former World time trial champion Karin Thürig has been constantly active in all of the major races this season, and riders such as Kristin Armstrong, Priska Doppmann (who won here in 2002), Emma Rickards, Christiane Soeder and Sarah Düster are almost guaranteed to be leading from the front in any race. If there is a breakaway that succeeds then there will almost certainly be at least one Cervelo Lifeforce rider present – or more likely two or three if races like the Ronde Van Vlaanderen are anything to go by.
Similarly active, and similarly blessed with winners in all departments is team High Road. Oenone Wood returns to Bern looking to better her third place of last year, and has consistently shown the form this season that suggests this is more than possible. With her as usual will be Ronde winner Judith Arndt, Ronde van Drenthe winner Chantal Beltman and American veteran Kim Anderson. Unlike many other teams, High Road seems to be betting against a sprint finish, and so fast-finisher Ina Teutenberg has been left at home.
The Webcor Builders team is invited to a World Cup race in its own right since the race in Geelong and brings with it Alexandra Wrubleski whose fourth place in last week's Flèche – while racing for Canada – impressed a great many. Wrubleski will be ably supported by compatriot Gina Grain, and American powerhouse Christine Thorburn, either of whom is well capable of getting a result for herself. Sadly there will be no appearance from Geelong winner Katheryn Curi Mattis who came off during the early stages of la Flèche and has redone a lot of the damage sustained in her previous crash in New Zealand.
World Champion Marta Bastianelli should be well supported
Photo ©: Niels De Wit

There should once again be a strong showing from the Italian National team, made up as it is predominantly from a mix of the Safi-Pasta Zara Manhattan, Titanedi-Freza-Acca2O and Top Girls Fassa Bortolo Raxy Line teams. World Champion Marta Bastianelli fairly flew up the Mur de Huy in la Flèche last week, managing to overhaul Judith Arndt on the line after finding herself several metres behind on the earlier slopes. Once again la Campionessa will be supported by strong riders like Alessandra D'Ettorre and Giorgia Bronzini. The latter of those will also fancy her chances if the race comes down to a sprint at the end.
2004 winner Fabaina Luperini (Menikini-Selle Italia) was one of la Flèche's most active riders, managing to escape on her own in the closing stages. With her as usual will be Aussie duo Nathalie Bates and Rochelle Gilmore, both of whom have been battling illness this season but seem to have recovered fully.
Team Flexpoint will as usual be led by American Amber Neben who finished fifth place at last week's Flèche. Team-mate Mirjam Melchers-Van Poppel will also be looking to change her fortunes after a disappointing season so far, and Loes Gunnewijk will be on a high after victory in the GP Stad Roeselare. Other riders likely to do well include Elodie Touffet (Gauss RDZ Ormu), the AA-Drink pair of Emma Johansson and Irene Van Den Broek, and Australians Lorien Graham and Nikki Egyed – whose Vrienden Van Het Platteland (friends of the flat lands) team's name would suggest that they're not keen on the hills, but both women's form would indicate otherwise.