Tour de Berne - CDM
Switzerland, May 13, 2007
Main Page Results World Cup standings
Pucinskaite suprises the favourites
Podium (L-R): Marianne Vos (Team DSB Bank), Edita Pucinskaite (Equipe Nürnberger Versicherung),
Photo ©: www.editapucinskaite.com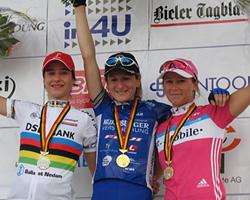 Edita Pucinskaite (Equipe Nurnberger Versicherung) upset the favourites in round five of the UCI Women's World Cup, escaping from the peloton on a parcours that favors the sprinters, and holding more than a ten second lead on the line. Attacking out of a break of nine that formed on the last climb, Pucinskaite soloed to her first world cup win of the season. Taking the sprint for second place out of the rest of the break was birthday girl and current World Champion, Marianne Vos (DSB Bank) with T-Mobile's Oenone Wood rounding out the podium for third place.
"I am at the seventh heaven: a large result for myself and for all my squad, that today was really strong," said a delighted Pucinskaite. "This victory is so attractive [as it's] unexpected due to the competitors, and route, even if I strongly wanted it. Thanks to all my team that supported me. We are on the right road, I hope to continue so."
Cooke now holds a 56 point lead in the World Cup standings ahead of Vos, while Wood, with today's finish, moves up in the standings ahead of round three winner Adrie Visser. Pucinskaite rocketed up the standings with her win, and is now in 4th place, up from 58th.
Photography
For a thumbnail gallery of these images, click here
Images by www.editapucinskaite.com
Images by CJ Farquharson/WomensCycling.net
Results
1 Edita Pucinskaite (Ltu) Equipe Nürnberger Versicherung         3.06.33
2 Marianne Vos (Ned) Team DSB Bank                                  0.11
3 Oenone Wood (Aus) T-Mobile Team                                       
4 Nicole Cooke (GBr) Raleigh Lifeforce Pro Cycling Team                 
5 Eva Lutz (Ger) Equipe Nürnberger Versicherung                         
6 Andrea Graus (Aut) Equipe Nürnberger Versicherung                     
7 Sofie Goor (Bel) Vlaanderen-Capri Sonne-T Interim                     
8 Irene Van Den Broek (Ned) AA-Drink Cycling Team                       
9 Edwige Pitel (Fra) Team Uniqa                                         
10 Rochelle Gilmore (Aus) Menikini-Gysko                                
11 Olga Slyusareva (Rus) Fenixs-HPB                                     
12 Angela Brodtka (Ger) Team Getränke-Hoffmann                          
13 Martina Corazza (Ita) Team Ista                                      
14 Nikki Egyed (Aus) Australia                                          
15 Joanne Kiesanowski (NZl) Raleigh Lifeforce Pro Cycling Team          
16 Tanja Hennes (Ger) Bigla Cycling Team                                
17 Sylvie Riedle (Fra) France                                           
18 Priska Doppmann (Swi) Raleigh Lifeforce Pro Cycling Team             
19 Monia Baccaille (Ita) Saccarelli EMU Marsciano                       
20 Daiva Tuslaite (Ltu) S.C. Michela Fanini Record Rox                  
21 Alessandra D'ettorre (Ita) Saccarelli EMU Marsciano                  
22 Annette Beutler (Swi) Switzerland                                    
23 Miho Oki (Jpn) Menikini-Gysko                                        
24 Ludivine Henrion (Bel) Team DSB Bank                                 
25 Patricia Schwager (Swi) Raleigh Lifeforce Pro Cycling Team           
26 Oxana Kozonchuk (Rus) Fenixs-HPB                                     
27 Marta Bastianelli (Ita) Safi-Pasta Zara Manhattan                    
28 Marina Jaunatre (Fra) Vienne Futuroscope                             
29 Andrea Bosman (Ned) Team DSB Bank                                    
30 An Van Rie (Bel) AA-Drink Cycling Team                               
31 Monica Holler (Swe) Bigla Cycling Team                               
32 Magali Le Floch (Fra) France                                         
33 Emma Johansson (Swe) Vlaanderen-Capri Sonne-T Interim                
34 Diana Ziliute (Ltu) Safi-Pasta Zara Manhattan                        
35 Nathalie Jeuland (Fra) Vienne Futuroscope                            
36 Loes Gunnewijk (Ned) Team Flexpoint                                  
37 Paulina Brzezna (Pol) AA-Drink Cycling Team                          
38 Grace Verbeke (Bel) Lotto-Belisol Ladiesteam                         
39 Olena Andruk (Ukr) USC Chirio Forno D'Asolo                          
40 Evelyn Garcia (ESa) Team CMax Dila-Guericiotti-Cogeas                
41 Karin Aune (Swe) Menikini-Gysko                                      
42 Dorte Lohse Rasmussen (Den) Menikini-Gysko                           
43 Michelle Hyland (NZl) New Zealand                                    
44 Lieselot Decroix (Bel) Lotto-Belisol Ladiesteam                      
45 Candice Sullivan (Aus) Australia                                     
46 Mirjam Melchers-Van Poppel (Ned) Team Flexpoint                      
47 Andrea Thürig (Swi) Bigla Cycling Team                               
48 Toni Bradshaw (NZl) New Zealand                                      
49 Carissa Wilkes (NZl) New Zealand                                     
50 Nicole Brändli (Swi) Bigla Cycling Team                              
51 Silvia Parietti (Ita) Team Ista                                      
52 Madeleine Sandig (Ger) Team Flexpoint                                
53 Marta Vilajosana Andreu (Spa) Team CMax Dila-Guericiotti-Cogeas      
54 Trixi Worrack (Ger) Equipe Nürnberger Versicherung                   
55 Birgit Söllner (Ger) Team Specialized designs for women              
56 Rosane Kirch (Bra) S.C. Michela Fanini Record Rox                    
57 Nathalie Bates (Aus) Team Getränke-Hoffmann                          
58 Maja Adamsen (Den) Team CMax Dila-Guericiotti-Cogeas                 
59 Siobhan Dervan (Irl) Lotto-Belisol Ladiesteam                        
60 Karin Thürig (Swi) Raleigh Lifeforce Pro Cycling Team                
61 Serena Sheridan (NZl) New Zealand                                    
62 Laura Lorenza Morfin (Mex) Fenixs-HPB                                
63 Zoulfia Zabirova (Kaz) Bigla Cycling Team                            
64 Monika Schachl (Aut) Team Uniqa                                      
65 Julie Krasniak (Fra) France                                          
66 Georgina Waibl (NZl) New Zealand                                     
67 Chantal Beltman (Ned) T-Mobile Team                                  
68 Noemi Cantele (Ita) Bigla Cycling Team                               
69 Olivia Gollan (Aus) Menikini-Gysko                                   
70 Luise Keller (Ger) Team Flexpoint                                    
71 Sara Carrigan (Aus) Lotto-Belisol Ladiesteam                         
72 Vera Carrara (Ita) Safi-Pasta Zara Manhattan                         
73 Marlijn Binnendijk (Ned) AA-Drink Cycling Team                       
74 Tatiana Guderzo (Ita) AA-Drink Cycling Team                      0.28
75 Judith Arndt (Ger) T-Mobile Team                                 0.34
76 Sigrid Corneo (Ita) Menikini-Gysko                               1.04
77 Janildes Fernandes Silva (Bra) Brazil                            5.02
78 Natalia Boyarskaya (Rus) Fenixs-HPB                              6.13
79 Lang Meng (Chn) Giant Pro Cycling Team                               
80 Anna Antoshina (Rus) Fenixs-HPB                                      
81 Yong Li Liu (Chn) Giant Pro Cycling Team                             
82 Mirjam Senn (Swi) Team Specialized designs for women                 
83 Leda Cox (GBr) Saccarelli EMU Marsciano                              
84 Silva Cremilda Fernandes (Bra) Brazil                                
85 Yolandi Du Toit (RSA) Lotto-Belisol Ladiesteam                       
86 Debora Gerhard (Bra) Brazil                                          
87 Inge Van Den Broeck (Bel) AA-Drink Cycling Team                      
88 Elke Gebhardt (Ger) Team Getränke-Hoffmann                           
89 Christelle Ferrier-Bruneau (Fra) France                              
90 Karin Steiner (Swi) Switzerland                                      
91 Liane Bahler (Ger) Fenixs-HPB                                        
92 Daniela Pintarelli (Aut) Team Uniqa                                  
93 Catherine Delfosse (Bel) Lotto-Belisol Ladiesteam                    
94 Francesca Tognali (Ita) Team Ista                                    
95 Eugenie Mermillod (Fra) Team Pro Féminin du Genevois                 
96 Amanda Spratt (Aus) Australia                                        
97 Laure Werner (Bel) Vlaanderen-Capri Sonne-T Interim                  
98 Daniela Fusar Poli (Ita) Safi-Pasta Zara Manhattan                   
99 Giulia Lazzerini (Ita) Team Ista                                     
100 Emanuela Azzini (Ita) Team CMax Dila-Guericiotti-Cogeas             
101 Alice Donadoni (Ita) Team Ista                                      
102 Alessandra Borchi (Ita) Safi-Pasta Zara Manhattan                   
103 Loes Sels (Bel) Vlaanderen-Capri Sonne-T Interim                    
104 Emma Rickards (Aus) Raleigh Lifeforce Pro Cycling Team              
105 Linda Villumsen Serup (Den) T-Mobile Team                           
106 Sonia Huguet (Fra) France                                           
107 Jocelyn Loane (Aus) Australia                                       
108 Alexis Rhodes (Aus) T-Mobile Team                                   
109 Iris Slappendel (Ned) Team Flexpoint                                
110 Sharon Van Essen (Ned) Team DSB Bank                                
111 Sandra Missbach (Ger) Team Getränke-Hoffmann                        
OTL  Fanny Riberot (Fra) Team Pro Féminin du Genevois              12.56
OTL  Lina Skujaite (Ltu) Lithuania                                 13.45
OTL  Edita Janeliunaite (Ltu) Lithuania                                 
OTL  Emmanuelle Merlot (Fra) Vienne Futuroscope                         
OTL  Jenny Macpherson (Aus) Australia                                   
OTL  Katie Brown (Aus) Australia                                        
OTL  Marieke Van Wanroij (Ned) Team DSB Bank                            
OTL  Chiara Rozzini (Ita) Saccarelli EMU Marsciano                      
OTL  Miyoko Karami (Jpn) Saccarelli EMU Marsciano                       
OTL  Alexandra Born (Swi) Switzerland                                   
OTL  Christina Becker (Ger) Team Getränke-Hoffmann                      
OTL  Fei Wang (Chn) Giant Pro Cycling Team                              
OTL  Vicky Fournial (Fra) Team Pro Féminin du Genevois                  
OTL  Emilie Lebrun (Fra) Vienne Futuroscope                             
OTL  Xiaoning Gao (Chn) Giant Pro Cycling Team                          
OTL  Mélanie Bravard (Fra) Vienne Futuroscope                           
OTL  Catrine Josefsson (Swe) Team Specialized designs for women         
OTL  Xiang Yin Ruan (Chn) Giant Pro Cycling Team                        
OTL  Veronika Sprügl (Aut) Team Uniqa                                   
OTL  Ombretta Ugolini (Ita) USC Chirio Forno D'Asolo                    
OTL  Sonia Bazire (Fra) Vienne Futuroscope                              
OTL  Aimee Vasse (USA) Team CMax Dila-Guericiotti-Cogeas                
OTL  Mette Fischer Andreasen (Den) Team CMax Dila-Guericiotti-Cogeas    
OTL  Elena Berlato (Ita) Team Ista                                      
OTL  Marina Duvnjak (NZl) New Zealand                                   
OTL  Karin Pekovits (Aut) Team Uniqa                               15.45
OTL  Florence Girardet (Fra) France                                     
OTL  Nathalie Tirard Collet (Fra) Team Pro Féminin du Genevois     19.11
OTL  Marianne Stalder (Swi) Switzerland                                 
AB  Suzanne De Goede (Ned) T-Mobile Team                                
AB  Loes Markerink (Ned) Team Flexpoint                                 
AB  Regina Schleicher (Ger) Equipe Nürnberger Versicherung              
AB  Charlotte Becker (Ger) Equipe Nürnberger Versicherung               
AB  Theresa Senff (Ger) Team Getränke-Hoffmann                          
AB  Samantha Galassi (Ita) Saccarelli EMU Marsciano                     
AB  Rebecca Bertolo (Ita) S.C. Michela Fanini Record Rox                
AB  Grete Treier (Est) S.C. Michela Fanini Record Rox                   
AB  Federica Balestri (Ita) S.C. Michela Fanini Record Rox              
AB  Valentina Bastianelli (Ita) S.C. Michela Fanini Record Rox          
AB  Isabelle Hoffman (Lux) Team Pro Féminin du Genevois                 
AB  Uenia Fernandes Da Souza (Bra) USC Chirio Forno D'Asolo             
AB  Samantha Profumo (Ita) USC Chirio Forno D'Asolo                     
AB  Meifang Li (Chn) Giant Pro Cycling Team                             
AB  Sarah Grab (Swi) Team Specialized designs for women                 
AB  Nicole Käser (Swi) Team Specialized designs for women               
AB  Rosmarie Mayer (Ger) Team Specialized designs for women             
AB  Valérie Hofstetter (Swi) Switzerland                                
AB  Iris Swahlen (Swi) Switzerland                                      
AB  Urte Juodvalkyte (Ltu) Lithuania                                    
AB  Agne Miliskeviciute (Ltu) Lithuania                                 
AB  Agne Sukutyte (Ltu) Lithuania                                       
AB  Alessandra Valquiria (Bra) Brazil                                   
DNS  Corinna Kreidl (Aut) Team Uniqa                                    
DNS  Sophie Creux (Fra) Team Pro Féminin du Genevois                    

World Cup standings
1 Nicole Cooke (GBr) Raleigh Lifeforce Pro Cycling Team          251 pts
2 Marianne Vos (Ned) Team DSB Bank                               195  
3 Oenone Wood (Aus) T-Mobile Team                                 85   
4 Edita Pucinskaite (Ltu) Equipe Nürnberger Versicherung