Trofeo Alfredo Binda - Comune di Cittiglio - CDM
Italy, March 24, 2008
Main Page Results Live report World Cup standings
Pooley the Magnificent
Briton takes World Cup race in dominant style
By Ben Atkins in Cittiglio
Emma Pooley (Specialized) wins the Trofeo Binda and takes over the World Cup lead
Photo ©: Roberto Bettini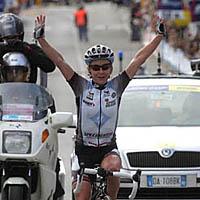 British climber Emma Pooley (Specialized Designs for Women) has taken her biggest ever victory in the Trofeo Alfredo Binda, the second round of this year's World Cup. She attacked with Priska Doppmann (Cervelo-Lifeforce Pro Cycling) and Miho Oki (Menikini-Selle Italia) with around 40km to go and continued alone when her companions dropped back to an unresponsive peloton containing most of the favourites of the day. She managed to build up a lead of up to two minutes forty-five seconds which the chase managed to reduce by the end, but in truth the twenty-five year old never looked like being caught.
To win from so far out turned out to be an unexpected result of a premeditated team strategy: "We were instructed to cover attacks, so the attack that I went with just before: that was planned, but to go on my own was not planned!
"It was impulsive, I would say. I knew it was a bit early to attack, but I was in the right place and I thought I would have a go. I thought some people would come with me – maybe two or three others – it looked like an attack was going to go. But I was on my own so I thought I would keep riding."
Despite there being several strong teams featuring a number of race favourites present, none of them seemed willing to commit to a chase, and it soon became obvious that the peloton were not going to catch the former triathlete. The expected challenge from teams like High Road, Safi-Pasta Zara Manhatten and Titanedi-Frezza Acca Due O never materialised, but Pooley didn't want to take things for granted until she was sure of victory. "I didn't count my chickens until I was over the finish line, but when it came to the last small lap and I still had a couple of minutes I was happy that I could keep going. I knew that I could keep going at roughly the same pace, well I was slowing down, but two minutes I thought they probably couldn't get back."
Behind Pooley there were several counter-attacks, most notably from Priska Doppmann (Cervelo-Lifeforce Pro Cycling), but none were able to make any impression on the lead of the Swiss-based Briton. A last ditch attack, initiated by World Champion Marta Bastianelli (Safi-Pasta Zara Manhattan), and joined by defending champion Nicole Cooke (Halfords-Bikehut) and American Kristin Armstrong Cervelo-Lifeforce Pro Cycling). Despite this, there was no point where the peloton was organised enough to start a concerted chase of the lone escapee, surprising many, not least Pooley herself.
"I would have thought that with the field that is here today, they could have chased. They should know by now that that's what I do, because I've done it once before - in Thüringen. I am a time triallist, so you'd think that they would try and get me back. I was surprised," Pooley mused.
There was an acceleration in the main group towards the end, but it was to no avail and Pooley went on to finish 1'07" ahead of a fast finishing bunch. Suzanne De Goede (Equipe Nürnberger Versicherung) proved fastest, and Diana Ziliute (Safi-Pasta Zara Manhattan) completed the podium in third in what must be scant consolation for the team of the World Champion.
Gruppo Compatto.
Photo ©: Ben Atkins

British champion Nicole Cooke, winner here in 2007 and 2005, was riding her first race of the season, and is deliberately low on form due to a season long taper towards the Olympic games in August. Despite this, the Welshwoman still managed an attack in the last lap, but was unable to contest the sprint and finished in 20th place. 2004 winner Oenone Wood (Team High Road) has shown a great deal of form in recent weeks and professed a liking for the new hilly course. However, her team seemed unwilling – or unable – to pull back the flying Pooley, and she had to settle for fifth place.
American former World time trial champion Kristin Armstrong (Cervelo-Lifeforce Pro Cycling) – one of the few protagonists of the race – was forced to settle for twenty-first, behind Cooke, and also five places behind compatriot Alison Powers (US National Team), who finished best of the Americans. By far the youngest finisher was Cooke's Halfords-Bikehut team-mate Jessica Allen, competing in by far the biggest race of her career and still five months shy of her nineteenth birthday.
Pooley is now equal first place with Katheryn Curi Mattis (Webco Builders) in the World Cup standings, but has the leader's jersey by virtue of having won the latest round. This new status may change the focus of the next few races a little. "We're entered for several World Cups – the next few anyway – so I guess we can try and defend it. We've got a really strong team this year; I think we can do a good job. We'll try. I'm not really a sprinter, so it'll be tricky in some of the Belgian races, but I don't think it changes things we'll try and race well anyway."
How it unfolded
The 10th running of the Trofeo Alfredo Binda set off under unbroken blue skies in the town of Cittiglio, in the Province of Varese. The temperature was warm, with a light southeasterly breeze. Most riders took the start in armwarmers, but these were quickly discarded in the Lombardia sunshine.
The first long lap of just over 34km passed without major incident and the peloton passed the start/finish line for the first time gruppo compatto. The first ascent of the Brinzio did have some affect though, causing a sizeable group of around forty riders to lose contact. They crossed the line some 1'20 behind the main peloton, behind them a smaller group of fifteen trailed in a further five minutes back.
The first hour's racing went off at a fairly brisk 37.95kph, so it was not until 57km that the first attack took place. At the base of the small climb up to Orino – coming just after the main Brinzio climb – Martine Bras (Vrienden Van Het Platteland) put in a solo attack.
Team High Road getting ready to race
Photo ©: Ben Atkins

Bras managed to pull out a maximum lead of 25 seconds but was never allowed to get too far ahead. Just before the end of the second lap, Alessandra d'Ettorre (Top Girls Fassa Bortolo Raxy Line) launched herself off the front of the bunch, but was only able to get a handful of seconds advantage. The accelerating bunch pulled back d'Ettorre, and soon caught up with the lone Bras to cross the line together again.
As the peloton moved onto the shorter circuit for the second half of the race, the average speed was still up at over 37kph. Just before the first ascent of the Orino climb, an attack went in from Priska Doppmann (Cervelo-Lifeforce Pro Cycling), Miho Oki (Menikini-Selle Italia) and Emma Pooley (Specialized Designs for Women). Doppmann and Oki dropped back to the bunch, but Pooley continued alone to cross the summit 16 seconds ahead of the peloton led by Nicole Brandli (Bigla Cycling Team) and Kristin Armstrong (Cervelo-Lifeforce Pro Cycling).
Pooley continued to build her lead over the remainder of the lap, the British climbing specialist increasing it to 42 seconds as she crossed the line with two 17km laps to go. A lack of cohesive action in the bunch allowed her to continue to increase her lead to 1'45" after 88km, and over two minutes by 90km.
A counter attack was launched by Pascale Schnider (Cervelo-Lifeforce Pro Cycling) who managed to open a gap of fifteen seconds, but she was soon swallowed up again as Pooley continued alone, increasing her lead to over two and a half minutes with 25km to go.
Noemi Cantele (Team Bigla) rode well today
Photo ©: Ben Atkins

Pooley crossed the top of the Orino climb 2'10" ahead of the chasing peloton as it finally woke up to the threat and gave chase. Noemi Cantele (Bigla Cycling Team) and Kristin Armstrong (Cervelo-Lifeforce Pro Cycling) led the peloton over to take the remaining mountain points.
With 20km to go however, Pooley managed to increase her lead again as the impetus went out of the peloton on the descent back towards to finish line. As the peloton approached the line, Doppmann put in another attack. Pooley took the bell with over two minutes on Doppmann and still 2'10" to the unresponsive peloton.
As the race entered its final stages, Doppmann continued to press on, building a small gap over the remainder of the bunch, but unable to make much impact on the lead of Pooley. With less than 20km to go, the Briton's lead over the Swiss rider was still over two minutes and 2'25" to the peloton.
Doppman was steadily increasing her lead over the peloton, but making no headway against the charging Pooley. On the winding mid-section, an attack was launched by former Italian champion (and 2000 winner) Fabiana Luperini (Menikini-Selle Italia) and Elodie Touffet (Gauss RDZ Ormu). With 10km to go, the pair had pulled out over twenty seconds, but it all looked to be too little too late, as Pooley's lead remained static.
Luperini and Touffet's resistance didn't last too long though as they were reeled in after only a few kilometres having never made much of an impression. Doppmann continued her efforts though, dangling tantalisingly less than 30 seconds ahead of the peloton.
Suzanne De Goede and Emma Pooley
Photo ©: Roberto Bettini

Doppmann was finally reeled in on the final climb as a counter attack went in from World Champion Marta Bastianelli (Safi-Pasta Zara Manhattan). She was quickly joined on the climb by Kristin Armstrong and defending champion Nicole Cooke (Halfords-Bikehut). The three chasers managed to cut Pooley's lead to two minutes by the summit, but with only eight kilometres remaining.
The three chasers were caught by the peloton with three kilometres to go, leaving Pooley ahead alone with her lead cut, but still over two minutes. No one else managed to escape the clutches of the ever-shrinking bunch and Pooley went on to finish in glorious solo fashion.
The main peloton of around twenty-five riders arrived at the slightly uphill finish together, and the sprint was won by Suzanne De Goede (Equipe Nürnberger Versicherung) from Diana Ziliute (Safi-Pasta Zara Manhattan) 1'07" behind the winner.
Photography
For a thumbnail gallery of these images, click here
Images by Roberto Bettini/www.bettiniphoto.net
Images by Ben Atkins/Cyclingnews.com
Images by Davide Tricarico/www.ladiescycling.net
Images by WomensCycling.net
Results
1 Emma Pooley (GBr) Team Specialized Designs For Women                  3.11.12 (37.65 km/h)
2 Suzanne De Goede (Ned) Equipe Nürnberger Versicherung                    1.07
3 Diana Ziliute (Ltu) Safi - Pasta Zara Manhattan                              
4 Miho Oki (Jpn) Menikini - Selle Italia                                       
5 Oenone Wood (Aus) Team High Road Women                                       
6 Julia Martisova (Rus) Gauss RDZ Ormu                                         
7 Emma Johansson (Swe) AA-Drink Cycling Team                                   
8 Marta Bastianelli (Ita) Safi - Pasta Zara Manhattan                          
9 Lorian Graham (Aus) Vrienden Van Het Platteland                              
10 Trixi Worrack (Ger) Equipe Nürnberger Versicherung                          
11 Nicole Brändli (Swi) Bigla Cycling Team                                     
12 Joanne Kiesanowski (NZl) Cervelo Lifeforce Pro Cycling Team                 
13 Jolanta Polikeviciute (Ltu) USC Chirio Forno d'Asolo                        
14 Noemi Cantele (Ita) Bigla Cycling Team                                      
15 Regina Bruins (Ned) Dutch National Team                                     
16 Alison Powers (USA) US National team                                        
17 Edita Pucinskaite (Ltu) Equipe Nürnberger Versicherung                      
18 Priska Doppmann (Swi) Cervelo Lifeforce Pro Cycling Team                    
19 Sofie Goor (Bel) Lotto-Belisol Ladiesteam                                   
20 Nicole Cooke (GBr) Team Halfords Bikehut                                    
21 Kristin Armstrong (USA) Cervelo Lifeforce Pro Cycling Team                  
22 Mirjam Melchers-Van Poppel (Ned) Team Flexpoint                             
23 An Van Rie (Bel) Vrienden Van Het Platteland                                
24 Judith Arndt (Ger) Team High Road Women                                 1.12
25 Anita Valen De Vries (Nor) Team Flexpoint                               1.38
26 Kirsten Wild (Ned) AA-Drink Cycling Team                                    
27 Oxana Kozonchuk (Rus) Menikini - Selle Italia                               
28 Tatiana Guderzo (Ita) Gauss RDZ Ormu                                        
29 Elodie Touffet (Fra) Gauss RDZ Ormu                                         
30 Chantal Beltman (Ned) Team High Road Women                                  
31 Dorte Lohse Rasmussen (Den) Team Cmax Dila                                  
32 Irene Van Den Broek (Ned) AA-Drink Cycling Team                             
33 Grace Verbeke (Bel) Lotto-Belisol Ladiesteam                                
34 Fabiana Luperini (Ita) Menikini - Selle Italia                              
35 Alessandra d'Ettorre (Ita) Top Girls Fassa Bortolo Raxy Line            2.14
36 Sarah Düster (Ger) Cervelo Lifeforce Pro Cycling Team                       
37 Grete Treier (Est) Gauss RDZ Ormu                                       2.19
38 Martine Bras (Ned) Vrienden Van Het Platteland                              
39 Andrea Bosman (Ned) Team DSB Bank                                           
40 Emma Rickards (Aus) Cervelo Lifeforce Pro Cycling Team                      
41 Annemiek Van Vleuten (Ned) Vrienden Van Het Platteland                      
42 Marta Vila Josana Andreu (Spa) Team Cmax Dila                               
43 Catherine Hare (GBr) Team Halfords Bikehut                                  
44 Liesbeth De Vocht (Bel) Vrienden Van Het Platteland                         
45 Monia Baccaille (Ita) Fenixs                                                
46 Alona Andruk (Ukr) USC Chirio Forno d'Asolo                                 
47 Karin Aune (Swe) Team Uniqa                                                 
48 Lauren Franges (USA) US National team                                       
49 Andrea Graus (Aut) Bigla Cycling Team                                       
50 Iosune Murillo Elkano (Spa) Bizkaia - Durango                               
51 Lieselot Decroix (Bel) Lotto-Belisol Ladiesteam                             
52 Daiva Tuslaite (Ltu) S.C. Michela Fanini Record Rox                         
53 Kori Kelley Seehafer (USA) Menikini - Selle Italia                          
54 Ausrine Trebaite (Ltu) Lithuanian National Team                             
55 Monika Schachl (Aut) Team Uniqa                                             
56 Paulina Brzezna (Pol) AA-Drink Cycling Team                                 
57 Clemilda Fernandes Silva (Bra) USC Chirio Forno d'Asolo                     
58 Rasa Polikeviciute (Ltu) USC Chirio Forno d'Asolo                           
59 Laure Werner (Bel) AA-Drink Cycling Team                                    
60 Veronica Leal Balderas (Mex) Gauss RDZ Ormu                                 
61 Loes Gunnewijk (Ned) Team Flexpoint                                         
62 Tina Liebig (Ger) Team DSB Bank                                             
63 Malgorzta Jasinska (Pol) Pol-Aqua                                           
64 Kristen Lasasso (USA) Team Specialized Designs For Women                    
65 Martina Corazza (Ita) Gauss RDZ Ormu                                        
66 Claudia Häusler (Ger) Equipe Nürnberger Versicherung                        
67 Natalia Boyarskaya (Rus) Fenixs                                             
68 Luise Keller (Ger) Team High Road Women                                     
69 Loes Sels (Bel) Belgian National Team                                       
70 Giorgia Bronzini (Ita) Cycling Team Titanedi-Frezza Acca Due O              
71 Francesca Tognali (Ita) Top Girls Fassa Bortolo Raxy Line                   
72 Regina Schleicher (Ger) Equipe Nürnberger Versicherung                      
73 Elena Berlato (Ita) Safi - Pasta Zara Manhattan                         4.31
74 Rosane Kirch (Bra) S.C. Michela Fanini Record Rox                           
75 Carmen McNellis (USA) US National team                                  4.49
76 Sanne Van Paassen (Ned) Dutch National Team                                 
77 Eneritz Iturriagaechevarria Mazaga (Spa) Safi - Pasta Zara Manhattan    5.56
78 Sara Mustonen (Swe) Team Cmax Dila                                      6.17
79 Tatiana Antoshina (Rus) Fenixs                                              
80 Jessica Allen (GBr) Team Halfords Bikehut                                   
81 Sylwia Kapusta (Pol) Pol-Aqua                                               
82 Rosario Rodriguez Gomez (Spa) Spanish National Team                         
83 Maaike Polspoel (Bel) Belgian National Team                             6.19
84 Patricia Schwager (Swi) Cervelo Lifeforce Pro Cycling Team                  
85 Ana Garcia Antequera (Spa) Bizkaia - Durango                            8.58
86 Angela Brodtka (Ger) Team DSB Bank                                          
DNF Christina Ruiter (USA) US National team                                    
DNF Megan Gaurnier (USA) US National team                                      
DNF Ina Teutenberg (Ger) Team High Road Women                                  
DNF Madeleine Sandig (Ger) Team High Road Women                                
DNF Rochelle Gilmore (Aus) Menikini - Selle Italia                             
DNF Sigrid Corneo (Slo) Menikini - Selle Italia                                
DNF Eva Lutz (Ger) Equipe Nürnberger Versicherung                              
DNF Xin Liu (Chn) Giant Pro Cycling                                            
DNF Fei Wang (Chn) Giant Pro Cycling                                           
DNF Sufen Ma (Chn) Giant Pro Cycling                                           
DNF Li Ping Zhang (Chn) Giant Pro Cycling                                      
DNF Wenxia Wang (Chn) Giant Pro Cycling                                        
DNF Tina Mayolo Pic (USA) Vrienden Van Het Platteland                          
DNF Catherine Delfosse (Bel) Lotto-Belisol Ladiesteam                          
DNF Vera Koedooder (Ned) Lotto-Belisol Ladiesteam                              
DNF Emma Silversides (GBr) Lotto-Belisol Ladiesteam                            
DNF Sharon Van Essen (Ned) Team DSB Bank                                       
DNF Linda Van Riejen (Ned) Team DSB Bank                                       
DNF Noortje Tabak (Ned) Team DSB Bank                                          
DNF Jennifer Hohl (Swi) Bigla Cycling Team                                     
DNF Sereina Trachsel (Swi) Bigla Cycling Team                                  
DNF Emma Trott (GBr) Team Halfords Bikehut                                     
DNF Suzanne Van Veen (Ned) Team Flexpoint                                      
DNF Loes Markerink (Ned) Team Flexpoint                                        
DNF Iris Slappendel (Ned) Team Flexpoint                                       
DNF Gunn-Rita Dahle Flesjaa (Nor) Safi - Pasta Zara Manhattan                  
DNF Luisa Tamanini (Ita) Safi - Pasta Zara Manhattan                           
DNF Alessandra Borchi (Ita) Cycling Team Titanedi-Frezza Acca Due O            
DNF Simona Frapporti (Ita) Cycling Team Titanedi-Frezza Acca Due O             
DNF Eleonora Patuzzo (Ita) Cycling Team Titanedi-Frezza Acca Due O             
DNF Marta Tagliaferro (Ita) Cycling Team Titanedi-Frezza Acca Due O            
DNF Latoya Brulee (Bel) AA-Drink Cycling Team                                  
DNF Uenia Fernandes DaSouza (Bra) USC Chirio Forno d'Asolo                     
DNF Tereza Hurikova (Cze) USC Chirio Forno d'Asolo                             
DNF Lisa Brennauer (Ger) German National Team                                  
DNF Romy Kasper (Ger) German National Team                                     
DNF Corinna Thumm (Ger) German National Team                                   
DNF Lena Kockerling (Ger) German National Team                                 
DNF Denise Zuckermandel (Ger) German National Team                             
DNF Virginia Hennig (Ger) German National Team                                 
DNF Anne Eversdijk (Ned) Dutch National Team                                   
DNF Sissy Van Alebeek (Ned) Dutch National Team                                
DNF Arenda Grimberg (Ned) Dutch National Team                                  
DNF Bertine Spijkerman (Ned) Dutch National Team                               
DNF Edita Janeliunaite (Ltu) Lithuanian National Team                          
DNF Agne Bagdonaviciute (Ltu) Lithuanian National Team                         
DNF Agne Miliskeviciute (Ltu) Lithuanian National Team                         
DNF Agne Sukutyte (Ltu) Lithuanian National Team                               
DNF Erika Vilunaite (Ltu) Lithuanian National Team                             
DNF Maribel Moreno Allue (Spa) Spanish National Team                           
DNF Leticia Gil Parra (Spa) Spanish National Team                              
DNF Silvia Tirado Marquez (Spa) Spanish National Team                          
DNF Belen Lopez Morales (Spa) Spanish National Team                            
DNF Maria Diez De Ulzurrun Alvarez (Spa) Spanish National Team                 
DNF Anne Arnouts (Bel) Belgian National Team                                   
DNF Sjoukje Dufoer (Bel) Belgian National Team                                 
DNF Karen Steurs (Bel) Belgian National Team                                   
DNF Katrien Van Looy (Bel) Belgian National Team                               
DNF Monika Furrer (Swi) Team Specialized Designs For Women                     
DNF Sarah Grab (Swi) Team Specialized Designs For Women                        
DNF Mirjam Hauser-Sann (Swi) Team Specialized Designs For Women                
DNF Samantha Galassi (Ita) Fenixs                                              
DNF Jessica Cocchi (Ita) Fenixs                                                
DNF Nadejda Vlasova (Rus) Fenixs                                               
DNF Eugenie Mermillod (Fra) Team Pro Feminin Les Carroz                        
DNF Brei Gudsell (NZl) Team Pro Feminin Les Carroz                             
DNF Carissa Wilkes (NZl) Team Pro Feminin Les Carroz                           
DNF Joy Courault (Fra) Team Pro Feminin Les Carroz                             
DNF Rasa Leleivyte (Ltu) S.C. Michela Fanini Record Rox                        
DNF Lina Skujaite (Ltu) S.C. Michela Fanini Record Rox                         
DNF Yulia Blindyuk (Rus) S.C. Michela Fanini Record Rox                        
DNF Maja Adamsen (Den) Team Cmax Dila                                          
DNF Alice Donadoni (Ita) Team Cmax Dila                                        
DNF Arien Torsius (RSA) Team Cmax Dila                                         
DNF Helen Wyman (GBr) Swift Racing                                             
DNF Alice Monger Godfrey (GBr) Swift Racing                                    
DNF Lien Beyen (Bel) Swift Racing                                              
DNF Louise Moriarty (Irl) Swift Racing                                         
DNF Ine Beyen (Bel) Swift Racing                                               
DNF Serena Danesi (Ita) Top Girls Fassa Bortolo Raxy Line                      
DNF Sara Muccioli (Ita) Top Girls Fassa Bortolo Raxy Line                      
DNF Laura Pisaneschi (Ita) Top Girls Fassa Bortolo Raxy Line                   
DNF Anna Zugno (Ita) Top Girls Fassa Bortolo Raxy Line                         
DNF Arantzazu Azpiroz (Spa) Bizkaia - Durango                                  
DNF Mireia Epelde (Spa) Bizkaia - Durango                                      
DNF Catrine Josefsson (Swe) Bizkaia - Durango                                  
DNF Dorleta Zorrilla Braceras (Spa) Bizkaia - Durango                          
DNF Katharina Blum (Ger) Elk Haus                                              
DNF Martina Ruzickova (Cze) Elk Haus                                           
DNF Karin Pauer (Aut) Elk Haus                                                 
DNF Manuela Grunzweil (Aut) Elk Haus                                           
DNF Katarina Uhlarikova (Svk) Elk Haus                                         
DNF Stefanie Degle (Ger) Elk Haus                                              
DNF Corinna Kreidl (Aut) Team Uniqa                                            
DNF Nathalie Lamborelle (Lux) Team Uniqa                                       
DNF Daniela Pintarelli (Aut) Team Uniqa                                        
DNF Bernadette Schober (Aut) Team Uniqa                                        
DNF Magdalena Zamolska (Pol) Pol-Aqua                                          
DNF Aleksandra Wnuczek (Pol) Pol-Aqua                                          
DNF Agnieszka Ryczek (Pol) Pol-Aqua                                            
DNF Natalia Fraczek (Pol) Pol-Aqua                                             
DNS Zulfiya Zabirova (Kaz) Bigla Cycling Team                                  
DNS Veronica Alessio (Ita) S.C. Michela Fanini Record Rox                      


World Cup standings
1 Emma Pooley (GBr) Team Specialized Designs For Women