Trofeo Alfredo Binda - Comune di Cittiglio - CDM
Italy, March 24, 2008
Wide open Women's World Cup kicks off in Europe
By Ben Atkins
Nicole Cooke (Raleigh Lifeforce) takes 42 seconds
Photo ©: Davide Tricarico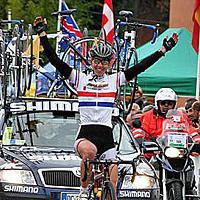 The World Cup will return to Italy for the first time since 2005's Primavera Rosa with the 10th running of the Trofeo Alfredo Binda on Easter Monday. The race itself has existed since 1974, but was revived in 1999 in its present form after a two-year gap, and has now gained sufficient profile to be awarded World Cup status.
Six former winners will line up for this year's race: Nicole Cooke (Halfords Bikehut) (2005 & 2007), Regina Schleicher (Equipe Nurnberger Versicherung) (2006), Oenone Wood (High Road) (2004), Diana Ziliute (Safi-Pasta Zara Manhattan) (2003), Nicole Brandli (Bigla) (2001), and Fabiana Luperini (Menikini-Selle Italia) (2000).
Defending champion Cooke is basing her entire season around winning gold in Beijing, so it's doubtful if she will be on top form. Regardless of her condition though, the ever-competitive Welshwoman can be relied up on to give the race her all, as she knows no other way of racing.
The big name missing from the staring line up is 2006 World Champion and 2007 World Cup winner Marianne Vos (DSB Bank), who doesn't seem to be putting the defence of her World Cup crown very high on her list of priorities in this Olympic year.
Surprise winner of the last round in Geelong, Katheryn Curi Mattis would have started the race wearing number 1 had a broken collarbone sustained in the Women's Tour of New Zealand not ruined those plans. Second place finisher in Geelong Emma Rickards (Cervelo Lifeforce) will look to take over the white jersey of World Cup leader, while her fellow Australian Rochelle Gilmore (Menikini-Selle Italia) will go head-to-head with Team High Road's Ina Teutenberg for that honour. Teutenberg and team-mate Wood shared the two road stages of the Geelong Tour between them, and will be hoping to recapture that dominance, along with an evergreen Judith Arndt who can never be discounted.
Of the Italians, besides former winner Luperini, Noemi Cantele (Bigla) will be riding on her home roads, as will World Champino Marta Bastianelli (Safi-Pasta Zara-Manhattan), who won the junior version of this race in 2006, so both will know all about the course.
The Trofeo Binda will be run over a total distance of 121km on the roads around Cittiglio, just to the north of Varese (where this year's World championships will take place) where the great Italian champion was born. The course will do two laps of a long circuit, taking in the climbs of the Brinzio and the Orino, followed by three shorter laps, which just climbs the Orino.
The undulating nature of the course – with seven climbs – suits a breakaway either from one lone rider or a small group. With the final climb of the Orino inside the final ten kilometres, a late attack is more than likely. If it does come down to a sprint though, the final few kilometres are fairly flat, with the last few hundred metres gently uphill which suit a powerful rider like 2006 winner Schleicher or Italian World bronze medallist Giorgia Bronzini (Titanedi-Frezza Acca 2 O)