Recently on Cyclingnews.com
The Matt Lloyd Tour Down Under diary
Matt Lloyd (Silence-Lotto)
Photo ©: Shane Goss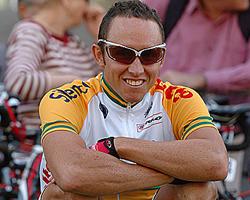 Twenty four year old Matt Lloyd, is the current Australian champion and hails from Melbourne. After graduating from the South Australia.com – AIS team in 2005, he went on to sign for the Belgian based Silence-Lotto team (previously Predictor-Lotto) of fellow Australians Cadel Evans, Robbie McEwen and Nick Gates. Now in his second year on the squad and after showing huge promise in his first year, Lloyd is looking set to have a stellar year on the ProTour circuit. He finished fourth at the Tour Down Under last year, and is eager to better that result this time around to hopefully grab the first ProTour leaders jersey of the year and thereby taking up where team-mate Evans left off last year. Follow his progression through the race here on Cyclingnews as he keeps you up to date with his daily Tour diary.
January 27, 2008 - Stage 6: Adelaide East End Circuit, 88 km
Immunisation, median strips and the finish
I felt like writing this piece prior to the race as the situation that unfolded was no less surprising than Bruce Lee whooping an opponent in Karate. This week, if renamed as a film would then be called 'Enter the Greipel', having smashed almost every stage finish and winning the Tour Down Under.
The circuit was fast. And that's what happened.
Today's race provided these three interesting facets:
1: For some reason CSC were shredding the front of the group to bits.. I'm not entirely sure how that got worked out, but hey…nice work.
2: I'm a road cyclist (not motor-cross), and found it entertaining to have clipped-out a number of times to encounter a medium strip, while attempting U-Turns with 100 other guys. Great.
3: General Warning; Don't get immunisation shots (Hep-A/B & typhoid etc) during, or near race periods.. I tried it today and feel as is I've had a run in with a huge monster, spewing a whole bunch of filthy junk around my body.. Or maybe it's still January and my body's furious I started racing already.
Regards,
Matty Lloyd