9th Tour Down Under - 2.HC
Australia, January 16-21, 2007
Gerrans prepares for Down Under defence
Strong teams with good form ready for the heat
By Mark Zalewski in Adelaide
Simon Gerrans (AG2r Prévoyance)
Photo ©: Mark Gunter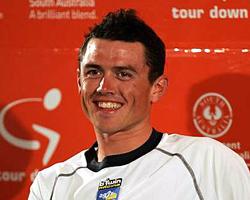 Before the racing even began in the ninth edition of the Tour Down Under, the heat was enough to set off the fire alarm during the opening press conference. Whether that heat came from the sunny temperatures, or the good form from the marquis riders remains to be seen. Regardless, the pre-race favourites were positive in their outlooks for a successful beginning to the 2007 racing season.
Defending champion Simon Gerrans (AG2r Prévoyance) was all smiles during the bombarding from the assembled press corps. Most were asking questions about the previous day's national championship road race which saw Gerrans ride in a very early breakaway for about 100 kilometers before being caught. "I went out pretty hard at the nationals yesterday and played my card pretty early," said Gerrans. "When I was out of contention I stepped off feeling there was no point in rolling around to the finish, thinking I would save a few pennies for this week."
Gerrans said that his ride yesterday, in addition to his Bay Series results, shows he is in good form to mount a defence of the title. "I think I am right on track. I had quite a lot of gym work which was quite specific to the Bay Series criterium racing. The fact that I was going quite well in the crits there shows I am going well."
Still, wearing a number one bib is akin to riding with a target, making a repeat that much more difficult. But he said this only adds to the motivation, something he learned by repeating his Herald Sun Tour win last October. "I think I had a little bit of room to move here, not as an outright favourite," he said of last year's race. "After winning last year there is a bit of pressure to perform, so that is motivating. But nothing like have a bit of attention to push you along a bit, so I am trying to look at it as a positive thing. I took some experience racing the Herald Sun Tour with a number one on my back - a little more pressure. Hopefully I can bring that experience here into the Tour Down Under."
Stuart O'Grady (Team CSC)
Photo ©: Mark Gunter

Gerrans acknowledged that Stuart O'Grady (Team CSC) was someone he was worried about. O'Grady is happy to be done with last season which saw him sitting out the spring classics due to injury. He decided to start this year riding in his state championship race instead of the national championship.
"The plan was to go there and blow the cobwebs out of the engine, and I think it was mission accomplished," he said. "It was a slightly different approach, not competing in the national championships. I was not completely confident I could go there and win so I preferred to stay with the team and prepare in a more relaxed way. I feel I made the right choice. You have to be on good form in January because it is aggressive from the start. I spoke with Bjarne about it a bit, and he preferred I not go that deep for a one day race in January."
O'Grady indicated that his team is taking this race, and O'Grady, seriously - due in large part to the presence of Bjarne Riis at the helm. "The team has come down, put a lot of respect into the work I did for the team last season; and Bjarne and the whole team has come down - they would obviously like to see a stage win or more. I feel better. I'm not probably going as well now as in previous years but I think it will progress as the tour goes on."
Another strong entry comes from Robbie Hunter, who switched to a smaller team in Barloworld. "I think I am feeling good. I have had a good pre-season training back in South Africa. This is a race that is unknown for me. But I have raced in Australia and I know how the Aussie guys race. I'll try to get a few results, but it is the start of the season for me - a bigger season hopefully, since I am racing for a slightly smaller team this year. The intention is to get more focus on myself and some more results this season."
Laurent Brochard (Bouygues Telecom)
Photo ©: Mark Gunter

Also at the press conference was veteran pro Laurent Brochard, captaining the Bouygues Telecom team. While the temperatures back home are in the single digits, he said that racing in France in July is quite similar. "We are used to strong temperatures. And we arrived a week early as well. I am going well and have been training well. My motivation [racing] here comes from wanting victories. I started my training earlier this year. If I am in front I will go with it."
The racing begins with a warm-up criterium in Adelaide's east end tomorrow. Though not counting towards the overall, last year's winner Robbie McEwen is back and brings with him another strong leadout train in his Predictor-Lotto team. Follow Cyclingnews' live coverage of every stage, as well as full race reports and photos every day.
Photography
For a thumbnail gallery of these images, click here
Images by Mark Gunter/www.pbase.com/gunterphotograph
Images by Shane Goss/www.licoricegallery.com
Images by Mark Gunter/www.pbase.com/gunterphotograph