Recently on Cyclingnews.com
The Matt Lloyd Tour Down Under diary
Matt Lloyd (Silence-Lotto)
Photo ©: Shane Goss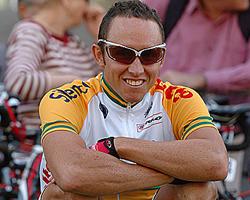 Twenty four year old Matt Lloyd, is the current Australian champion and hails from Melbourne. After graduating from the South Australia.com – AIS team in 2005, he went on to sign for the Belgian based Silence-Lotto team (previously Predictor-Lotto) of fellow Australians Cadel Evans, Robbie McEwen and Nick Gates. Now in his second year on the squad and after showing huge promise in his first year, Lloyd is looking set to have a stellar year on the ProTour circuit. He finished fourth at the Tour Down Under last year, and is eager to better that result this time around to hopefully grab the first ProTour leaders jersey of the year and thereby taking up where team-mate Evans left off last year. Follow his progression through the race here on Cyclingnews as he keeps you up to date with his daily Tour diary.
January 25, 2008 - Stage 4: Mannum - Strathalbyn, 134km
A big battle ahead
As is customary for a stage start in a desert-like landscape, attacks were happening for at leat two hours in the cross-winds and open highway climbs that greeted the riders today. As I had imagined, none of these ambitions proved a success, as all contenders and teams were switched on and willing to snap on to groups gaining what small advantages they could achieve.
Although the field had split and re-grouped on countless occasions, once it reached the plateau and then slowly descended toward the finish, all riders were together and able to once again engage in a sprint, which saw Andre Greipel (Team High Road) once again take out the stage. Jamming a huge gear down the right hand barriers, nobody was able to sustain a similar output leaving this mega-man with his third victory this week. Impressive.
Less impressive was the downfall of Aussie Matty Hayman, who was unfortunately subjected to Elia Rigotto's sprint attempt. Sadly Matty sustained numerous injuries, at this point looking to include a busted collar bone. As is known though, in certain sprint scenarios the boys pull out their whole arsenal of movements, which in this case resulted in Rigotto being disqualified from the race. Nobody, including the sprinters, aim to have such an incident and I wish Matty the quickest of recoveries.
After the onslaught of aggression today, it's quite obvious there'll be some serious movements in tomorrow's stage, especially on Willunga. It's fair to say that, although the entire stage remains quite demanding of course, all energies will be conserved in order to destroy the field on the final climb.
Unquestionably at this stage, to predict who will be victorious is impossible as so many riders have a lot in the tank and will wait 'till the finish to reveal their true centre-bank (real A-game) on the climb. As has been the case previously though, the crest of the climb and long descent may in fact allow remnants of the sprint fire-power to last out the climb and take the tour as well. Knowing the capabilities of such men as Alan Davis (winner of yesterday's stage) this possibility can't be denied.
The only possibility will be a monster surge from bottom to top in the big chain ring. A strength group running at max to the line and opening a huge gap is the only option to separate the peloton, maybe resulting in smaller groups of chasing close behind.
In any case tomorrow will be an exiting spectacle. It would be nice to see at least one stage finish in escape style.
I'm going to get a good nights sleep.
Matt