Recently on Cyclingnews.com
The Matt Lloyd Tour Down Under diary
Matt Lloyd (Silence-Lotto)
Photo ©: Shane Goss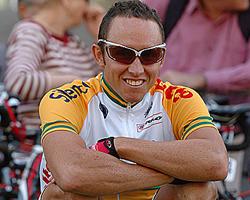 Twenty four year old Matt Lloyd, is the current Australian champion and hails from Melbourne. After graduating from the South Australia.com – AIS team in 2005, he went on to sign for the Belgian based Silence-Lotto team (previously Predictor-Lotto) of fellow Australians Cadel Evans, Robbie McEwen and Nick Gates. Now in his second year on the squad and after showing huge promise in his first year, Lloyd is looking set to have a stellar year on the ProTour circuit. He finished fourth at the Tour Down Under last year, and is eager to better that result this time around to hopefully grab the first ProTour leaders jersey of the year and thereby taking up where team-mate Evans left off last year. Follow his progression through the race here on Cyclingnews as he keeps you up to date with his daily Tour diary.
January 24, 2008 - Stage 3: Unley - Victor Harbor , 139km
Crashing karma
Victor Harbour normally displays a solo finish in past Tour Down Unders. Today, however, the status and tightly strung general classification - still differentiated by just seconds - compelled the sprinters' teams to once again take charge and draw back a six minute break away featuring three riders, highlighting Australian Wesley Sulzburger in team UniSA-Australia. This allowed the eventual stage winner Alan Davis (also UniSA-Australia) to sit behind the other teams and conserve his strike 'till the finish, in which he utterly destroyed the other sprinters displaying his world class talent for all to see. Great to see!
Matthew Lloyd (Silence-Lotto) gets friendly with
Photo ©: Shane Goss

Meanwhile, I was on a different planet… with fond recollections of footage kindly provided to me by countless people, I had flashbacks of two years ago, when I flew off the road to eventually grind my corpse into the ground smashing everything. This nearly happened today (and no I wasn't de-hydrated or losing conciseness - lesson learned), but in this instance it was a result of my front wheel puncturing and blowing off the rim, leaving me cornering into the last decent two kilometres out with a one centimetre piece of carbon instead of sleek rubber.
At the time I wasn't so much concerned with the race, but more so losing skin and bones. Or worse even, maybe being assaulted by an angry bull in the adjacent paddock I was careering toward. Luck was on my side this time as; 1) I was fortunate enough to steer my machine to safety and change wheels; 2) Was within the three kilometre mark, which in ProTour races allows bunch-finish time for mechanical mishaps. What a blessing! Maybe the cycling Buddha upstairs granted me a good Karma card on this occasion.
The sprinters are looking, well like sprinters; strong and aggressive, thus counting out another sprint finish tomorrow would be preposterous. Nevertheless, there will be a battle to win the TDU soon, and tomorrow's climbs out of the race start in Munnum can provide an opportunity for this to unfold. The windswept, rugged, and barren landscape coupled with some massive moves off the front may in fact be time and place for the eventual winner to spawn the essential move.
In turn, it is once again a matter of waiting and watching for this effort. No doubt there are many men in form and waiting to pounce on the chance to take out the event…recognising the power of the teams here, the race situation is becoming like an intense sword-fight, where riders must think first, before they move.
I'm just happy to have my skin.
Matt