Recently on Cyclingnews.com
The Matt Lloyd Tour Down Under diary
Matt Lloyd (Silence-Lotto)
Photo ©: Shane Goss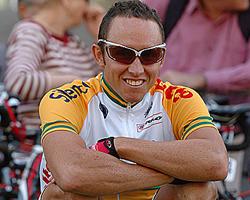 Twenty four year old Matt Lloyd, is the current Australian champion and hails from Melbourne. After graduating from the South Australia.com – AIS team in 2005, he went on to sign for the Belgian based Silence-Lotto team (previously Predictor-Lotto) of fellow Australians Cadel Evans, Robbie McEwen and Nick Gates. Now in his second year on the squad and after showing huge promise in his first year, Lloyd is looking set to have a stellar year on the ProTour circuit. He finished fourth at the Tour Down Under last year, and is eager to better that result this time around to hopefully grab the first ProTour leaders jersey of the year and thereby taking up where team-mate Evans left off last year. Follow his progression through the race here on Cyclingnews as he keeps you up to date with his daily Tour diary.
January 23, 2008 - Stage 2 - Wednesday, January 23: Stirling - Hahndorf, 148km
Another sprint finish
Awakening this morning wasn't as nice as I had imagined! Although sleeping relatively well (which I seldom have trouble with), I heard the news of Heath Ledger's passing upon turning on the television. As many cyclists are cinema and film addicts, I had watched this top Australian actor perform some classic work through my childhood, and was saddened to hear the star had lost his life.
Nonetheless despite being shocked by the news, the day went forward with the usual pre-race procedure of breakfast then hopping in the cars to today's race start. Once again the riders were greeted to a fantastic turn-out of support in Stirling, with heaps of well wishers getting exited before the lumpy road throughout today's 148 km stage finishing in Hahndorf.
My initial outlook of the topography suggested an early break away, which had occurred in previous years during the crazy rolling decent commencing shortly after the start. I wasn't alone in my premonitions, with most teams setting a good tempo to start, while paying close attention to prevent any huge escapes wanting to get early action happening. To be honest, I was expecting a ruthless set of attacks capable of splitting the field into smaller groups… this did not happen.
As it is normal for the French teams to show great panache on such a stage, much similar to most French racing, another smaller break away formed in similar style to yesterday's stage featuring riders Poulhies, Offredo and Crosbie. As it is the early season also, many men were content with this scenario, and again placed the responsibility on the sprinters' teams to hold the group within striking distance until the final circuits surrounding the finale.
Some felt the need to try their luck in a move just after the right turn up the Echunga climb, but this was as obvious as a French bakery selling baguettes, and the smaller group was quickly gobbled up by the Credit Agricole team, eager to hold on to the leader's jersey of Mark Renshaw. The only other crunch point would unfold within three kilometres of the line with a short climb before the rampant and bumpy decent into the finish. As the break group was well taken care of, I was attentive to a move (thanks to Gat, who can read a race like a Tom Cruise fan knows the script to top-Gun) by Phillipe Gilbert just on the crest of the climb. He lunged himself off the front, reminiscent of his KOM sprint yesterday, but unfortunately the field was like a bunch of racing dogs with a rabbit being dragged in front, hence racing eventuated in a bunch kick.
Andre Greipel (Team High Road)was able to take glory on this occasion, hauling a huge gear down the right hand side of his contenders. Having gone over the top of the climb in 10th wheel with Robbie McEwen just behind, we were once again caught up in a sketchy and tight finishing straight, unfortunately unable to yield an avenue to sprint for the win. It goes without saying, our key sprinter will contend victory this week, but it's a matter of where and when this will eventuate. Meanwhile, I was happy to draw day's end unscathed and ready for tomorrow..
Matt