Jayco Bay Cycling Classic - NE
Geelong, Australia, January 2-6, 2008
Main Page Results Overall standings Previous Stage
Stage 10 - January 6: Eastern Park, Geelong (Short Lap) - Elite women
Dunn and dusted!
Sixteen year-old wraps up series victory
By Malcolm Sawford in Geelong
Can she quite believe it?
Photo ©: WomensCycling.net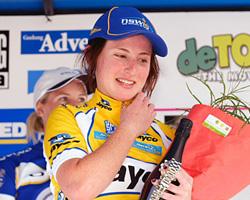 Megan Dunn (CBD/NSWIS Development Team) weathered the storm of attacks thrown at her by Kate Bates (Pitcher Partners) and Belinda Goss (Volvo) to clinch an impressive overall victory in the Jayco Bay Cycling Classic. Dunn becomes the youngest winner in the race's 19-year history after finishing fourth on the stage.
The stage win went to Olympic champion Sara Carrigan, repeating her win on the same circuit in 2006. "It was quite a select group out there," said Carrigan. "The yellow jersey was pretty keen to watch everything, she was watching Kate and Belinda because they were the next two behind her. There were a couple of attacks that went and I just counter attacked that, and it was the right time to get away. It was only 15 minutes to go so I put everything into it."
Sara Carrigan wins
Photo ©: WomensCycling.net

Dunn turned 16 in late August, and obviously won't be able to enjoy the champagne she collected on stage. Instead, she'll celebrate with her team-mates and a coke! "I will enjoy it, "she said. "I can't believe it, I'm still in shock. I didn't think I'd hold onto the yellow jersey for three days in a row - I'm so happy!"
"I came down here just to learn off the girls. Sutto, my NSWIS coach, said to me 'just learn as much as you can off the girls' and I'm still learning and they've been fantastic to me. You learn so much about team work and how to race professionally."
Unsurprisingly, Dunn rates the win as the highlight of her career, which includes seven national championship wins on the track in the Under 15 and Under 17 age groups. She also paid tribute to her long term coach Gus Dawson, "who has coached me since I was three. I love him to death and can't thank him enough."
How it unfolded
Oenone Wood (Geelong Mazda)
Photo ©: WomensCycling.net

Cyclingnews watched the race unfold from the best vantage point possible - the passenger seat of the Mazda lead car. Fittingly, Dunn led the bunch through the first corner, and stayed in the first half-a-dozen riders for the entire race.
On the second lap, Oenone Wood launched the first attack on the descent to the second corner and opened a 20-metre gap, but came into the tight corner too hot. While she stayed upright, her loss of momentum allowed a small group of chasers to make contact, and the rest of the bunch closed in on the drag back up the hill.
Goss attacked nearing the first sprint, but was quickly joined by Dunn, Alexis Rhodes (Pitcher Partners) and Peta Mullens (Jayco VIS), and once again the rest of the bunch wasn't far behind.
Olivia Gollan (Degani Café/NSWIS) took the first intermediate sprint to move into second place behind her team mate Lauren Kitchen, who had started the day with an unbeatable lead in the Sprint Ace competition. Once Gollan returned to the bunch, Wood countered strongly, starting what would be the decisive break.
Kate Bates (Pitcher Partners)
Photo ©: WomensCycling.net

Joining Wood were Dunn, Bates, Goss, Carrigan, Helen Kelly (Jayco VIS) and Bates' team mate Amanda Spratt, and as the gap opened it was Dunn driving the pace higher, until the message from NSWIS head coach Gary Sutton got through. "In a break you have to do your work," explained the youngster. "I'd go to the front but be told to go back and stick to Kate Bates' wheel. I was listening to him the whole time - he's the man, he knows what he's doing!"
Bates had a chuckle at Dunn's youthful exuberance. "I sort of laughed at her a little bit when she yelled at me at one point 'let Oenone go, she doesn't have any points' and I thought 'that's alright for you, you don't need anymore points!' It's funny 'cos it's like watching me a couple of years ago and I almost know exactly what she's going to do next!"
Carrigan tested her companions when she opened a small gap on the climb with 20 minutes remaining, and spent almost a lap alone before Spratt brought her back into the fold. Kelly was the next to attack the group and had Bates on her wheel, but Dunn had no trouble jumping across to the pair, while Goss was forced to chase a bit longer to make contact.
Belinda Goss (Volvo)
Photo ©: WomensCycling.net

As soon as Goss reached the leading trio, Wood attacked again but Bates had her covered, only to see Carrigan fly away with a little over 10 minutes remaining, and race away to the win. Carrigan built a maximum lead of 17 seconds, and had the main bunch in sight at race end.
Bates attacked the group at two to go without success, but still had the legs to hold off Goss by half a wheel in a desperate sprint to the line. Dunn had little trouble holding Goss' wheel, to clinch the overall title by a solitary point. Although she looked completely in control, Dunn did admit it had been a tough race. "It was very tough. With the cross wind down the back, you didn't get a break. But being in the break had its advantages, you don't have to fight for position and you're guaranteed a top six finish."
Cadel Evans was very impressed
Photo ©: WomensCycling.net

There was disappointment for Goss and Bates who came so close to the overall victory. "We did everything we could," Goss said. "All congratulations to Megan, she rode exceptionally well all week and I couldn't quite get over Kate so I ended up second overall. I just sort of hesitated a bit there in the last sprint and Kate got the jump on me and it was all over. Second two years in a row - maybe next year?"
Bates admitted there was disappointment on her part, because "I think we could have won today. That break wasn't a good thing for us because it just became a numbers game and they weren't going to let me go, and with Megan and Belinda there it was ideal for Carrigan. She rode awesome, certainly, but we didn't want to leave it open for someone to ride so well, we wanted to have a bit more control. But you win some, you lose some and we did our best out there today.
"Take absolutely nothing away from Megan Dunn. A fantastic talent and I think she'll really be one to watch in the future. Hopefully I'll still be around to watch her grow into those legs!"
Photography
For a thumbnail gallery of these images, click here
Images by WomensCycling.net
Results
1 Sara Carrigan (Rapido Cycles)         12 pts
2 Kate Bates (Pitcher Partners)         10
3 Belinda Goss (Volvo)                   8
4 Megan Dunn (CBD/NSWIS)                 7
5 Amanda Spratt (Pitcher Partners)       6
6 Helen Kelly (Jayco VIS)                5
7 Oenone Wood (Geelong Mazda)            4
8 Chloe Hosking (Geelong Mazda)          3
9 Jenny Macpherson (Rapido Cycles)       2
10 Kirsty Broun (Volvo)                  1
 
Sprints
 
1 Lauren Kitchen (NSWIS Degani Café)    17 pts
2 Sara Carrigan (Rapido Cycles)          9
3 Olivia Gollan (NSWIS/Degani Café)      9
 
Teams
 
1 Pitcher Partners                      56 pts
2 Volvo                                 37
3 CBD/NSWIS                             32
 
Final general classification
 
1 Megan Dunn (CBD/NSWIS)                39 pts
2 Belinda Goss (Volvo)                  38
3 Kate Bates (Pitcher Partners)         36
4 Alexis Rhodes (Pitcher Partners)      22
5 Teressa Cliff-Ryan (Geelong Mazda)    20
6 Emma Rickard (Jayco VIS)              16
7 Oenone Wood (Geelong Mazda)           15
8 Sara Carrigan (Rapido Cycles)         13
9 Lauren Kitchen (NSWIS Degani Café)    12
10 Leonie Burford (NSWIS Degani Café)   11