News feature, February 15, 2008
Riders ready for Saturday showdown
By Greg Johnson in Kuantan, Malaysia
New Tour leader: Mitchell Docker (Drapac Porsche) from Australia
Photo ©: Shane Goss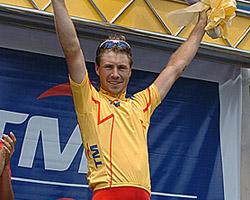 As the Tour de Langkawi enters its penultimate stage on Saturday, 19 of the 136 riders that will line-up at the start in Temerloh tomorrow morning are in general classification contention. The problem is, however, nobody knows exactly what to expect from the race's 'Queen' stage.
Saturday's stage was always going to be decisive point in this year's race, however the eighth stage was turned on its head in late January when organizers announced the traditional climb to Genting Highlands would be replaced with the stage to Fraser Hill. Genting was removed from the event after organizers were informed that the owners would be unable to completely close the road up the infamous climb due to Chinese New Year celebrations.
Genting Highland's one year hiatus from the parcous sees riders faced with a new challenge in the form of the 130 kilometre stage to Fraser Hill, which has been seen by very few of the event's staff and even fewer team members. The unknown climb is a major anomaly in the outcome of this year's event, with the top 19's ability to conquer the climb difficult to measure with the little facts that are known about the climb.
In the group of 19 riders there are just two teams that have two cards to play on tomorrow's stage, which includes Team Type 1. While Team Type 1's Matthew Wilson is eight seconds down on race leader Mitchell Docker (Drapac-Porsche), and Glen Chadwick a further seven seconds adrift, the American squad will benefit simply by having two options on whatever comes of tomorrow's stage.
Matthieu Sprick (Bouygues Telecom) relenquished his Tour lead
Photo ©: Shane Goss

"Nobody really knows this climb so it's going to be hard to tell what to do," said Wilson on how the team will approach the stage. "We just have to play it by ear; we're in a great position though with two guys who can both climb."
Race director Michael Robb, one of a handful of people who have seen the climb, told Cyclingnews the twisty climb is long and gradual at first, before the gradient steepens in the final kilometres.
If Robb's description of the climb proves accurate, Giani Savio's Serramenti PVC Diquigiovanni-Androni Giocattoli squad will have a strong shot at a third Langkawi title. The Venezuelan Professional Continental squad has Jackson Rodriguez, who won the Tour of San Luis' queen stage last month, in the top 19 just nine seconds down.
Savio, who has been coming to Langkawi for nearly a decade, was disappointed that the Genting Highlands stage isn't in this year's race but hopes the Fraser Hill climb is steep enough to mix up the standings. The Italian's outfit is the second squad with two options for tomorrow's stage, with Moldavian Ruslan Ivanov also among the top riders.
Australian Zakari Dempster (SouthAustralia.com - AIS) is a danger to the Tour lead
Photo ©: Shane Goss

"Tomorrow is our race, but I hope that the hill will be one hill and not one flat," he explained. "Because if it's flat what can we do? But it is sorry, sorry, sorry, three times sorry, that tomorrow we do not arrive in Genting [Highlands], because in Genting we would make the race on the day.
"In Fraser Hill, we will try," he added.
The climb will add an extra element to the already tight battle between Docker and Matthieu Sprick (Bouygues Telecom) for the general classification lead. The pair have been separated by one second since last Sunday, with Australia's Docker finally claiming enough intermediate sprint bonuses today to pass the Frenchman and take a marginal two second lead into tomorrow's penultimate stage.
Docker's Drapac squad has nothing to lose on Saturday's stage and will work hard to maintain the race lead, but the sprinter has a tough task ahead. Bouygues Telecom, on the other hand, also has the sprinter's classification leader Aurélien Clerc to look after, but the stage is expected to be likened by Stage 1 winner Sprick.
Hirose Yoshimasa (Skil Shimano) leads Yukiya Arashiro (Meitan Hompo-GDR)
Photo ©: Shane Goss

"Tomorrow is a hard stage and Mathieu has good legs, so I hope he can take the jersey back," said Clerc.
The Swiss green jersey leader wouldn't put his money on anyone for the penultimate stage, saying he doesn't know the good climbers at the race. "I don't know because when there is a mountain stage I'm always in the gruppo," he joked. "I don't know who is a good climber, but I think the rider from Karpin [Gustavo Cesar].
"I don't know," he continued. "Sure the 19 rider will be at the front and they want to win the overall in the one stage. I think all of the 19 riders will have vengeance."
Wilson, who climbed well to claim victory in Australia's Herald Sun Tour last year, believes the difficult nature of having 25 small teams of six will play a factor in the race's outcome tomorrow.
"It's just been such a hard race to control; it's been chaotic really, with attacks going the whole day," Wilson said. "It's going to be very difficult. I think Drapac will probably do the job for us controlling it to the bottom and then it's just a matter of seeing who is going to have the best legs."
Another Australian in the running for tomorrow's stage is Bernard Sulzberger, who signed a last minute deal with Letua Cycling Team to contest the event. Sulzberger finished third in last year's Tour of Tasmania and won the Herald Sun Tour's mountains classification, but the rider says he'll be happy to maintain his general classification position tomorrow.
Australian Bernard Sulzberger (Letua Cycling Team) was glad his late arrival onto the Tour
Photo ©: Shane Goss

"I'll definitely try to stay at the front, I think in the last six kilometres the road narrows so you're going to have to try and stay at the front," said Sulzberger. "I think a lot of people will be attacking the yellow jersey tomorrow, so I'll try and go with as many breaks as I can."
"I'd like to say I'm in with a chance, but I'd really just like to hold my position overall, really," he added.
The national squads will also have a strong general classification showing, with South Africa's Ian McLeod and New Zealand's former junior world road champion Jeremy Yates in the running. These riders are joined by an Asian contingent in Korean Baek Sung Park (Seoul Cycling), Japanese riders Shinichi Fukushima (Meitan Hompo - GDR), Hidenori Nodera (Skil-Shimano) and Tomoya Kano (Skil-Shimano), who are also waging a battle between themselves for the Asian riders classification jersey.
While he's not from Asia, Great Britain's Alex Coutts is also among the top 19 from Stage 1's massive break and will represent the small Asian squad Trek-Marco Polo. Coutts said he is feeling nervous ahead of tomorrow's stage and doesn't know what to expect.
"I'm a bit nervous about the final climb," he admitted. "I can climb when I'm going pretty well but it's the beginning of the season so it will be the first real test. The breakaway that went away, there was a lot of attacking just before it and I was quiet lucky just to get in the right one. I suffered while I was away, so I'll see how I am. I'm not really sure…really."
"I reckon the guy from Tinkoff [Yauhen Sobal] can climb really well, so I guess if you want to get a result you've got to follow him," he added. "So I'll try my best to follow him."
As the riders prepare for what may lay ahead tomorrow, the unknown element will almost certainly see attacks from the stage's very start. With 19 riders covered by just 15 seconds, the race for an almost certain victory heading into Sunday's criterium finale in the Malaysian capital of Kuala Lumpur will be decided on tomorrow's climb to Fraser Hill.
Tour de Langkawi general classification after Stage 6

1 Mitchell Docker (Aus) Drapac Porsche Developement Program               26.36.10
2 Matthieu Sprick (Fra) Bouygues Telecom                                      0.02
3 Gustavo Cesar (Spa) Karpin Galicia                                          0.05
4 Diego Nosotti (Ita) NGC Medical - OTC Industria Porte                       0.06
5 Matt Wilson (Aus) Team Type 1                                               0.08
6 Bernard Sulzberger (Aus) Letua Cycling Team                                     
7 Baek Sung Park (Kor) Seoul Cycling                                          0.09
8 Jackson Rodriguez (Ven) Serramenti PVC Diquigiovanni-Androni Giocattoli         
9 Jeremy Yates (NZl) New Zealand National Team                                    
10 Shinichi Fukushima (Jpn) Meitan Hompo - GDR                                0.10
11 Jean-Marc Marino (Fra) Crédit Agricole                                     0.13
12 Zakkari Dempster (Aus) South Australia.com - AIS                           0.14
13 Yauhen Sobal (Blr) Tinkoff Credit Systems                                  0.15
14 Hidenori Nodera (Jpn) Skil-Shimano                                             
15 Ruslan Ivanov (Mda) Serramenti PVC Diquigiovanni-Androni Giocattoli            
16 Alex Coutts (GBr) Giant Asia Racing Team                                       
17 Glen Chadwick (Aus) Team Type 1                                                
18 Ian McCleod (Rsa) South African National Team                                  
19 Tomoya Kano (Jpn) Skil-Shimano