13th Tour de Langkawi - 2.HC
Malaysia, February 7-17, 2008
Langkawi an open contest
By Greg Johnson
Alberto Loddo is in form and returns to Langkawi with Tinkoff Credit Systems
Photo ©: Shane Goss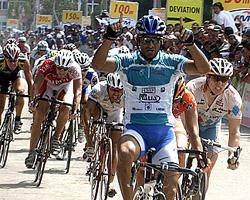 The removal of Le Tour de Langkawi's grueling queen stage to Genting Highlands will re-define the way this year's event is run and won. While the Malaysian event's overall contenders have been limited to a select few climbers in previous years, the climb's one year sabbatical will leave the general classification open to over 20 riders when it gets underway this Saturday, February 9.
Genting Highlands' replacement by the Fraser's Hill stage will come as a disappointment to many in the field, but the climb which replaces it - a 800 metre high rise over 25 kilometres - leaves the general classification door ajar for a much larger number of riders to storm through. The brutal Genting Highlands climb was removed in a second major revision of the 2008 route, when organizers were informed Chinese New Year celebrations would make it near impossible to completely close the road to Malaysia's only casino.
The route change will play into the hands of teams like Italian outfit Tinkoff Credit Systems. The Professional Continental squad returns to Malaysia with a 'super team' of sorts, having combined the best of its 2007 Langkawi roster with its new signings from Gianni Savio's Serramenti PVC Diquigiovanni-Androni Giocattoli.
Tinkoff, owned by Russian businessmen Oleg Tinkov, returns to the event with riders that claimed six of last year's 10 stages and is well suited to the revised parcours. New signing Alberto Loddo, who won five stages at last year's event, will be the in-form sprinter at this year's race. Loddo, who rode for Savio in 2007, stretched his legs against the world's top sprinter Tom Boonen (Quick Step) at last month's Tour of Qatar, even claiming a stage victory along the way.
Loddo will be joined by Russians Pavel Brutt, who claimed Tinkoff's first Pro Conti victory at last year's Langakwi race, and Nikolai Trusov. Loddo returns to Langkawi with another of Tinkoff's ex-Savio signings in Walter Fernando Pedraza.
David George (South Africa)
Photo ©: John Pierce

Malaysian organizers have changed the approached used while selecting teams in 2008, with chief operating officer Datuk Naim Mohamad declaring on Wednesday the event preferred to target teams contesting the Grand Tours, rather than have a specific focus on the ProTour registered teams. While in years gone by those teams have largely been one and the same, the announcement of a 'special calendar' and the list of squads invited to participate in May's Giro d'Italia means non-ProTour teams are being given their own chance to shine.
"At this stage, to identify the level of a team is not necessarily by which tier of the league they belong to, but by how good their teams are," said Datuk Naim. "And to most of us, the best teams are those who compete in the big three races. On top of that, we want the teams who come here to perform, not just be here because they are ProTour teams.
"This doesn't necessarily mean that we'll always stick to this format in our selection, but this can be quite interesting as well," he added. "We always think of the European teams as the strongest, but if you look at what happened last year, it was Asia's best team - Giant Asia - who bagged the overall team title. This is why I believe we need to keep up to date and be able to provide a nice balance of teams in order to have an interesting race."
The announcement is a big shift in approach by organizers, who 12 months ago were focused on the possibility of becoming a ProTour round as the UCI looked to globalise the sport, with the world governing body's Irish president Pat McQuaid even flying in to observe the event for two days.
South Australia.com-AIS is sending another strong team
Photo ©: Shane Goss

The re-alignment in approach to its team selection is a wise move by the Langkawi event. While ProTour outfit Crédit Agricole won last year's race with France's Anthony Charteau, the race's history is rich in performances by smaller outfits.
One such outfit is Savio's Serramenti PVC Diquigiovanni-Androni Giocattoli, which has won the event on two occasions with Colombian riders. The Italian outfit also dominated last year's race, despite Charteau's insurmountable Stage 3 breakaway, with the squad claiming an impressive six stage wins - five for sprinter Loddo and one for climber Jose Serpa.
While Serpa will return to this year's event the climber and Venezulan team-mate Carlos José Ochoa, who won the queen stage at last month's Tour de San Luis, will be severally disadvantaged in the general classification by the removal the Genting stage. The route revision will see the Professional Continental outfit depend on former German National Champion Daniel Hondo and former Moldavian national champion Ruslan Ivanov for its general classification hopes.
After failing to defend his title at last year's race, 2006 champion David George will return with the South African National squad for another bite at the cherry.
While Charteau, who is riding for Caisse d'Epargne this season, won't return to defend his title, the Frenchman's former team Credit Agricole will be keen to defend the crown. The French squad, one of just three ProTour outfits at this year's race, has brought a strong team including Australia's Simon Gerrans, Ireland's Nicolas Roche and Frenchman Sebastien Hinault, a former Langkawi stage winner.
With more riders in the tour than any other nation Australian competitors will likely have a strong showing in this year's event. Former Australian national champion Matthew Wilson will lead the Team Type 1 squad, while continental teams SouthAustralia.com-AIS and Drapac Porsche will field squads with some of their top riders, including Wesley Sulzberger and Gene Bates.
The New Zealand National Team should show some strong potential at the tour as well, with the squad being led by former Junior world champion Jeremy Yates.
The Asian teams will also be looking to take on the European might at this year's race, with Jelejah Malaysia stage winners Yusuke Hatanaka (Skil-Shimano) and Anuar Manam (Le Tua Cycling Team) likely to be amongst the action in Malaysia from February 9 - 17.