News feature, February 10, 2008
Drapac's Docker chases Langkawi points prize
By Greg Johnson in Kepala Batas, Malaysia
Australian Mitchell Docker (Drapac Porsche)
Photo ©: Shane Goss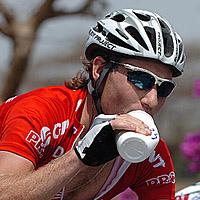 Drapac-Porsche's Mitchell Docker is hoping to claim the Tour de Langkawi's points classification jersey this week after the young Australian enjoyed a stellar opening to the event on yesterday's Stage 1. Despite being just 21 years of age, Docker made the stage, and possibly race, defining break that saw 19 riders claim 21.48 minutes over the remainder of the peloton.
After starting the day on a high note by making the break, Docker pressed on to take second place in the day's second hot spot sprint. Docker, who resides in the Victoria suburb of Rosanna, was also charging at the finish leading the first bunch across the line as it desperately attempted to chase down stage winner Matthieu Sprick (Bouygues Telecom), after the Frenchman broke away in the closing kilometres.
The Drapac-Porsche rider credited last week's Tour of Qatar as being a good lead in event to the Langkawi race, where the Oceania Continental squad is racing for the first time.
"Last week were racing in Qatar so I knew it'd be great preparation for the racing here since it was more of a flat circuit," he said. "I enjoyed the circuit today, it was very picturesque and the weather was beautiful, just like back home in Australia."
Despite his opening day success, Docker said that any talk of being in overall classification contention hadn't yet crossed his mind. Instead the Melbourne-base team is eager on first defending the sprint jersey.
"I know there's a bit of a climb towards the end of the week," said Docker, noting it as a potential issue in any general classification bid. "I definitely hadn't thought about the overall. Everyone in the team will be on the attack so I guess we'll have to sit down tonight and yeah, I did feel strong in the sprint at the end which I was really pleased about.
"it was very picturesque and the weather was beautiful, just like back home in Australia."
- Mitchell Docker likes what he's seen in Malaysia so far.
"I guess I'll have a look at the points and first of all focus on this jersey and we'll see what happens tomorrow," he added. "But I'm sure it'll be a very aggressive race again so anything could happen."
Docker, who won Stage 3 of the Tour of Hokkaido with Drapac-Porsche last season, said he was pleased with the composition of today's break. The Victorian had five compatriots and a New Zealand rider in the 19-strong break away with him, meaning the rider had prior knowledge of how at least a quarter of the group would race the stage.
"I'm wrapped; it was good knowing that half the break away were all Aussie," he said. "I knew how everyone was going to go. The first hotspot sprint was like first, second, third and fourth were all Aussies.
Mitchell Docker (Drapac Porsche) struggles with his musette
Photo ©: Shane Goss

"It was good, it was a pretty enjoyable breakaway," he added. "It got a bit long towards the end, I was starting to feel a bit tired but I think everyone was."
After the break allowed Sprick to take an insurmountable lead in the final three kilometres, Docker was left to sprint for second place. "I was able to get a good position, I had the director in the car saying you have to be third wheel around the last corner and I was, things went to plan," he said. "It's not often it does but when it does its great."
The Drapac-Porsche squad won the Tour of Hokkaido's overall rider and team's classification last year. Docker believes the Malaysian 2.HC Tour of Langkawi is an important event for the outfit's development.
"I think it's important, we raced Qatar last week and we were a little bit out of our depth; we were just trying to make front group," he explained. "Hopefully we can get a bit of form out of this. We have got a strong team, we just haven't had a chance to show it.
"I think we can get a few results here, it's a pretty high quality race," he added. "We've had a good start now and it just makes the team look a bit better, so it's quiet important. We don't have all that much racing this year so every race is really important."
Docker believes that the Drapac-Porsche squad has taken two steps forward by taking one back, with the team dropping down from Professional Continental status last year to Oceania Continental status this season.
The podium (L-R): Mitchell Docker (Drapac Porsche), Matthieu Sprick (Bouygues Telekom),
Photo ©: Kurt Jambretz

"Last year I think they took a step a little bit too early, in terms of organization," he said. "It was a big step to Professional Continental - just management and stuff - it was just too much. So we just went back and said 'lets get everything right first before we make the next step'.
"I think the riders were also a little bit raw as well and we found out when we went to Europe we were out of our depth again," he added. "So yeah, we've come back and got some good starts."
Docker, who claimed the U19 Team Pursuit and Madison titles at the Australian championships in 2003, believes that the team's year as a Professional Continental squad still helped the development team's progress and has led to its starts in Qatar and Malaysia.
"The racing we did last year, although we were not doing much, it gave us some opportunities in these types of races," he said. "People were like 'oh okay, you're floating around' and we got some starts, hopefully more results will get us more starts."
The first of those results Docker and Drapac-Porsche hope to achieve is the sprint classification at this week's Tour of Langkawi. The event continues today with a 157.9 kilometre stage from Butterworth to Sitiawan.