Tales from the Peloton, February 11, 2008
Brothers in arm warmers
The Japanese Fukushima brothers are virtual cycling legends in Asia. Cyclingnews' Steve Thomas caught up with the two riders as they prepared for the Tour de Langkawi. Thomas found himself in the far north of Thailand, visiting an old friend, when he bumped into the brothers Shinichi and Koji Fukushima on the starting line of the first race of the King's Cup National Series.
Shinichi and Koji Fukushima
Photo ©: Steve Thomas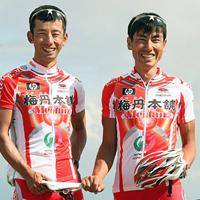 The duo is a regular fixture at many races, including the Tour de Langkawi, one of their favourite races. The King's Cup race was to serve as preparation for this year's Tour de Langkawi. A few years ago, brother Koji made a name for himself with a memorable solo stage win, but he was a little less optimistic about this year's Tour de Langkawi. "Well, I've done about 30% less training than normal at this time of the year, and I know my form is not good."
"I seem to need more training than the other riders, so it's unlikely that I will perform well," he said, "but I will, of course, try! My plan is to be on top form for the second half of the season in Europe."
Trying is something in Koji's nature. He has always been known for his constant attacking. "Maybe I could get more results by playing it differently, but this is my style, and I want to keep it that way." It's a style that wins much admiration and the hearts of many as does his natural warmth and eccentricity, both of which give him a charm of his own.
The brothers were in Chiang Rai with their entire Meitan Hompo team for a pre-season training camp, largely under the impetus of Shinichi, a part-time resident of the region.
"It's great here. I got married to a local girl in January and spend a lot of my time here. I hope we can stay here when I finish racing."
-Brother Shinichi explains his connection to Thailand while there training
"I came here four years ago," said Shinichi. "My old coach and manager bought a small resort and said it was good for training. I brought Koji over, and then it just grew from there. We've been coming for training ever since. There are 20 of us in all at the moment."
Shinichi's love affair with this part of Thailand runs far deeper than simply training; "It's great here. I got married to a local girl in January and spend a lot of my time here. I hope we can stay here when I finish racing." An end to his racing career is far off; in fact, his involvement with Thai cycling and its development grow every day.
"I'm going to be 37 years-old this year, but I still really want to race at the top level," he said, "so I will not be stopping yet, I think as long as your head is still good you can do it.
Building Asian cycling
Can you do this on your road bike?
Photo ©: Steve Thomas

"I also really want to help develop Thai and Asian cycling in general," said Shinichi. "There are some great riders here. But the system is as it is with many federations - not great; so I am trying to help Thai riders to develop and get them to Europe. They are very tough and strong.
"If I can get one, then two, then fifty Asian riders to Europe, it will really boost Asian cycling. But all they know about Europe is a two-hour video of the Tour de France. With the current growth rate, I think there is no reason that we cannot build an entire Asian team to compete in the Tour within a few years. That would really set the sport alight here. This is my goal," finished Shinichi.
The brothers hail from Osaka in southern Japan, a nation with a growing number of road riders, and noted for its keirin traditions. "The Japanese federation is not so interested in road racing and developing it. It's all about keirin racing. The officials mainly have ties with the keirin federation, and that's where the money is, so it's a struggle to develop road racing."
Koji Fukushima leads
Photo ©: Steve Thomas

There have always been a few odd Japanese riders making their way on the road, but thanks largely to the efforts of teams such as Skill Shimano and the brothers' Meitan Hompo - GDR team, there is now a steady core of Japanese riders making waves in Europe. "When I first went to France it was unusual; then Koji came and we started to improve and get results. Slowly we brought other riders across, and the team formed. Originally it was just me and Koji getting results, but now we have a lot of good riders who have followed through."
The entire Fukushima family has become heavily involved with cycling over the years, and particularly in the development of Japanese riders. "My father works for Daihatsu and helped get them involved in a development team," said Shinichi. "They put a lot of work into that and our team."
Shinichi Fukushima
Photo ©: Steve Thomas

But cycling didn't run in the family, until now that is. It was Shinichi who started the ball rolling. "We had muscular problems with our feet in the family," explained Koji, "so had to go to hospital for regular check ups. One day a doctor said to my father that I had legs like a keirin rider. Shinichi heard and got a bike and started training. It was a while later when I started. I'd finished university and lost direction.
"My parents asked Shinichi to look after me [He's two years older - ed.], so he sent me a bike," said Koji. "I started riding, then training, and then racing; and it just went from there."
The brothers no longer show any signs of muscular problems. The new season will see them moving to their French base after the Tour de Langkawi. Both of cycling's most likeable characters are set to continue to move Japanese cycling and also Asian cycling up yet another run on the worldwide cycling ladder.
Photography
For a thumbnail gallery of these images, click here
Images by Steve Thomas