6th Geelong World Cup - CDM
Australia, February 24, 2008
Preview
High Road hot favorites for first World Cup
By Paul Verkuylen
Winners: In a reverse of yesterday Team High Road's Ina Teutenberg beats
Photo ©: John Veage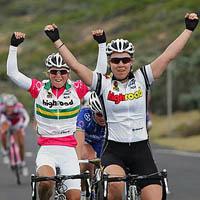 After taking two of the three stages on offer at the Geelong's Women's Tour and placing a rider in second in each stage, High Road will head into the first round of the Women's World Cup in Geelong, Australia as the hot favorites.
Ina Teutenberg has been training well over the German winter, opting to spend to time in the warmer climates of California to prepare for the opening rounds.
"I have been in California all winter, so I have been training well. I am in good shape," she said after placing second in the opening time trial on Thursday.
Teutenberg followed that up with another second place behind team-mate and Australian national road champion, Oenone Wood in the second stage of the Tour. "The results so far have come as a bit of a surprise," she explained, before adding "with the team we hope to do well in the World Cup on Sunday."
In the final stage, held in Blustery conditions on the Barwon Heads circuit, Teutenberg finally went one better than her two second places, outsprinting team-mate Wood for the win.
Both Wood and Teutenberg are confident that the team can do well on Sunday, "We have a fantastic team this year with a lot of the team from last year, and a couple of new ones. I think that we will be a lot stronger this year," Wood said.
Tour leader Christiane Soeder (Cervelo-Lifeforce Pro Cycling Team) is brought back
Photo ©: John Veage

Expect a strong challenge from the Cervelo - Lifeforce team who are also showing good form after Christiane Soeder's overall win in the Tour. The team displayed their great early season form when Soeder punctured. At the time the bunch was moving quickly along the coast road towards the finish of the fourth lap, the entire team dropped back to help, team time trialing back to the bunch, making short work of the 60 seconds they had lost due to the puncture.
"Cervelo Life-force has a strong team and we never underestimate them, they have some great sprinters," Teutenberg explained.
Sara Carrigan is one that should also never be discounted. She had a reasonably quite Tour, but is likely to show herself during Sunday's race with all important Olympic qualification to think about, but with a depleted team of just four riders, she faces a tough challenge.
Regina Schleicher (Equipe Nürnberger Versicherung) has also shown some good form during the Tour, but was unable to get past the High Road sprinters, placing third in both stage 2 and 3. Expect to see her team try and control the race in order to set her up for a sprint.
Teutenberg summed up how the race may unfold and who to watch for speaking to Cyclingnews after taking her fist victory for the season on stage 3 of the Geelong tour. "Sunday's a new race and everyone gets fitter after every race" she concluded.