Tour of California - 2.HC
USA, February 17-24, 2008
Main Page Results Overall standings Stage Details Live report Previous Stage Next Stage
Stage 6 - February 23: Santa Barbara - Santa Clarita, 109 mi / 175 km
Cavendish's win undone in California
Levi maintains lead with one to go
By Mark Zalewski, North American Editor with Kirsten Robbins in Santa Clarita
Luciano Pagliarini (Saunier Duval) with JJ Haedo (CSC)
Photo ©: Jon Devich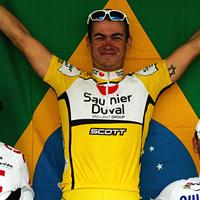 Similar to the first stage of last year's Tour of California, the racing of this year's sixth stage was not decided by the racers but by the officials, with 22 year-old Mark Cavendish (High Road) seemingly taking out the field sprint. However, a crash 8km from the finish involving Cavendish as well as Rock Racing's Mario Cipollini and Freddie Rodriguez, caused an issue. Cavendish had to swap for his spare bike and was escorted back to the peloton while his team car made derailleur adjustments. The race commissaries thought this was too excessive and penalized him twenty seconds, and taking away his win ahead of Saunier Duval-Scott's Luciano Pagliarini.
"I'm so sorry about what happened to Cavendish but in my opinion the decision was normal to disqualify [him] because he crashed with five kilometres and we came into the circuits at a very high speed," said Pagliarini. "I am so sorry about him and this is not a big win for me, it is just a good win for my [career.] It's not like a win with the hands up today. I was the second but I am the first."
The High Road camp understandably had a different view on the decision, citing the precedent set by last year's first stage, which saw the rules adjusted to allow then race leader Levi Leipheimer to remain in the leader's jersey. The 'Levi rule,' as it was affectionately termed, extended the rule which allows riders that have an incident to receive the same time as the group they were in from 3km to 10km. Today's incident involved Cavendish receiving a pull from his team car back into the peloton while his mechanic worked on his bike.
Mark Cavendish (High Road) was the first to cross the line…
Photo ©: Mitch Clinton

"Your riders go to the front and you have a crash so you change the rules," said director sportif Brian Holm who was driving the team car. "This year we have a crash at 8km and let's fine him and take him out!"
"I think it's bullshit because when you neutralize a race 15km from the finish when an American is in the yellow jersey, last year, why you can't go with that rule!" a disappointed Cavendish told Cyclingnews. "It's just bullshit -- who is working on this f**king race? I don't understand it. There have been cars in bike races for a hundred years."
"When you have every car in the peloton dropping back to get me on... like it has been in professional cycling for a hundred years... who is working on the jury here? What are you going to do, make it a f**cking crit every day? So now next year they are going to make it a criterium every day!"
Team owner Bob Stapleton was in agreement with his rider on the issue, saying that drafting of Cavendish was slight compared to others involved in the crash. "If Cipo was practically in the f**king car, but Mark comes from all the way back and wins... and that is something that has to be yanked, that is completely wrong," he said. "I'm not exactly sure that the complaint is, but for me, Mark crashes with 5km to go and he fought his way all the way back to the line. I think he won that stage fair and square. In my mind he won -- he did a great individual effort and he deserves full credit. It's a complete embarrassment that the effort would be tarnished by [this decision.]"
It was anyones guess as
Photo ©: Jon Devich

The team's other director sportif, Allan Peiper, said that they were just doing what is normal in a race. "They said it wasn't regular because we were going 60 kph but that is how fast the bunch was going," he said. "At critical points like that you just do what you have to do and that's it. It's a quite difficult situation to be in anyways. You have your best sprinter crashing 10km out, it was just part of the deal closing up the peloton. They gave us no room for discussion anyways."
The race's jury president Martijn Swinkels told Cyclingnews that the race jury tried to contact Hold and Peiper to inform them of the decision. "I tried to phone Brian Holm and he didn't answer his phone and tried to inform the team managers personally," said Swinkels. "I am sorry for the rider that he could not win this stage."
"He didn't come back in the bunch after his crash in the normal fashion," Swinkels said about the infraction. "He was held by his team car and mechanic so we gave him a 20 second [penalty.]"
Race director Jim Birrell said that he had no involvement with the decision to penalize Cavendish. "These are officials that are appointed by our international governing bodies and we as race organizers or promoters have no say or pull in their decision in the process."
When asked if the officials on the scene tried to warn High Road about the infraction, Swinkels responded that they did, but that High Road's response was, "Not what it should be."
Saunier Duval-Scott's director sportif Matteo Algeri told Cyclingnews that while he thinks Cavendish was the strongest on the day, that the rules needed to be followed. "I'm very sorry for him, because he demonstrated to be the strongest today," he said. "There is nothing to say, he merits the win. But actually there are some rules, and rules are rules."
The actual racing
The main bunch rolls along.
Photo ©: Jon Devich

Before the 'shenanigans' of the finale, there was actually some strong racing, as a group of six rode a long breakaway that seemed to have a chance as lasting. In that group were Steven Cozza (Slipstream-Chipotle), David Canada Gracia (Saunier Duval-Scott), Rory Sutherland (Health Net-Maxxis), Alexandre Pichot (Bouygues Telecom), Christophe Le Mevel (Credit Agricole) and Karsten Kroon (Team CSC).
Sutherland was named most aggressive rider on the day, though he said all of the break riders were pulling pretty evenly into the rough head wind. "It was a head wind the whole way today," he said. "I think we might have turned once and then turned again right back into the head wind! We were a group of guys who were happy and prepared to work well together. It was a good selection of the teams who were in there.
Sutherland said he thinks the domestic team's are having a better showing this year -- and by being in the break, his team included. His team's sponsor, Health Net, also sponsored the day's stage -- which was additional motivation for him to get into the break. "I think every team has been unlucky [this week] and at the end of the day look at the quality of the field, look at the size of the budgets in comparison to the domestic teams, I think the domestic teams can be very proud. But for us, especially on today's stage, for the guys that haven't made it this far, it is important to save some face and get some airtime for the sponsors. I would have done the same thing if it was the smallest race in the country."
The field passes rows of scenic palms.
Photo ©: Jon Devich

Speaking of domestic teams having a good showing, BMC's Scott Nydam put a lock on his lead in the KOM competition, despite a moment of inattention on the first climb. "I was in bad position on the first KOM," said Nydam. "In the second KOM I moved up the right side with my teammate Alex Moos, he lead me out for what ever points I could get. From there that was the move over the top of the KOM to form a break. I wasn't able to go with the break and there was a separation over the top, partially due to a lack of attention on my part.
"The KOM right now is truly a team jersey," said Nydam.
Race leader Levi Leipheimer had a similar day to last year's race, with only one moment of worry when second-place overall David Millar took a flyer on the finishing circuits. "I think it went how I imagined it today," said Leipheimer. "I was confident Millar would try to do something in the end. There was a big tailwind section and I had a feeling he would try to go right there. I was trying to look around for him and it was just one moment when I couldn't move out that he went. Fortunately I had Chechu, Evan and Chris go to the front even in the middle of Quick Step lead out trains they were able to close the gap so it shows how strong my team is."
Astana will be down one gun for tomorrow's final stage, as Vladamir Gusev crashed and suffered a broken collarbone. But Slipstream's director sportif Jonathan Vaughters told Cyclingnews that Levi is much better protected than last year. "Last year Discovery had weaker riders on the front end that would pop off earlier. Astana brought its a-team here and they are really strong -- so we tried to go for a stage win today with Cozza."
How it unfolded
The sixth stage of the Tour of California once again started on the water in Santa Barbara and wound inland towards Santa Clarita, the home of the Magic Mountain theme park. But the riders would not have time to enjoy the roller coasters as there was still a lot of business to attend to.
Astana tries to minimize the time gap
Photo ©: Jon Devich

High Road's George Hincapie successfully avoided the spot early in the stage where he was crashed into by a teammate, resulting in a broken wrist. The Astana team kept the gas on full as various breaks tried to form. This resulted in the peloton climbing the first KOM intact, allowing Jurgen Vandewalle (Quick Step) to take four points out of KOM leader Scott Nydam. Nydam was able to regain two of those points on the second KOM thanks to help from his teammates, leaving the advantage at seven points at the end of the day. And with only six points on offer tomorrow, the lead was cemented.
Nydam could rest easy after the second KOM because Astana finally found a break combination it liked in the form of Steven Cozza (Slipstream-Chipotle), David Canada Gracia (Saunier Duval-Scott), Rory Sutherland (Health Net-Maxxis), Alexandre Pichot (Bouygues Telecom), Christophe Le Mevel (Credit Agricole) and Karsten Kroon (Team CSC).
For the next 130km, the group worked well, trading pulls and pushing their lead to more than seven minutes.
By the time the break had Santa Clarita in sight, the group still had around two minutes, and the question began to arise as to whether or not they could pull it off. None of the riders in the break were a danger to Astana, who had long handed over chasing duties to the sprinters' teams such as Quick Step, Rabobank and High Road.
Onto the circuit with three laps to go the break had just under two minutes, but still had their organization. It was not until another lap later when the gap was reduced to a minute, thanks to the efforts of most of the Tom Boonen-led Quickstep team, that the attacks came.
Karston Kroon (CSC) and David Canada (Saunier Duval)
Photo ©: Jon Devich

As the peloton rounded the final corner to see two laps to go, a touch of wheels as the road narrowed sent riders to the ground, including Canvendish, Rodriguez and Cipollini. Cipollini and Cavendish got a quick change, but Rodriguez was slower to get up. Once he finally did, his rear-wheel tacoed underneath him and the ensuing change slowed him even more.
Up front, the break had a little more life as the peloton slowed to regain the crash victims, but soon it was back up to 60 kph. As the break catch commenced, Slipstream's David Millar took a desperation flyer, with Thomas Voeckler (Bouygues Telecom) and Iker Camańo (Saunier Duval-Scott) coming along for the ride.
This move brought Astana back to the front one more time, shutting down the move by Millar to gain a few seconds on Leipheimer.
With the field back together in the final 500m, sprint leader Dominique Rollin (Toyota-United) was left on the front and had to start his sprint early. But around him came the swarm, led by Cavendish and followed by Pagliarini, Juan Jose Haedo (CSC) and world champion Paolo Bettini (Quickstep).
For Rollin, only five points were earned today, with Haedo and Gerald Ciolek (High Road) gaining a few more points. For tomorrow, a tough category three climb will make for a rough day in the sprint competition.
"Luckily today I had Vogels and Blackgrove helping to keep me in position today," said Rollin. "It's still a hard stage and not many sprinters will make it to the finish. I think maybe I will go for the first intermediate sprint and be secure with enough point to keep the jersey."
Race organizers announced Saturday evening that due to the possibility of severe weather conditions, the route for tomorrow's stage could be modified. Race officials will make the decision tomorrow -- stay tuned to Cyclingnews for this information -- especially if you are planning on watching the race. Or follow the stage live on Cyclingnews starting at noon PST.
Photography
For a thumbnail gallery of these images, click here
Images by Jonathan Devich/

Images by Mitch Clinton/www.clintonphoto.com
Images by Mark Johnson/www.ironstring.com
Results
1 Luciano André Pagliarini Mendonca (Bra) Saunier Duval-Scott      4.18.31 (40.616 km/h)
2 Juan Jose Haedo (Arg) Team CSC
3 Paolo Bettini (Ita) Quick Step
4 Gerald Ciolek (Ger) High Road
5 Oscar Freire Gomez (Spa) Rabobank
6 Dominique Rollin (Can) Toyota - United Pro Cycling Team
7 Alexander Candelario (USA) Kelly Benefit Strategies / Medifast
8 Markus Zberg (Swi) Gerolsteiner
9 Danilo Wyss (Swi) BMC Racing Team
10 Pedro Horrillo Munoz (Spa) Rabobank
11 Nicholas Sanderson (Aus) Jelly Belly Cycling Team
12 John Murphy (USA) Health Net presented by Maxxis
13 Angel Gomez Gomez (Spa) Saunier Duval-Scott
14 Sébastien Turgot (Fra) Bouygues Telecom
15 Pipp K Frank (USA) Health Net presented by Maxxis
16 Garrett Peltonen (USA) Bissell Pro Cycling
17 David Millar (GBr) Slipstream Chipotle Presented by H30
18 Taylor Tolleson (USA) BMC Racing Team
19 Christian Vande Velde (USA) Slipstream Chipotle Presented by H30
20 Levi Leipheimer (USA) Astana
21 Mathew Hayman (Aus) Rabobank
22 Bobby Julich (USA) Team CSC
23 Bernhard Kohl (Aut) Gerolsteiner
24 Victor Hugo Pena Grisales (Col) Rock Racing
25 Benjamin Jacques-Maynes (USA) Bissell Pro Cycling
26 Jurgen Vandewalle (Bel) Quick Step
27 Oliver Zaugg (Swi) Gerolsteiner
28 Iker Camano Ortuzar (Spa) Saunier Duval-Scott
29 Gustav Larsson (Swe) Team CSC
30 Ignatas Konovalovas (Ltu) Credit Agricole
31 Christopher Horner (USA) Astana
32 Hendricus Vogels (Aus) Toyota - United Pro Cycling Team
33 Ermanno Capelli (Ita) Saunier Duval-Scott
34 Alexandre Moos (Swi) BMC Racing Team
35 George Hincapie (USA) High Road
36 Nicholas Reistad (USA) Jelly Belly Cycling Team
37 Raivis Belohvosciks (Lat) Saunier Duval-Scott
38 Tom Boonen (Bel) Quick Step
39 Robert Gesink (Ned) Rabobank
40 Aaron Kemps (Aus) Astana
41 Fabian Cancellara (Swi) Team CSC
42 Kevin Seeldraeyers (Bel) Quick Step
43 Yannick Talabardon (Fra) Credit Agricole
44 Janez Brajkovic (Slo) Astana
45 David Canada Gracia (Spa) Saunier Duval-Scott
46 Perrig Quemeneur (Fra) Bouygues Telecom
47 Christophe Le Mevel (Fra) Credit Agricole
48 Julien Simon (Fra) Credit Agricole
49 David Zabriskie (USA) Slipstream Chipotle Presented by H30
50 Mauricio Alberto Ardila Cano (Col) Rabobank
51 Thomas Peterson (USA) Slipstream Chipotle Presented by H30
52 Michael Lange (USA) Jelly Belly Cycling Team
53 Stuart O'Grady (Aus) Team CSC
54 Nicholas Waite (USA) Kelly Benefit Strategies / Medifast
55 Jeff Louder (USA) BMC Racing Team
56 Rubens Bertogliati (Swi) Saunier Duval-Scott
57 Scott Nydam (USA) BMC Racing Team
58 Aaron Barry Tuckerman (NZl) Jelly Belly Cycling Team
59 Timothy Johnson (USA) Health Net presented by Maxxis
60 Tom Zirbel (USA) Bissell Pro Cycling
61 Matteo Tosatto (Ita) Quick Step
62 Jason Mccartney (USA) Team CSC
63 Jens Voigt (Ger) Team CSC
64 Sergey Ivanov (Rus) Astana
65 Aaron Olson (USA) Bissell Pro Cycling
66 Edward King (USA) Bissell Pro Cycling
67 Karsten Kroon (Ned) Team CSC
68 Andrey Mizurov (Kaz) Astana
69 Heath Blackgrove (NZl) Toyota - United Pro Cycling Team
70 Jonathan Mumford (USA) Kelly Benefit Strategies / Medifast
71 Danny Pate (USA) Slipstream Chipotle Presented by H30
72 Andrea Tonti (Ita) Quick Step
73 Kevin Hulsmans (Bel) Quick Step
74 Mark Cavendish (GBr) High Road                                     0.20
75 Mario Cipollini (Ita) Rock Racing
76 Dimitri Champion (Fra) Bouygues Telecom                            0.22
77 José Luis Rubiera Vigil (Spa) Astana                               0.43
78 Rory Sutherland (Aus) Health Net presented by Maxxis               1.13
79 Thomas Voeckler (Fra) Bouygues Telecom
80 Bauke Mollema (Ned) Rabobank                                       2.05
81 Steven Cozza (USA) Slipstream Chipotle Presented by H30            2.44
82 Alexandre Pichot (Fra) Bouygues Telecom
83 Paul Martens (Ger) Rabobank                                        5.00
84 Michael Creed (USA) Rock Racing
85 Dan Bowman (USA) Kelly Benefit Strategies / Medifast
86 Scott Zwizanski (USA) Bissell Pro Cycling
87 Doug Ollerenshaw (USA) Rock Racing
88 Thomas Lövkvist (Swe) High Road                                    5.36
89 Bradley Wiggins (GBr) High Road
90 Justin Spinelli (USA) Kelly Benefit Strategies / Medifast          7.31
91 Freddie Rodriguez (USA) Rock Racing                               12.10
DNF Philip Zajicek (USA) Health Net presented by Maxxis
DNF Roman Kilun (USA) Health Net presented by Maxxis
 
Sprints
 
1
1 David Canada Gracia (Spa) Saunier Duval-Scott                          5 pts
2 Rory Sutherland (Aus) Health Net presented by Maxxis                   3
3 Steven Cozza (USA) Slipstream Chipotle Presented by H30                1
 
2
1 Rory Sutherland (Aus) Health Net presented by Maxxis                   5 pts
2 Alexandre Pichot (Fra) Bouygues Telecom                                3
3 Christophe Le Mevel (Fra) Credit Agricole                              1
 
Finish 
1 Luciano André Pagliarini Mendonca (Bra) Saunier Duval-Scott           15 pts
2 Juan Jose Haedo (Arg) Team CSC                                        12
3 Paolo Bettini (Ita) Quick Step                                        10
4 Gerald Ciolek (Ger) High Road                                          7
5 Oscar Freire Gomez (Spa) Rabobank                                      6
6 Dominique Rollin (Can) Toyota - United Pro Cycling Team                5
7 Alexander Candelario (USA) Kelly Benefit Strategies / Medifast         4
8 Markus Zberg (Swi) Gerolsteiner                                        3
9 Danilo Wyss (Swi) BMC Racing Team                                      2
10 Pedro Horrillo Munoz (Spa) Rabobank                                   1
 
Mountains
 
1
1 Jurgen Vandewalle (Bel) Quick Step                                     4 pts
2 Alexandre Moos (Swi) BMC Racing Team                                   3
3 Jeff Louder (USA) BMC Racing Team                                      2
4 Robert Gesink (Ned) Rabobank                                           1
 
2
1 Christophe Le Mevel (Fra) Credit Agricole                              4 pts
2 Steven Cozza (USA) Slipstream Chipotle Presented by H30                3
3 Scott Nydam (USA) BMC Racing Team                                      2
4 Karsten Kroon (Ned) Team CSC                                           1
 
3
1 Christophe Le Mevel (Fra) Credit Agricole                              6 pts
2 Rory Sutherland (Aus) Health Net presented by Maxxis                   5
3 Alexandre Pichot (Fra) Bouygues Telecom                                4
4 Steven Cozza (USA) Slipstream Chipotle Presented by H30                3
5 Karsten Kroon (Ned) Team CSC                                           1
 
4
1 David Canada Gracia (Spa) Saunier Duval-Scott                          4 pts
2 Rory Sutherland (Aus) Health Net presented by Maxxis                   3
3 Alexandre Pichot (Fra) Bouygues Telecom                                2
4 Christophe Le Mevel (Fra) Credit Agricole                              1
 
Young rider
 
1 Gerald Ciolek (Ger) High Road                                    4.18.31
2 Danilo Wyss (Swi) BMC Racing Team
3 Taylor Tolleson (USA) BMC Racing Team
4 Ignatas Konovalovas (Ltu) Credit Agricole
5 Ermanno Capelli (Ita) Saunier Duval-Scott
6 Robert Gesink (Ned) Rabobank
7 Kevin Seeldraeyers (Bel) Quick Step
8 Julien Simon (Fra) Credit Agricole
9 Thomas Peterson (USA) Slipstream Chipotle Presented by H30
10 Mark Cavendish (GBr) High Road                                     0.20
11 Bauke Mollema (Ned) Rabobank                                       2.05
12 Steven Cozza (USA) Slipstream Chipotle Presented by H30            2.44
 
Teams
 
1 Rabobank                                                        12.55.33
2 Saunier Duval-Scott
3 Team CSC
4 Gerolsteiner
5 BMC Racing Team
6 Quick Step
7 Slipstream Chipotle Presented By H30
8 Health Net Presented by Maxxis
9 Astana
10 Jelly Belly Cycling Team
11 Bissell Pro Cycling
12 Toyota-United Pro Cycling Team
13 Crédit Agricole
14 Kelly Benefit Strategies-Medifast
15 High Road                                                          0.20
16 Bouygues Telecom                                                   0.22
17 Rock Racing                                                        5.20
 
General Classification after Stage 6
 
1 Levi Leipheimer (USA) Astana                                    25.33.23
2 David Millar (GBr) Slipstream Chipotle Presented by H30             0.49
3 Christian Vande Velde (USA) Slipstream Chipotle Presented by H30    1.08
4 Fabian Cancellara (Swi) Team CSC                                    1.18
5 Gustav Larsson (Swe) Team CSC                                       1.19
6 David Zabriskie (USA) Slipstream Chipotle Presented by H30          1.36
7 Christopher Horner (USA) Astana                                     2.07
8 Jurgen Vandewalle (Bel) Quick Step                                  2.11
9 Robert Gesink (Ned) Rabobank                                        2.18
10 Alexandre Moos (Swi) BMC Racing Team                               2.27
11 Thomas Peterson (USA) Slipstream Chipotle Presented by H30         2.58
12 Victor Hugo Pena Grisales (Col) Rock Racing                        3.17
13 Bernhard Kohl (Aut) Gerolsteiner                                   3.34
14 Kevin Seeldraeyers (Bel) Quick Step                                3.40
15 Iker Camano Ortuzar (Spa) Saunier Duval-Scott                      5.06
16 Benjamin Jacques-Maynes (USA) Bissell Pro Cycling                  5.48
17 Matteo Tosatto (Ita) Quick Step                                    6.49
18 George Hincapie (USA) High Road                                    7.30
19 Mauricio Alberto Ardila Cano (Col) Rabobank                        7.48
20 Oscar Freire Gomez (Spa) Rabobank                                  8.08
21 Ignatas Konovalovas (Ltu) Credit Agricole                          8.50
22 Oliver Zaugg (Swi) Gerolsteiner                                    9.24
23 Janez Brajkovic (Slo) Astana                                       9.58
24 David Canada Gracia (Spa) Saunier Duval-Scott                     10.05
25 Jeff Louder (USA) BMC Racing Team                                 10.46
26 Jens Voigt (Ger) Team CSC                                         11.11
27 Bobby Julich (USA) Team CSC                                       11.49
28 Rubens Bertogliati (Swi) Saunier Duval-Scott                      12.02
29 Yannick Talabardon (Fra) Credit Agricole                          15.01
30 Karsten Kroon (Ned) Team CSC                                      15.41
31 Christophe Le Mevel (Fra) Credit Agricole                         15.47
32 Jason Mccartney (USA) Team CSC
33 José Luis Rubiera Vigil (Spa) Astana                              18.21
34 Aaron Olson (USA) Bissell Pro Cycling                             18.45
35 Michael Lange (USA) Jelly Belly Cycling Team                      19.22
36 Rory Sutherland (Aus) Health Net presented by Maxxis              19.32
37 Heath Blackgrove (NZl) Toyota - United Pro Cycling Team           19.33
38 Thomas Lövkvist (Swe) High Road                                   20.05
39 Doug Ollerenshaw (USA) Rock Racing                                20.16
40 Angel Gomez Gomez (Spa) Saunier Duval-Scott                       20.46
41 Tom Zirbel (USA) Bissell Pro Cycling                              22.39
42 Paolo Bettini (Ita) Quick Step                                    24.14
43 Dominique Rollin (Can) Toyota - United Pro Cycling Team           26.10
44 Gerald Ciolek (Ger) High Road                                     26.57
45 Andrey Mizurov (Kaz) Astana                                       28.29
46 Pedro Horrillo Munoz (Spa) Rabobank                               28.34
47 Juan Jose Haedo (Arg) Team CSC                                    28.47
48 Bauke Mollema (Ned) Rabobank                                      29.08
49 Dimitri Champion (Fra) Bouygues Telecom                           31.43
50 Danny Pate (USA) Slipstream Chipotle Presented by H30             31.51
51 Mathew Hayman (Aus) Rabobank                                      32.06
52 Stuart O'Grady (Aus) Team CSC                                     32.10
53 Tom Boonen (Bel) Quick Step                                       32.11
54 Markus Zberg (Swi) Gerolsteiner                                   32.36
55 Aaron Kemps (Aus) Astana                                          32.44
56 Kevin Hulsmans (Bel) Quick Step                                   32.52
57 Perrig Quemeneur (Fra) Bouygues Telecom                           33.28
58 Julien Simon (Fra) Credit Agricole                                33.30
59 Mark Cavendish (GBr) High Road                                    33.37
60 Timothy Johnson (USA) Health Net presented by Maxxis              33.47
61 Alexandre Pichot (Fra) Bouygues Telecom                           34.22
62 Mario Cipollini (Ita) Rock Racing                                 35.05
63 Alexander Candelario (USA) Kelly Benefit Strategies / Medifast    35.15
64 Sébastien Turgot (Fra) Bouygues Telecom                           35.23
65 Bradley Wiggins (GBr) High Road                                   35.29
66 Luciano André Pagliarini Mendonca (Bra) Saunier Duval-Scott       35.44
67 Raivis Belohvosciks (Lat) Saunier Duval-Scott                     35.53
68 Garrett Peltonen (USA) Bissell Pro Cycling                        36.14
69 John Murphy (USA) Health Net presented by Maxxis                  37.49
70 Edward King (USA) Bissell Pro Cycling                             37.51
71 Paul Martens (Ger) Rabobank                                       38.03
72 Ermanno Capelli (Ita) Saunier Duval-Scott                         38.06
73 Sergey Ivanov (Rus) Astana                                        38.17
74 Pipp K Frank (USA) Health Net presented by Maxxis                 38.26
75 Steven Cozza (USA) Slipstream Chipotle Presented by H30           38.52
76 Nicholas Reistad (USA) Jelly Belly Cycling Team
77 Taylor Tolleson (USA) BMC Racing Team                             39.11
78 Justin Spinelli (USA) Kelly Benefit Strategies / Medifast         39.19
79 Andrea Tonti (Ita) Quick Step                                     39.45
80 Nicholas Sanderson (Aus) Jelly Belly Cycling Team                 39.59
81 Freddie Rodriguez (USA) Rock Racing                               40.06
82 Hendricus Vogels (Aus) Toyota - United Pro Cycling Team           40.19
83 Thomas Voeckler (Fra) Bouygues Telecom                            41.04
84 Scott Zwizanski (USA) Bissell Pro Cycling                         41.58
85 Jonathan Mumford (USA) Kelly Benefit Strategies / Medifast        42.27
86 Danilo Wyss (Swi) BMC Racing Team                                 44.08
87 Dan Bowman (USA) Kelly Benefit Strategies / Medifast              44.22
88 Aaron Barry Tuckerman (NZl) Jelly Belly Cycling Team              44.25
89 Nicholas Waite (USA) Kelly Benefit Strategies / Medifast          45.08
90 Scott Nydam (USA) BMC Racing Team                                 45.54
91 Michael Creed (USA) Rock Racing                                   52.29
 
Sprints classification
 
1 Dominique Rollin (Can) Toyota - United Pro Cycling Team               41 pts
2 Juan Jose Haedo (Arg) Team CSC                                        38
3 Gerald Ciolek (Ger) High Road                                         32
4 Mark Cavendish (GBr) High Road                                        19
5 Luciano André Pagliarini Mendonca (Bra) Saunier Duval-Scott           15
6 Robert Gesink (Ned) Rabobank                                          15
7 Tom Boonen (Bel) Quick Step                                           15
8 George Hincapie (USA) High Road                                       13
9 Levi Leipheimer (USA) Astana                                          12
10 Mario Cipollini (Ita) Rock Racing                                    12
11 Scott Nydam (USA) BMC Racing Team                                    11
12 Paolo Bettini (Ita) Quick Step                                       10
13 Jurgen Vandewalle (Bel) Quick Step                                   10
14 Iker Camano Ortuzar (Spa) Saunier Duval-Scott                        10
15 Rory Sutherland (Aus) Health Net presented by Maxxis                  8
16 Kevin Seeldraeyers (Bel) Quick Step                                   7
17 Oscar Freire Gomez (Spa) Rabobank                                     7
18 Alexander Candelario (USA) Kelly Benefit Strategies / Medifast        7
19 Matteo Tosatto (Ita) Quick Step                                       6
20 José Luis Rubiera Vigil (Spa) Astana                                  6
21 Freddie Rodriguez (USA) Rock Racing                                   6
22 Danilo Wyss (Swi) BMC Racing Team                                     6
23 Alexandre Pichot (Fra) Bouygues Telecom                               6
24 Thomas Peterson (USA) Slipstream Chipotle Presented by H30            5
25 David Canada Gracia (Spa) Saunier Duval-Scott                         5
26 Paul Martens (Ger) Rabobank                                           5
27 Christopher Horner (USA) Astana                                       4
28 Mauricio Alberto Ardila Cano (Col) Rabobank                           3
29 Markus Zberg (Swi) Gerolsteiner                                       3
30 Alexandre Moos (Swi) BMC Racing Team                                  2
31 Sébastien Turgot (Fra) Bouygues Telecom                               2
32 David Millar (GBr) Slipstream Chipotle Presented by H30               1
33 Pedro Horrillo Munoz (Spa) Rabobank                                   1
34 Victor Hugo Pena Grisales (Col) Rock Racing                           1
35 Mathew Hayman (Aus) Rabobank                                          1
36 Steven Cozza (USA) Slipstream Chipotle Presented by H30               1
37 Christophe Le Mevel (Fra) Credit Agricole                             1
 
Mountains classification
 
1 Scott Nydam (USA) BMC Racing Team                                     26 pts
2 Jurgen Vandewalle (Bel) Quick Step                                    19
3 Robert Gesink (Ned) Rabobank                                          17
4 Alexandre Moos (Swi) BMC Racing Team                                  15
5 Levi Leipheimer (USA) Astana                                          12
6 Mauricio Alberto Ardila Cano (Col) Rabobank                           12
7 José Luis Rubiera Vigil (Spa) Astana                                  12
8 Steven Cozza (USA) Slipstream Chipotle Presented by H30               12
9 Iker Camano Ortuzar (Spa) Saunier Duval-Scott                         11
10 Christopher Horner (USA) Astana                                      11
11 Christophe Le Mevel (Fra) Credit Agricole                            11
12 Jens Voigt (Ger) Team CSC                                             9
13 Rory Sutherland (Aus) Health Net presented by Maxxis                  8
14 Paul Martens (Ger) Rabobank                                           8
15 David Zabriskie (USA) Slipstream Chipotle Presented by H30            7
16 Danilo Wyss (Swi) BMC Racing Team                                     6
17 Edward King (USA) Bissell Pro Cycling                                 6
18 Alexandre Pichot (Fra) Bouygues Telecom                               6
19 Kevin Seeldraeyers (Bel) Quick Step                                   5
20 Gustav Larsson (Swe) Team CSC                                         4
21 David Canada Gracia (Spa) Saunier Duval-Scott                         4
22 George Hincapie (USA) High Road                                       2
23 Thomas Peterson (USA) Slipstream Chipotle Presented by H30            2
24 Jeff Louder (USA) BMC Racing Team                                     2
25 Karsten Kroon (Ned) Team CSC                                          2
26 Dominique Rollin (Can) Toyota - United Pro Cycling Team               1
27 David Millar (GBr) Slipstream Chipotle Presented by H30               1
 
Young rider classification
 
1 Robert Gesink (Ned) Rabobank                                    25.35.41
2 Thomas Peterson (USA) Slipstream Chipotle Presented by H30          0.40
3 Kevin Seeldraeyers (Bel) Quick Step                                 1.22
4 Ignatas Konovalovas (Ltu) Credit Agricole                           6.32
5 Gerald Ciolek (Ger) High Road                                      24.39
6 Bauke Mollema (Ned) Rabobank                                       26.50
7 Julien Simon (Fra) Credit Agricole                                 31.12
8 Mark Cavendish (GBr) High Road                                     31.19
9 Ermanno Capelli (Ita) Saunier Duval-Scott                          35.48
10 Steven Cozza (USA) Slipstream Chipotle Presented by H30           36.34
11 Taylor Tolleson (USA) BMC Racing Team                             36.53
12 Danilo Wyss (Swi) BMC Racing Team                                 41.50
 
Teams classification
 
1 Slipstream Chipotle Presented By H30                            76.43.38
2 Astana                                                              0.16
3 Quick Step                                                          8.47
4 Team CSC                                                            8.56
5 Rabobank                                                           10.02
6 BMC Racing Team                                                    19.11
7 Saunier Duval-Scott                                                22.59
8 High Road                                                          23.36
9 Crédit Agricole                                                    24.28
10 Gerolsteiner                                                      29.02
11 Bissell Pro Cycling                                               36.52
12 Health Net Presented by Maxxis                                    44.20
13 Rock Racing                                                       48.08
14 Toyota-United Pro Cycling Team                                    52.15
15 Bouygues Telecom                                                1.03.48
16 Jelly Belly Cycling Team                                        1.30.04
17 Kelly Benefit Strategies-Medifast                               1.40.18