Recently on Cyclingnews.com
Rory Sutherland during the pre-race press conference.
Photo ©: Jon Devich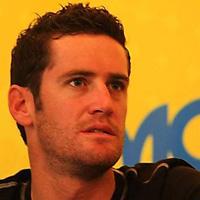 The Rory Sutherland Tour of California diary
Rory Sutherland is back again – the 25 year-old Australian from Canberra is reporting from the 2008 Tour of California for Cyclingnews. The 2004 Australian Under 23 National Champion will keep readers up to date every day on his and Team Health Net's progress as they race down the Golden State as part of the eight-day race. (For more read his 2007 diaries.)
Stage.... I've stopped counting, Santa Clarita - Pasadena 93 miles/150 kms
Man apparently not so down...
Another stage race under the belt. I have done a lot in my time racing, and I am yet to pull out of a race unless I am sick or totally injured. I'm happy today. Tired beyond belief, yes, but happy all the same.
A quick summary of the last day - I didn't think I would make it through the day. Slight fever in the morning, rain and cold forecast for the entire day, the easy option of pulling the pin once we got to the circuits, but to be honest, forced racing is sometimes the only way to get through it. I think one of the big lessons learnt, and it's one I 'try' to preach to the younger guys - no matter how hard it is, no matter how cold or how tired you are, how close the bunch is behind you, it's a race, and the prestige is the same as the first day we raced this tour. A race is a race, a win is a win, and there is never really a good time to give up. The harder a race is, the better the odds actually are. From the 90 guys that started the last day, maybe 30-40 wanted to be in the break, from the ten in the break, maybe five had good legs, and from those five, two or three thought they had a chance to win.
Rory Sutherland on the podium, next to big George Hincapie and Jason McCartney
Photo ©: Kurt Jambretz

Am I disappointed? Not on your life. Was there any more in the tank, or anything else I could have done to beat Hincapie? I don't think so. Would there have been riots in the streets if I had beaten an American cycling hero IN America, IN the biggest race in the USA, yes... I was lucky enough to have some good friends in the break, had a good chat to George in passing about how our team was doing, and shared some jokes with one of my good friends, Michael Creed. All in all a top bunch of guys to be 'up the road' with.
I have read through a lot of the emails I have been sent, and they are a true testament that cycling is alive and well all over the world. Why is there so much drama surrounding the sport? I think to myself how different it would be if the media just ignored the crap, and concentrated on pure hard work and guts. The boys from my team, and other teams of course, raced their hearts out all week! It was a tough old Tour, and with the sickness that has been running through the peloton I think anyone making it to the finish should be proud AND lucky at the same time. That was tough!
So, what now? Some R&R in Santa Barbara, that's what. Today the sun is shining and it kind of perplexes me just how crappy the weather has been for the last week. The one day I don't have to ride, and it's beautiful! Training will kick in after I recover - I should be back to full steam by this weekend. I'm still totally enjoying the emails that I have been getting, and here are some stats:
- Emails received as of today: 356!
- Amount of pain in my fingers when I am done writing back to these people: a lot
- Offers to buy me a beer: 17
- Offers to buy me a keg: 1
- Marriage proposals: 3
- Apologies from women/ladies because they were already married: 5
- Offers from a man saying that if he was in fact female he would marry me: 1...
- Continents I have received emails from: All! I'm pretty amazed at that one.
Pretty interesting stuff I must say. So, I will get back to everyone, it will just take time. For those interested in post-Tour of California rider meets public, let me know and we can sort something out. If there enough of a response, I'll write another diary over the weekend and organize something in this little sunny amazing part of the world.
Remember, just because pros are called pros doesn't mean you can't ride with them. When I train, I don't train hard, I don't do epics, I do what I need to do. When I roll to the coffee shop... I roll to the coffee shop. End of story! Lets make this "National (no matter which country you're in) approach a pro year!" We're all real people!
Rory
rorysdiaryisboring@gmail.com
www.teamhealthnet.com